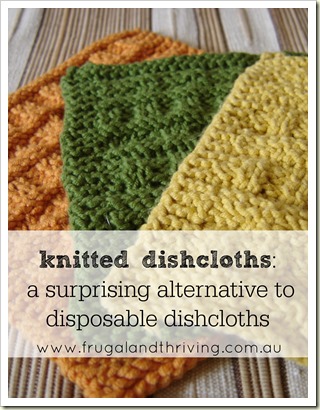 To say that I was sceptical would be an understatement.
I didn't get it.
Why on earth would you knit dishcloths?
I get the whole eco, non-disposable part, sure.
But why not just cut up old towels or other rags.
After all, you're just washing dishes with the things. Why go to all the effort of knitting a dishcloth?
Recently I discovered the continental way of knitting, and being a left-hander who finds the whole thing a little bit awkward, I thought I'd give it a go, because the Europeans hold the thread in the left hand rather than the right.
I also do crochet, so this way is similar to how I hold the thread when crocheting.
I'm not a terrible knitter, but I'm not a good one either. And switching hands set by knitting skills back to when I was just learning at 8 years old.
I needed some practice.
Then I remembered dishcloths.
It doesn't matter how bad my knitting is on dishcloths, right?
My knitting has improved and I'm a convert to the many benefits of the knitted dishcloth.
The texture of the knit makes cleaning a breeze – just textured enough to help scrub dirty dishes and anything else you clean.
I started out using white crochet cotton (not the best colour for cleaning cloths), because that's what I had on hand. I've since switched to a cotton/acrylic blend because it's affordable and the acrylic dries quickly.
My cloths are colour coded: green for the dishes, orange for the benches, yellow for the bathroom. I don't want to be cleaning dishes with the same cloth I wipe the loo over with, ewww.
To clean my cloths, I throw them in a bucket of water with a little nappy soaker at the end of the day. A clean dishcloth for each day – much more hygienic than using the same disposable day in, day out.
I throw the bucket of cloths in with the towels, so there's no extra load to wash.
If you're looking for dishcloth patterns, check out this post: a roundup of dishcloth patterns. If you want to learn how to knit (it's a wonderfully relaxing and meditative hobby), check out Craftsy for knitting tutorials and start by making a dishcloth, the most forgiving of beginner projects and a useful end project, no matter how it turns out!

---
Disclosure: Links to merchants within this post may be affiliate links.