the art of thriving: why frugal living is just the journey
This website may earn commissions from purchases made through links in this post.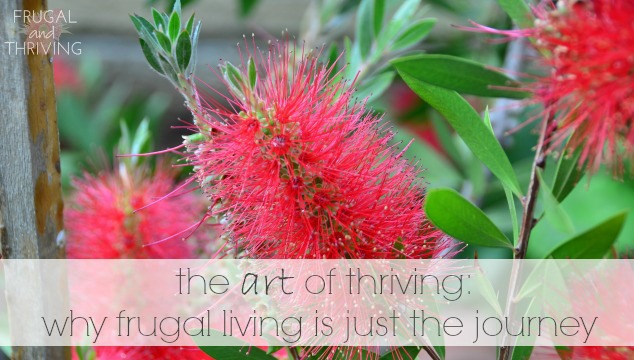 Things get a little awkward sometimes when people in the flesh and blood world find out I write about frugal living.
What's starts out as small talk soon turns confessional and all further conversations begin with an apology: "This isn't very frugal, but…"
I'm not the frugal police!
Just the other day a friend admitted, almost embarrassed, that they wanted to hire a cleaner.
"This isn't very frugal, but… I'm thinking of getting in a cleaner."
And do you know what my response was?
Did I try to talk them out of such a spending transgression?
Did I implore them to stay the frugal course?
No.
I said: "Awesome! If I had the spare cash, I would totally hire a cleaner at the moment too!"
And their jaw drops to the lino with a muffled thud, breaking the silence that suddenly descends the room.
After all, hiring a cleaner, or for that matter fine dining, getting a regular massage, home delivery, getting your hair done at the salon, resort style holidays, taking up yachting, or any number of extravagances aren't very frugal, right?
Or are they?
Too often, those of us who are frugal can spend so much time focused on frugality, that we forget to consider the thriving side of the equation.
But frugal and thriving are two sides of the same coin:
You can't thrive without being frugal. And there's no point being frugal, if not to thrive.
When it comes to being frugal (not to mention the whole philosophy of this blog), it's important to ask yourself two things:
What does it mean to be frugal? and;
Why be frugal at all?
What does it mean to be frugal?
"Without frugality, none can be rich, and with it, very few would be poor." Samuel Johnson
There's a common misconception about frugality and it's that frugality means being cheap.
It's not about being cheap.
It's not about scrooging every cent. Or chasing rock bottom prices. Or holding on so tight to your pennies, that you squeeze any joy out of life.
Instead, frugality is the smart use of your money and resources.
You're frugal if you don't waste money, not if you don't spend money.
That's just being miserly. Which is not thriving at all.
Frugality allows you to be smart with your money not tight with it.
Being unwise with your money might be fun in the short-term but usually leads to long-term stress and heartache.
The key is to find the balance between living today and saving for tomorrow.
But if you're not saving money in the name of frugality alone, then why are you saving money?
Why are you frugal?
This is an important question to ask yourself.
Why do you live frugally?
For many of us, it's out of necessity. We stretch our dollar because it's the only one we have.
But some of us are frugal out of choice.
Why make such a choice?
Frugal living is not always the easy option and it's certainly not the popular, mainstream option either.
So why choose to be frugal?
I think for many of us, we are frugal because we want to make life a little better.
We want to maintain or improve the standard of living for ourselves, for our family members and of the community at large.
We want a healthy environment to live in and to leave to our children.
We want a content, healthy, stress-free life.
In other words, we want to thrive!
Frugality is the means to a better life.
So what will make your life better right now?
The answer to what will make your life better right now will be different from mine. After all, we all have different priorities.
That's ok.
It's a question that each of us needs to answer individually. There are no right or wrong answers!
Frugality isn't about hoarding. It's about prioritising what's important to you and spending your money and resources accordingly.
For my friend, one answer was to hire a cleaner. By outsourcing the cleaning, it would allow her to do two things:
free up time to spend on something of greater value (for her, it was more time with her family)
provide someone else with employment, most likely in a local small business or in the 'alternate' economy.
Not only does my friend benefit, but her family and the wider community benefit as well.
Now, I'm not suggesting that you have to spend money to be happy. It's still true that many of the best things in life come free. But you don't have to stick to the popular misconception that frugality means going without either.
There's just one catch.
Spending your hard earned money should help to make your life better, not put extra stress in your life. Added financial stress doesn't make your life happier or healthier.
Instead, use all your frugal habits and smart money management techniques to save where it makes sense to you and spend, debt-free, on your priorities.
There's enough stress in modern living without adding an extra financial burden that ends up making your life worse.
Being frugal is about making a better life for yourself, your family and the wider community. It is not a destination in itself, it's just the journey – the means to a happier, thriving life.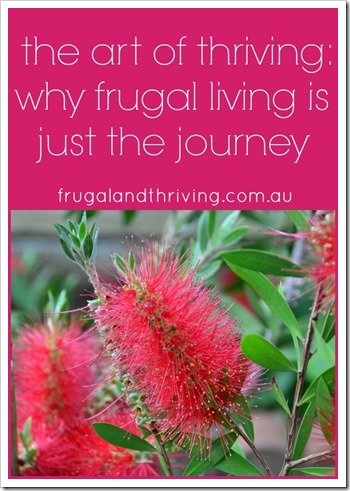 JOIN THE NEWSLETTER