Australian summer seasonal produce guide and recipe round up
This website may earn commissions from purchases made through links in this post.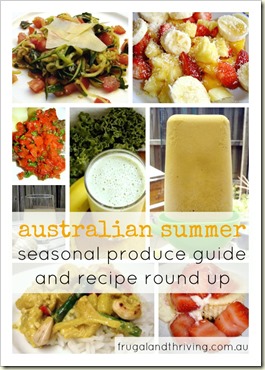 The other day, when the little fella walked in the door from preschool, he spotted three ripe mangos sitting on on the kitchen bench.
"Mummy! Are mangos back in season?! Can we eat one now?"
It's a proud moment when you know your children are absorbing the messages you try to impart on them.
Not long after, Nanna and Pa arrive, Pa bearing a gift.
Another ripe mango.
Pa knows how much the kids love their fruit and gets great joy out of bringing these surprises for them. And what a nice way for a grandparent to spoil a child!
Summer is a wonderful time of the year to eat seasonal produce fresh and raw. Fruit platters and salads are perfect on hot summer days. Raw food tastes best if the produce is fresh and seasonal.
A seasonal produce guide can help you choose produce at it's freshest, although there will be local variations across Australia.
Tomatoes, for instance, peak a lot earlier in Queensland, than they do in the cooler climates down south.
If you haven't already from previous years, you can download the Summer Seasonal Produce Guide (for Australia) here. I've given the old guide a bit of a fresh new look.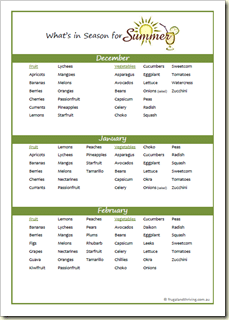 Here are some recipes from the blog that showcase summer produce. Stay tuned over summer for more seasonal recipes.
Recipes from the blog that showcase Summer produce
Preserving the harvest
Dinner
Sauces
Desserts
Drinks
Baking
A great place for your guide is either on the fridge for easy viewing, or kept with your menu plan, to help you to plan meals around what's in season.
JOIN THE NEWSLETTER