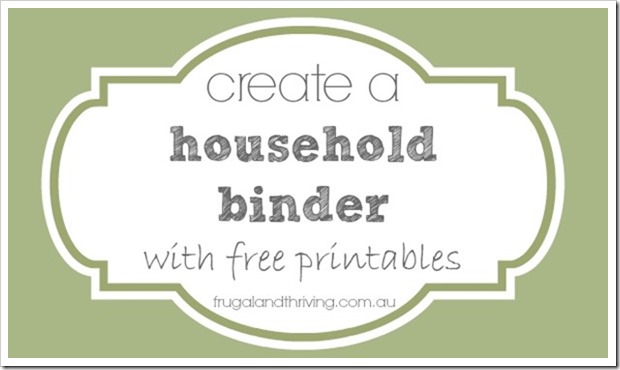 The other day I had to call to cancel a lost card.
(Note to self: don't let kids play with purse – the card turned up in the lego bin a few weeks later).
Losing a debit card is stressful enough, having to search for the lost card phone number adds a level of stress that you just don't need.
Cue today's printable – a banking and finance information page for your household binder.
It makes things so much easier having phone numbers and other important information readily at hand.
Getting organised can be just one more thing to do on top of a multitude of other day to day tasks.
Which is why I take baby steps – do a little bit each month towards becoming more organised.
And if you're also creating a household binder, hopefully these free printables will make it that much quicker and easier.
On the banking printable, you can keep all the pertinent information regarding each bank account, like BSB and account number, card number, customer service phone number etc.
I've included a spot to write down the 3 or 4 digit security code printed on the back of your credit card – you can choose whether you want to record this information or not.
I have not included a spot for any pins or online passwords. If you read your banking PDS, they will tell you not to write down your PINs and passwords. It's important to follow the bank's directions because if your account ever gets hacked, you don't want to give the bank a reason not to make good what has been stolen! But of course, that's at your discretion.
Keep your household binder in a private but easily accessible (by you) place.
The printable is in both PDF format and Word format (also compatible with the free Open Office program), in case you would like to edit it to suit your own circumstance.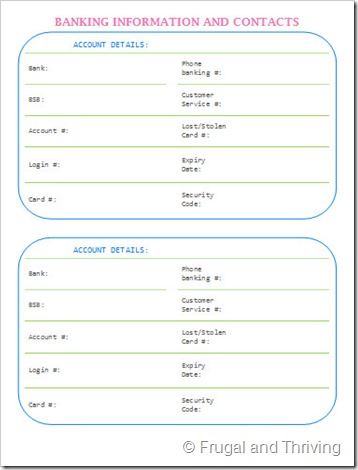 No matter how busy, or how chaotic life can get, a household binder is one of those things that make life easier. The busier and more chaotic life gets, the more essential and useful a household binder becomes. It's always when we need them most that we wish we had good systems in place.
So take baby steps, a little time now and then when life isn't so busy, to build a household binder. Use the free printables to make it easier. You'll thank yourself in your chaotic times.
Other free printables in this series: