This weeks action step, as part of the disaster preparation series, is to start gathering emergency supplies for your home.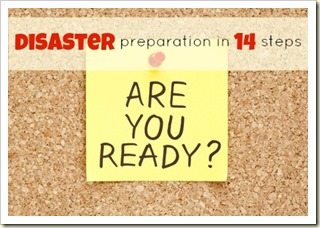 Last week we looked at putting together a grab and go bag for evacuation, this week we'll look at preparing the home in case of loss of utilities or services.
I haven't yet been directly affected by cyclone and flood (touch wood) but we have been cut off by flood, and supermarket shelves across South East Queensland (including Brisbane) soon emptied. Trucks had to wait for flood waters to recede before they could restock shelves. Food became scarce.
Last year, after (ex-tropical) cyclone Oswald passed through, nearly 300,000 homes were left without power across Queensland. We went without power for 2 days, some people had to wait weeks for power to be restored.
Disasters happen every year, all over the country. In the aftermath of a disaster, it's a very real possibility that you will have to go days, possibly weeks without basic services.
How long could you survive at home if water supply ceased or was contaminated? If supermarket shelves were empty? If there was no electricity?
A few generations ago, people could get by quite well without the essential services we take for granted today. Nowadays, many of us shop week to week, without stocking basic supplies. We rely so totally and utterly on the industrial system that if it should fail, even for just a few days, many of us would not be able to cope at all.
This week is not only about preparing an emergency kit, it's about building resilience by planning for alternate ways to get by, should our everyday services be disrupted.
preparing your home for emergencies… and life in general
Here's a list of items to consider stocking up on in order to be prepared for emergencies. Some items on the list I'll go into greater detail in the coming weeks.
Water – at least 3 days worth of water at 3 litres per person per day.
Ice – Keeping your freezer full of ice (assuming it's not full of food) will not only save you money on the electricity, it will help preserve your food for longer if the power fails.
Food – How long could you go if the supermarkets were empty? Stockpile at least an extra week's worth of non-perishable food.
Torches and other lighting
Spare batteries
Battery powered or hand crank radio
Well stocked first aid kit
Fire blanket and extinguisher
Extra medications – You don't want to run out of a prescription if you can't get to the store.
Emergency Cash – If power is out, you may not be able to use EFTPOS to make purchases, assuming there are stores open.
General household tools – You will need to turn off the utilities during a natural disaster. Make sure you have the tools to do so if necessary. Make sure you know where and how to turn off your utilities.
Extra sanitation and toiletry items
Extra specialty essentials like baby formula and pet food
Matches
Alternative cooking methods – A gas powered camp stove or BBQ will mean you can still cook food even if the power is out.
Important documents organised and easily accessible
Non-electric heating alternatives for cold climates
Spare fuel – You should keep the car full of petrol at all times. Spare fuel will mean you can still drive if necessary, even if you can't purchase more fuel.
Home garden – A home garden will mean you can still eat fresh healthy produce even if you can't buy any.
In the first post in this series I quoted emergency expert Lewis Winter who said that in the event of an emergency "what people have got to know is that they're on their own, literally on they're own."
It's a scary thought.
Building resources at home means you're not vulnerable if and when an emergency strikes and the systems we depend on day to day fail.
Do you stockpile food and supplies? How many days could you survive without everyday essential services like electricity, shops and water?
Melissa Goodwin is a writer and the creator of Frugal and Thriving who has a passion for living frugally and encouraging people to thrive on any budget. The blog is nine years old and is almost like her eldest baby. Prior to being a blogger and mum (but not a mummy blogger), she worked as an accountant doing other people's budgets, books and tax.