Book Review: Your Mortgage And How To Pay It Off In Five Years By Someone Who Did It In Three
This website may earn commissions from purchases made through links in this post.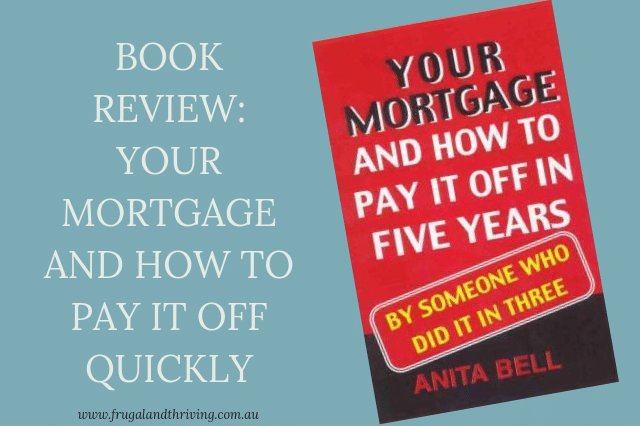 As I'm focusing on mortgages and home buying this month, I thought I would look at the popular Your Mortgage and How to Pay It Off in Five Years By Someone Who Did It in Three
by Anita Bell.
This is a book that I read a few years ago – before we bought our first home. And that's who it's really aimed at, the first home buyer.
The book covers everything about buying your first home, from the deposit to the contracts to paying of the mortgage in record time. It also gives a lot of tips for avoiding the tricks and traps of buying a home. The book is Australian, some of the details are going to be different according to what country (and even what state) you live in, but the general advice is useful for anyone.
Overview
The purpose of the book is to show that it is possible to pay off a mortgage in a very short amount of time and live a life debt free. Anita writes from personal experience and she shows the reader step by step how she and her husband paid off their mortgage in three years.
What I really like about this book is all the maths. When it comes to personal finance, numbers can often speak louder than words. Anita shows how to run calculations yourself so that you can assess your own situation. The book also provides tables of 'ready reckoners' to help you out.
The biggest criticism of the book is that the examples are outdated. Anita bought her house in the 80's when interest rates were high but when the housing price to income ratio was lower. So paying our mortgage off in five years or even ten may not be realistic for a lot of us. I know it's not realistic for us at the moment. But how about 20 years? Carving ten years from your mortgage will save you thousands. Anita discusses this in chapter one.
The key word in the book, and one that I think sums it up is sacrifice. There is no promise of an easy ride, but many people will agree that three or five years of sacrifice are worth raising a family debt-free.
How Much?
The book begins by looking at your motivations for buying a house, and how much you can afford to spend if you want to pay off your mortgage in 5 years. This is a bit of a reality check. The book shows how to work out your repayment amounts, and put these into an online calculator with the term (5 years) and the interest rate. This will give you an idea of how much you can borrow to meet this goal. Add your deposit and you've got your spending budget.
The Deposit
Of course, the bigger the deposit, the more you can spend on a house and still pay it off within your goal term. The next chapter answers questions like how much should you save, tips on saving the most you can, and traps and tricks to avoid.
The Contracts
When you buy your first house, it's all new and exciting and completely foreign. If we hadn't read up on it (Your Mortgage
was my main source of info) we would have had absolutely no idea.
This chapter covers what a contract actually looks like and how to get a contract on your terms. It takes you through home buying process so that it isn't completely foreign.
We took Anita's advice and got one of the best solicitors on the coast to do our conveyancing. They looked over the contract before we signed it. One of the things that they changed was stating that all current fixtures (including the dishwasher) are a part of the purchase and should not be removed by the vendors. The seller must have had a bit of a chuckle, the dishwasher is ancient – and broken. But at least it wasn't pilfered before we moved in. This can happen.
Loans and Lenders
Which Loan? Which Lender? These chapters give you the questions to ask about your loan. The book also gives you an example loan application form and goes through the loan application process.
We used a mortgage broker, so we outsourced the whole loan comparison process. Still, to ensure that the loan that the broker was offering was right for us, the questions in the book came in handy.
Which House
This chapter not only includes a checklist of questions you should ask yourself about what house you want, it provides good advice for evaluating the value of a house against the seller's asking price. The book suggests finding the rateable value of the land and add an approximate cost for all improvements such as the cost of building a house, the landscaping and driveway and fence and other improvements like a pool less depreciation to get an idea of what the property is worth.
The book also suggests finding out from the Lands Department how much the vendor paid for the house themselves to give you a bit of negotiation leverage.
Paying it off quickly
This is the important part of the book.

How do you pay your mortgage off quickly?

By budgeting your butt off!

With a five year term there is no room for indulgence. The key word (in fact there is a whole chapter on it) is sacrifice. To pay off your mortgage in that time takes sacrifice. No eating out, no entertaining, no latest gizmos, no new clothes, no kids!

The key to surviving this period of sacrifice is the 'sanity allowance.' For Anita, this allowance was paltry and went to paying for a lot of what the rest of us would consider 'necessities' like birthday presents and new car cover seats. It comes back to your goals and motivations.

The last chapters of the book give you resources and calculations to help you in the process of finding and paying off your loan.
My thoughts
Most of the knowledge I had when we bought our first home, came from this Your Mortgage and How to Pay it off in Five Years
. Some of the things we did because of reading this book were:
we got preapproval on a loan before looking for a house, which our mortgage broker thought was a bit odd.
we had a good solicitor who looked over our contract before we signed it, making sure that it was subject to approval of a bank of our choice not the vendor's.
we pay our mortgage fortnightly instead of monthly and pay about $40 more than the minimum, saving us about 10 years and thousands of dollars off our mortgage.
we live on a single income at the moment. If we had not bought below our budget we would never be able to afford to live on a single income.
Even though the examples are a bit outdated, the advice invaluable. If you are a first home buyer then this book is a great resource. Even if you don't want to pay off your mortgage in five years, implementing just some of the tips will reduce your mortgage, save you from some of the tricks and traps real estate agents can pull and save you thousands over the course of your mortgage.
JOIN THE NEWSLETTER