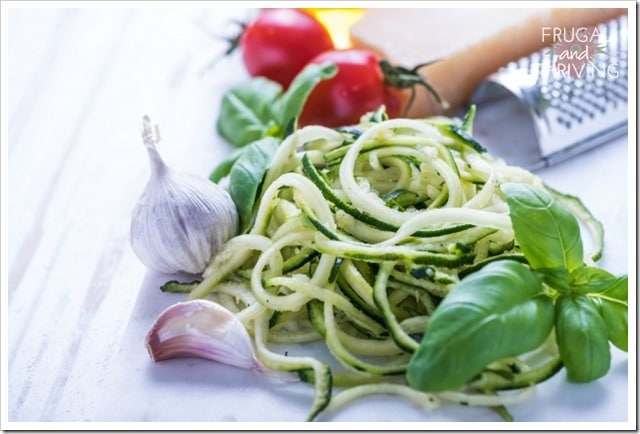 Zucchini noodles or spaghetti is a great gluten-free alternative to regular pasta and is much cheaper than buying special gluten-free products, especially if you have zucchini growing in the garden at the moment.
Zucchini noodles are tasty, packed full of nutrients and are simple to make.
So what are zucchini noodles?
Simply zucchini cut into long, thin spaghetti strips.
You can cut your zucchini strips using a vegetable peeler for thin strips and then use a knife for the spaghetti, or you can get a julienne peeler very cheaply. We use a spiralizer (this one), which makes the task quick and easy, especially if you're making enough noodles for the whole family.
This dish makes for a great lunch or light Summer dinner.
If you like your zucchini raw, then there's no need to cook this dish at all, simply toss the lot in a little olive oil and enjoy as a salad. Quick and easy.
I'm not very partial to raw zucchini, so I give this a light sauté in a little olive oil. Even cooked, this dish only takes a minute or two.
I'm always surprised that my children will eat these zucchini noodles. They don't really like eating zucchini normally, but cut into noodles and served as a 'pasta' with sauce, they'll eat the lot and ask for seconds.
Brucetta Zoodles
Ingredients
1 Tbsp. olive oil
1 zucchini, cut into spaghetti strips
1 small clove of garlic, crushed
1 tomato, diced
a few fresh basil leaves, torn or shredded
fresh Parmesan cheese to serve
Instructions
If you're eating this raw, toss all the ingredients together (except the Parmesan). Top with Parmesan and serve.
If you're cooking your noodles, heat a little olive oil in a frying pan over medium-high heat and toss the zucchini noodles in the pan for a minute or two until cooked to your liking.
Remove from the heat and turn the heat down. Add the garlic and cook for about 10 seconds to take the rawness off – you don't want to burn it.
Add the diced tomato, the cooked zucchini and basil and toss together for another few seconds before serving.
Top with Parmesan