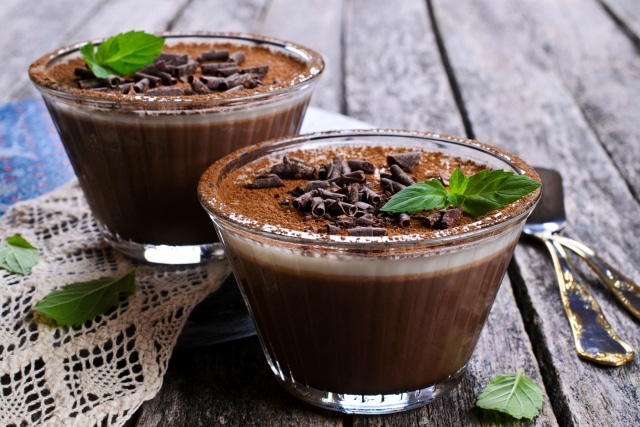 Love to indulge in chocolate?
Just because you're on a budget, doesn't mean you can't enjoy decadent desserts. And you can't get more decadent than a creamy, chocolatey boozy mousse.
To get the best-flavoured mousse, splurge on the best quality chocolate you can afford. Don't use cooking chocolate, instead, go for Lindt. Look for it on sale so you can splurge for less.
You don't have to make this mousse boozy – leave the rum out if you like. Or shake things up by trying different variations: Cointreau (or Triple Sec) for a Jaffer flavour, Tia Maria for a mocha flavour or Frangelico for a hazelnut flavour.
Or you can use the flavours in the different Lindt bars to create tasty variations. Either way, this chocolate rum mousse is a flexible recipe that is bound to impress.
Chocolate Rum Mousse
Ingredients
250g good quality dark chocolate, chopped
3 eggs
1/4 cup of sugar
2 tsp. dark rum
1 cup of whipped cream
extra cream and chocolate to serve
Method
Melt the chocolate in a heat proof bowl that has been set over a pot of simmering water. Ensure that the bowl isn't touching the water and that no water gets into the bowl. Leave to cool. You want the chocolate cool enough so it won't scramble the eggs, but still runny.
Beat the eggs and sugar in a bowl until the mixture is thick, pale and increased in volume. Electric beaters are good here (it takes about 5 minutes) but a whisk works fine (and works your arm).
Using a metal spoon, fold the chocolate and the rum into the eggs, leave the mixture to cool further.
Gently fold in the whipped cream until just combined.
Spoon into ramekins or dessert glasses and refrigerate for 2 hours or until set.
Serve with extra whipped cream and garnish with grated chocolate.
Melissa Goodwin is a writer and the creator of Frugal and Thriving who has a passion for living frugally and encouraging people to thrive on any budget. The blog is nine years old and is almost like her eldest baby. Prior to being a blogger and mum (but not a mummy blogger), she worked as an accountant doing other people's budgets, books and tax.