How to Give Your Home a Detox
This website may earn commissions from purchases made through links in this post.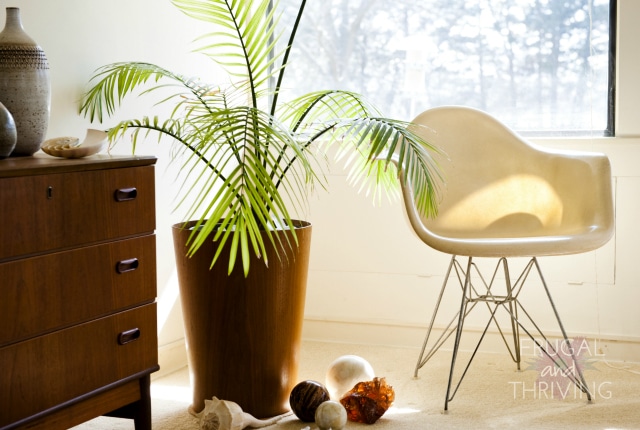 Your home.
The place you're most comfortable.
Your safe place.
Or is it?
Who would have thought that the air quality inside the home can be up to 2-5 times worse than outside air pollution?
The combination of outdoor air pollution becoming trapped in a poorly ventilated home, along with all the sources of air pollution inside the home means you and your family living in a toxic soup.
Constant exposure to indoor air pollution can have immediate health effects like headaches and irritation to the eyes, nose and throat. It may also cause long term effects like respiratory disease [source].
Couple that with the fact we spend on average around 90% of our time indoors and indoor air pollution has been consistently ranked as one of the top five environmental risks to public health and is thought to have an economic cost of $12 billion dollars in Australia alone [source].
The good news is, we can take a few easy and frugal measures to reduce the toxicity inside the home.
12 FRUGAL WAYS TO DETOX YOUR HOME
1. OPEN THE WINDOWS
Inadequate ventilation is a big problem when it comes to indoor air quality, so make sure your windows are open, even if it's just a little bit, to provide cross ventilation.
2. REMOVE YOUR SHOES AT THE FRONT DOOR
Don't walk outdoor pollution inside. Dirt can harbour all sorts of pollutants, so avoid bringing it into the house by leaving your shoes at the front door.
3. VACUUM REGULARLY
Those dust bunnies behind the lounge and under the bed? They can harbour all sorts of chemical nasties as well as mould spores.
So give your house a regular vacuum with a vacuum cleaner fitted with a HEPA filter and change the filter often.
4. KEEP YOUR HOME DAMP FREE
It's not just man-made chemicals that contribute to indoor air pollution. Mould can be a significant contributor to poor indoor air quality.
But don't reach for the bleach and make the problem worse. Natural alternatives like vinegar and tea tree oil not only reduce the toxic load in the home, they are also more effective at getting rid of mould.
5. MAKE YOUR HOME A NON-SMOKING ENVIRONMENT
Cigarette smoke is full of toxic chemicals and long-term second-hand smoke, especially in a poorly ventilated area can be harmful.
6. SWITCH TO NATURAL CLEANERS
Commercial cleaners are full of chemicals and we spray them freely around our home.
Not only are most natural cleaners chemical-free, you'll save a heap of money by switching.
You don't need to buy special cleaners, make your own with what you have in your pantry.
7. AVOID ARTIFICIAL FRAGRANCE
Part of what makes a house a home is a fresh scent. The problem is, artificial fragrances can really lower the air quality.
Here are 3 ways to scent your home naturally and enjoy the benefits of aromatherapy:
8. USE NATURAL PEST CONTROL METHODS
It shouldn't be surprising that products designed to kill are also not healthy for us humans either.
Instead of opting for chemical pest control, first, try natural alternatives. Swat the flies, set the spiders free and, keep the screens closed and use essential oils to reduce pests in the home.
9. DITCH THE PLASTICS
Plastics contain all sorts of known harmful chemicals which leach out into the environment when the plastic is heated, worn out or put under pressure.
Eliminating plastic in the home is almost impossible, but taking steps to reduce it will go a long way to improving air quality. Try to opt for natural alternatives to plastic where you can. You don't need to spend a fortune – recycled glass jars are just one alternative to plastic and these are free.
Further reading: 10 Ways to ditch disposables in the kitchen
10. SWITCH TO NATURAL PERSONAL CARE PRODUCTS
We can each be exposed to dozens of different chemicals each and every day via the personal care products we use. From anti-bacterial soaps to shampoos, to makeup, our skin is exposed to chemicals dozens of times a day.
Switching to natural personal care products will reduce the toxic load for yourself and your family. You can make your own natural products and save or you find a great range at Nourished Life*, an Australian supplier of a wide range of natural products.
11. PURIFY THE AIR WITH INDOOR PLANTS
According to studies done by NASA, growing indoor plants can improve the air quality inside the home. Check out this article on house plants that are not only the best varieties for removing toxins in the air, but are also the easiest to grow.
Check out this article on house plants that are not only the best varieties for removing toxins in the air, but are also the easiest to grow.
12. FILTER YOUR WATER
Water containers chlorine and other chemicals to prevent waterborne disease. That's a good thing – the problem is, those chemicals aren't very good for us either.
A cheap carbon filter will filter out most chemicals. If you want to filter out fluoride as well, you'll need a more heavy-duty filter. Check out this article for more details.
13. BUY SECOND-HAND FURNITURE
Here's a money saving tip that will also reduce toxicity in your home.
Particle board, plywood, MDF and other cheap construction materials often have formaldehyde and other Volatile Organic Compounds that 'off-gas' into the air.
The chemicals do dissipate over time, however, which is why second-hand furniture can be healthier than new – as long as it's clean and not full of mould!
Even better if you can invest in quality furniture made from real wood and natural fabrics – buying second-hand makes this more affordable.
14. SPEND MORE TIME OUTSIDE
Spending time in nature is good for your health in many ways, but if it means you're not spending 90% of each and every day sucking in indoor pollutants, then that's one more tick in the 'nature's good for you' column.
So get outside in the fresh air as much as possible to give your body a well-deserved detox break.
MORE TIPS ON DETOXING YOUR HOME
These tips may not be as cost-effective, but are still important to keep in mind when reducing the toxic load in your home.
Ensure all gas appliances are flued to the outside.
Use the range hood if you have one when cooking, especially if you have a gas stove.
Ditch the Teflon. Use stainless steel to cook with instead.
If you have a wood fire, burn seasoned, untreated wood and keep the heater well maintained.
Replace or clean filters on air conditioners and central heating systems regularly.
Carpet is not only full of chemicals, it's also really good at harbouring them. So consider flooring alternatives to carpet like tiles or floorboards.
If you do have carpet, get it regularly steam cleaned. And if you're laying carpet, consider a low emission carpet or get the installer to air it out in the factory before laying it.
Choose hardwood, metal, glass or chrome furniture over particle board and look for low formaldehyde furniture. Choose wool or cotton covers over synthetic materials. Or go second hand: furniture that is older than five years and hasn't been re-upholstered usually does not continue to give off-gas.
Be aware of asbestos and lead paints when renovating. If you live in an old house, call in the experts to inspect for these toxins. Opt for low-volatile paints when painting.
Always consider non-toxic alternatives first.
If you live in a high pollution area (on a main road for instance) and are experiencing symptoms of pollution exposure, you may want to consider an air purifier. However, there are a few drawbacks to air purifiers (like ozone emissions and electricity usage) that are well worth investigating prior to purchase [source].
We can't eliminate our exposure to pollutants, but we can significantly reduce it.
On a large scale level, state governments are working to reduce emissions of air pollutants. We can help by choosing to buy less toxic products. This will not only reduce our own exposure to pollutants, it will reduce overall ambient pollution, making the environment healthier for everyone.