easy frugal water table play ideas
This website may earn commissions from purchases made through links in this post.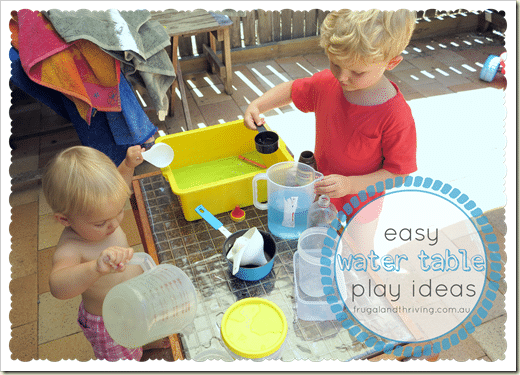 There are two things that I can guarantee will keep my kids happily amused for ages: play dough and water play. Despite having a variety of toys, it's always the simple things that really keep them engaged.
Water play is good at any time of the year, but it's especially good during summer. Sure, you can invest in a commercial water table, but it's far from necessary. Any old table will do.
In fact, the table is optional. I love how flexible kids are and how easily they can squat. The more they squat and move naturally, the less likely they are to lose that flexibility; I need years of yoga to get that kind of flexibility back!
While playing with plain ol' water is endlessly fun, adding a drop or two of food colouring just makes it that little bit more exciting. We had a mini science / art lesson the other day when we poured the blue water into the yellow container and the water turned green! The little fella found that particularly 'astounding' ("Well I'm astounded!" he declared).
Water play isn't just fun, it's great for developing hand-eye coordination and everyday concepts like measurement. It's frugal, it's cooling on a hot summer's day and you can get on with other things (supervising for safety, of course). At the end of play, the kids can help tip the leftover water onto the garden and hang up any wet clothes on the line, which my kids find just as fun as the water play itself.
I place an old towel at the door, extended all the way out, for wiping wet feet during the inevitable running back and forth inside. I figure, by the time the little lady (who is not quite old enough to remember to wipe her feet) reaches the end of the towel, her feet will be dry.
Here are some ideas for extending water play:
large container, bucket to hold the water
recycled containers like yoghurt containers, sauce bottles, milk containers etc. cleaned
empty cosmetic containers like shampoo bottles, squeezy bottles, face cream jars etc. (just make sure the containers are thoroughly cleaned first)
empty bottles (poke holes in an empty soft drink bottle for a 'sprinkler')
cups
empty pump packs
spray bottles
measuring cups
measuring spoons
pouring jugs
paint brushes and rollers (for painting the fence, for example)
Tupperware like containers
spoons, whisk, soup ladle etc.
kitchen bowls, pots and pans
muffin tins
sponges, cloths and brushes
dropper or syringe (like a clean panadol doser)
funnel (you can make a funnel by cutting the top half off an empty soft drink bottle)
dolls (to bathe)
cars (to wash)
plastic toy animals (maybe they can have a swim or ride a tupperware boat)
tongs
natural materials: rocks, seed pods, leaves, shells
ice
soap
watering can
And no doubt, the kids will come up with a whole host of ideas for extending water play, that we could never imagine.
Water play is a great frugal activity for young kids (and not so young kids). It will keep them amused for hours, and they are learning through play at the same time.
What are your kid's favourite ways to play with water?