fallen on hard times? negotiate your debts and get your life back on track
This website may earn commissions from purchases made through links in this post.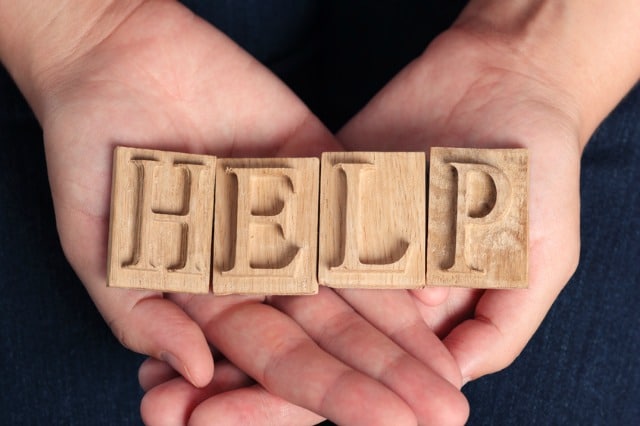 Anyone, any time can find themselves in financial hardship, even if you're a super-star financial manager.
Things can be going along swimmingly and then illness, injury, job loss or a number of other situations can throw you a curveball.
The debts you were managing easily, like the mortgage or car repayments, can then become difficult or impossible to maintain, either in the short term or the long term.
So what do you do if you find yourself in this situation?
What you might want to do is crawl into bed and ignore the problem, hoping it will go away. Or maybe stress and worry about how you'll make ends meet.
What you can and should do is talk to your credit providers pronto and negotiate your debts on the grounds of financial hardship.
And you can also get help from a free trained, independent (based in community organisations) financial counsellor to help you through the process.
how to negotiate your debt payments
1. TALK WITH YOUR CREDITOR(S) ASAP
As soon as you find yourself in a position where you can't make a repayment on any debt, contact your creditor and explain the situation.
Explain your change of circumstances and negotiate an arrangement. If your circumstances go beyond a single payment, tell them. Be specific about how long, how you'll make payments and how much you can afford.
Even if you can't make a repayment in full, paying off a small amount still reduces your debt, reduces your interest and demonstrates good faith.
Your options for negotiation include:
Requesting extra time to pay if you believe your circumstances are short term.
Requesting to make a reduced payment. For an ongoing change, you may need to enter a formal arrangement, but a creditor may accept reduced payments for a short period.
Making a debt reduction offer which means offering what you can as a full and final repayment to clear the debt (despite it being less than is owed).
Asking for a waiver of the debt if you won't be in a position to pay the debt for some time.
There is no guarantee that your creditor will agree to your request, but you don't know until you ask, so it's the place to start.
3. WORK OUT HOW MUCH YOU CAN REPAY
Before you make an offer to your creditor, you have to work out how much you can pay and estimate how long your period of financial hardship will last.
It's important to be realistic about repayment amounts so that you can meet this new arrangement.
To work out how much you can afford to pay on your debts, you need to work out a budget for your money.
Then you need to do a debt repayment plan, prioritising your most important debts.
If you need help working this out, seek the advice of a financial counsellor (below).
4. PRIORITISE SECURED DEBTS
What are your most pressing debts?
The most important debts to keep up with repayments are secured debts – debts secured by property like your mortgage or your car loan. Not keeping up with repayments on these debts could see your property repossessed.
That doesn't mean, however, you can't negotiate repayments on these debts.
Unsecured debts include credit card debt and these are secondary. That doesn't mean you can ignore these debts however. If you do, your lender can take legal action against you.
It's still important to contact your lender and explain your situation and negotiate a payment plan.
5. KEEP EVERYTHING IN WRITING
It's important to keep a record of all phone calls and copies of all correspondence, both from you and from your lender regarding agreements for the payment of you debt.
For letter templates visit the Debt Self-help website here.
6. USE A BILL INSTALLMENT PLAN INSTEAD OF BORROWING TO PAY THE BILLS
You can also negotiate repayment plans with your service providers like your electricity company, telephone company, water supplier, insurance provider and local council.
If you're having trouble paying your bills, it is better to negotiate a payment plan than to get yourself into further debt using your credit card to pay them.
What if your creditors won't negotiate?
If you are experiencing financial difficulty, you have the legal right to ask your lender for a hardship variation (which is slightly different from informal negotiations).
You can ask for any kind of variation that will help you get back on track including:
postponing or deferring payments;
extending the term of the loan and reducing the repayments;
adding any arrears to the loan balance;
interest only payments for a period;
a loan restructure;
some other variation (perhaps a combination of things)1
To apply, either fill out the lender's online application or call or write a letter or email. It is better to put your request in writing so that you can keep a copy of the request.
The lender then has 21 days to get respond to you. In that time, they cannot take any action to enforce the debt. The lender may ask you for more information.
If your hardship variation request is approved, any letters of demand will cease and your lender will not normally notify any default on your credit report, which means your credit rating won't be affected.
However, unless you have negotiated a stop on interest, you will end up paying more over the long term.
If you hardship variation is not approved, you can complain to an independent dispute resolution scheme like the Financial Ombudsman Service.
where to go to get help
As mentioned above, you can get free, qualified help from an independent financial counsellor.
There are plenty of shonky debt services available that will negotiate your debt for you…for a fee, often a hefty fee.
Instead, contact Financial counselling Australia for free independent help. Their phone number is 1800 007 007. Or you can check out their self-help website here.
further information and resources
Don't let hard times force you into bankruptcy. There are steps you can take to alleviate the pressure of creditors chasing debt repayments. Get free help and get your finances back on track.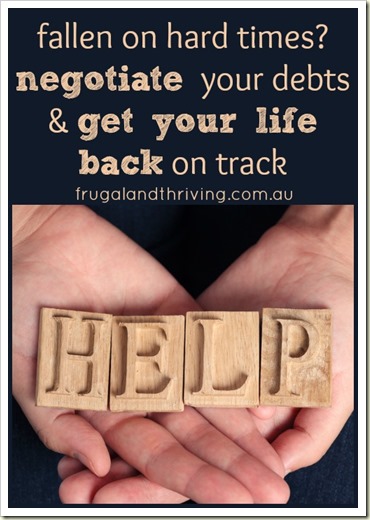 JOIN THE NEWSLETTER