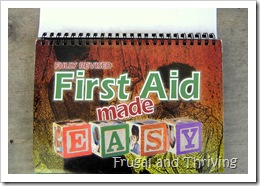 Accidents happen. Are you prepared?
I'm ashamed to admit that I'm not currently fully prepared for accidents, emergencies and other home first aid requirements. But I'm working on it. We have Dettol and band aids (and we live next door to a paramedic, which comes in handy :)) but we've been caught out a few times recently and it has been a good reminder to re-stock the first aid supplies (particularly for out and about) and brush up on our first aid knowledge.
First aid can mean the difference between life and death so it's a skill well worth investing in. But besides emergencies, there are the little day to day scrapes and falls, colds and flues that we need to handle as well. That's where a well stocked first aid kit and medical cabinet come in. Here are some tips for being prepared.
1. Take a first aid course
You can be all kitted out for an emergency, but your kit won't be much use if you don't know how to apply first aid! The first and most important step in being prepared is to take a first aid course.
I have taken first aid courses in the past so I know the basics, but I am well overdue for a refresher course. Taking refresher courses is just as important as taking an initial course. Not only are you refreshing old and possibly forgotten skills (especially if you don't use those skills often – hopefully you don't need to), you also catch up on the latest methods in first aid – best practices change. The St John's ambulance basic first aid certificate is valid for three years and they recommend doing the CPR refresher annually.
If you're a parent or child care worker, it's a good idea to also take a course that's specific to treating children.
To find a first aid course near you, check out the St John's Ambulance website, Red Cross or Google first aid in your area for alternate course providers. The cost of a course ranges from around $80 to $300 depending on the course and provider.
For parents, at various times throughout the year Target offers FREE first aid training in conjunction with St John's Ambulance, click the link for details (I'm enrolled in one of these so I'll let you know how it goes).
2. Build a basic home kit (for emergencies, illness and minor treatments)
You can buy a ready made basic kit for the home and car, but there are probably going to be things you want to add to this kit. You can purchase first aid kits online or from St John's Ambulance or the Red Cross, but they are also available in chemists and stores like Big W.
If you would like to create your own kit from scratch (or you need to top up your supplies), the Red Cross provides a detailed list of recommended items. A very basic first aid kit can include the following:
Emergency contact numbers: These include your doctor, local hospital number, emergency contact information (family, neighbours etc.), health line, poison info line etc. You may also want to include essential medical information for each family member like allergies, medical conditions, regular medications, blood type etc.
First Aid booklet: Ours is pictured above. It sticks to the fridge (top white flap is a magnet) where it is readily accessible. A good first aid booklet is up to date, has lots of clear photographs and simple instructions that are easy to follow in emergency situations. A side finger index for quick access to info and ring binding so that it lays flat are both useful.
Antiseptic (or antiseptic wipes)
Antibacterial ointment
Saline solution
Band aids of various sizes
Gauze Pads / non stick dressings
Bandages (crepe and triangle)
Instant cold / cot pack
Tape
Gloves
Tweezers
Scissors
Space blanket
To save on supplies, look out for specials or discounts and stock up or look online for discount supplies. Discount stores, supermarkets and discount chemists will often sell the same products as regular chemists for less.
3. extras and medical supplies
Other things you may want to consider, depending on your circumstances, for your personal medical kit include:
A thermometer (if you have young children, an in ear thermometer is more convenient than an oral / underarm one. They are expensive, but you can get them cheaper online (like this one from Amazon).
Calamine lotion for bites and stings
Aloe Vera gel for sunburn
Antihistamine cream for stings and bites
Paracetamol
Children's paracetamol + dropper / syringe for administering dose
Cold and flu tablets / cough syrup + measuring cup or natural alternatives
Medicine for specific circumstances (for example, back-up asthma medicine or antihistamine for allergies, depending on your family's needs)
Vapour Rub
Eucalyptus oil (good decongestant)
Antacids
Tiger Balm / Arnica / Deep Heat for muscle aches
Cold packs kept in the freezer
Wheat pack or similar to use as a heat pack
Plastic wrap (the paramedic next door wrapped a neighbour's hot water burn in gladwrap as well as running it constantly under cold water while waiting for the ambos to keep it clean and the air off it – oxygen can make a burn hurt worse apparently. Click here for more info on burns and a handy first aid video and here for more info on plastic wrap for burns.)
A lot of people swear by homeopathic remedies but I've never used them, so I can't comment. I am in the middle of reading a really interesting book written by a paediatrician who is also a naturopath called, 100 Natural Remedies for your Child. I really like this book because it balances conventional medicine with good nutrition and he especially looks at allergies and sensitivities to food (at least in the first half of the book), which many mainstream doctors tend to ignore. And I think that's what medicine is about: a whole person approach, not just a symptoms approach – a balance between conventional and natural medicine.
If you're interested in exploring more natural medicine and first aid alternatives, Stephanie from The Keeper of the Home has an article on what she stocks in her natural medicine cabinet, which is a good introduction.
(And of course, as you already know, keep all this stuff out of children's reach.)
4. Don't forget a portable kit for out and about
We went to the pool the other day and the little fella had a nasty fall, straight down on his knees. While I was worried about fractures (he couldn't stand and walk that afternoon – he was fine though, a bit of bruising and stiffness, that's all) the nurse on the 13 health line was more concerned about infection – did we, she kept asking, wash out the grazes with antiseptic? Um, well, no.
Having a small, portable kit that you can carry in your bag is great for just such incidents. What you include will depend on your circumstances and what you plan on doing. Here's a few things you might consider:
Band aids
Antiseptic wipes
A small saline wash
Sunscreen
Insect repellent and anti-sting cream (black ant bites hurt)
A small hand sanitiser (I can't believe I'm saying that, I'm usually very anti hand sanitiser, but there have been times I wish I had it on me (think kid's playing in dog poo) and if you're cleaning wounds, then clean hands is important.)
A small instant cold / hot pack
You may want to consider a more extensive kit for the car and especially for camping and hiking trips (bandages for snake bites, vinegar for blue bottles for instance). Check out your road side assistance provider for member's discounts on travel first aid kits.
A side note – health and emergency services
As well as your local hospital, 000 emergency service and local GP there are various other health services available that you may want to keep in mind.
I can't recommend highly enough the health line service for non-urgent medical help. We have used this service on numerous occasions when we were concerned about something, it wasn't an emergency, but weren't sure if we would need to take a trip the ER (especially good for after hours when a visit to the GP isn't an option or for when the GP is booked full).
For those living in NSW, ACT, NT, Tasmania, SA and WA you can call Health Direct (1800 022 222). For Victorians you can call Nurse on Call (1300 60 60 24) and for Queensland residents the service is 13 Heath (13 4325). These services are for non-urgent medical advice. All of these free health call lines are staffed by qualified nurses. Keep this number readily available, it's very good for both reassurance and advice.
You may also want to look up and keep on hand the number for your local house call / after hours doctor (yes, you can still get doctors that make house calls in many areas). Often this service is free (bulk billed). We used an after hours doctor service for the little fella when it looked like he had a hernia (it came on suddenly at night). The doctor came around 9pm (we had approximately a 30 minute wait) to assess the little fella. Again, for the non life-threatening, non-emergency stuff, having a doctor come to your house beats hands down waiting in the emergency room for hours.
Each state also offers various other health services like parenting services, counselling services, drug, cigarette and alcohol services, crisis lines (Lifeline), women's and children's health services, poison information line, etc. Again, many of these services are free. Ask your local GP or check out your state website for details on the services provided and the contact information for these services.
In an emergency, always just call 000 (info on calling from mobile phones found here).
Do you have the skills to deal with an emergency? Do you know what to do for an ant bite or a knee graze (common sense is only common once you've learned it)? Do you know who to call for advice or how to get help? It's a good idea to regularly brush up on first aid skills and regularly check your supplies (and your emergency contact list) so you are prepared for those inevitable bumps and scrapes or more serious injuries and illnesses.
What other things in your first aid kit / medicine cabinet do you find useful to have?