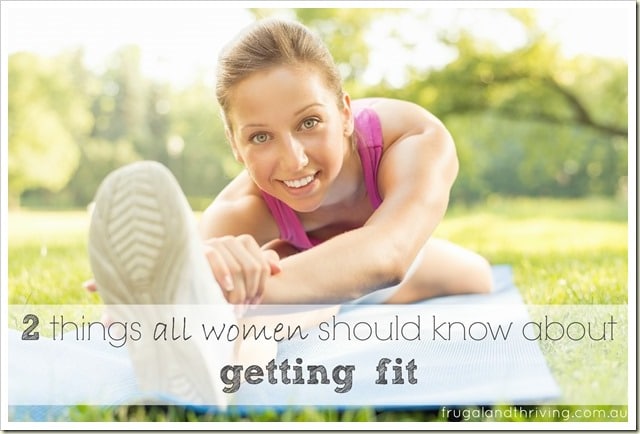 That's not me in the picture.
I'm not big on fitness. I'm more of a bookworm than a gym junkie.
I wish reading about fitness for women counted. Because then I'd be super fit.
Unfortunately, all that reading, and the sitting around on my butt, has a the opposite effect.
Darn.
Frugal Dad and I were discussing fitness a few months ago and we agreed that life would be better if we were more fit. We'd have more fun. We'd live longer. We'd enjoy our kids more and they would enjoy us more. We'd be healthier and better role models.
So I went to my neighbour, who is a total fitness guru, and asked her to give me a routine and keep me accountable. When she asks over the fence, Wilson style 'have you done your exercises today?' I don't want to hang my head in shame.
All that reading hasn't gone to waste, though. There are two important things I've learned – and that I think every woman should know – that help me get the most out of my exercise time.
get more fitness from your exercise and more exercise from your time
One of the biggest obstacles to fitness is time constraints. Modern life is busy and we spend most of it sitting down.
Interval training is all the rage at the moment and it removes the 'I don't have time' excuse, because the workouts are short, as little as 5 minutes (Tabata method) several times a week.
And women in particular benefit more from high intensity interval training.
High intensity interval training (HIIT) is short bursts of activity at maximum effort interspersed with low effort activity or recovery time.
Benefits of interval training include:
burn more calories – because you're working harder. Bonus: you also continue to burn more calories after you've finished exercising.
improve aerobic capacity – have a healthier heart
no equipment necessary – this exercise is totally free
increases metabolic rate – the increase HGH (human growth hormone) keeps you looking younger, longer
"Incorporating HIIT (at the appropriate level of intensity and frequency) into [your] cardiovascular training allows exercise enthusiasts to reach their goals in a very time efficient manner." University of New Mexico
Check out YouTube for free interval training ideas (I've been using this one – so simple but a surprisingly good workout). To time my workout, I downloaded this HIIT app for free.
Increasing muscle strength is also important for fitness. The more muscle mass you have, the more you burn calories. You also strengthen bones and reduce the risk of osteoporosis, improve blood-sugar control, improve sleep and improve mental health [source].
I've been doing some simple strength exercise like squats, push ups, lunges, etc. to increase strength. Again, no equipment necessary, just body weight.
How do you fit this workout into a busy schedule?
By doing it piecemeal.
By doing 20 push ups against the bathroom sink before having a shower.
By doing lunges around the house (imagine me doing an impersonation of Neil Armstrong walking on the moon as I follow the well-worn track between the kitchen and the laundry – it might look a bit weird if you do this around town or at work).
By doing 20 squats while waiting for the kettle to boil or the pan to heat up for dinner.
By doing your kegels while brushing your teeth (3 minutes each).
Which brings us to an important point: many of us don't get the full benefits from exercise because as soon as the workout is over, we go straight back to our sedentary lifestyle and the workout is cancelled out.
Continual incidental exercise throughout the day and sitting as little as possible is also important for overall fitness and good health.
HIIT is great, strength training is great, but you can't beat good old walking either.
And it's free too.
what I wish I knew before I had kids
After the birth of both of my fairly big babies, I had pretty bad diastasis recti abdominus – that's where your stomach muscles split in two down the middle.
Just makes me feel all queasy thinking about it.
It's very common. If you've ever been pregnant, there's a chance you have it too.
You can heal the diastasis, but all those regular exercises we do to our stomachs like crunches, sit ups and planks, can make the diastasis, and the pooch that goes with it, worse!
I discovered Fit2B* a year after I had my second child. They specialise in rehabilitating your stomach and strengthening your core with their 'tummy safe' workouts.
They have loads of free information about your core muscles and looking after yourself before, during and after pregnancy as well as a couple of free workout videos to get you started strengthening your core.
You can also find out if you have diastasis using their self check guide found here.
I use the workouts on this site specifically to heal and strengthen my core, but they also have a whole heap of different workouts including Pilates, Yoga, Tabata and interval workouts.
It's not free, but it's very affordable. Much cheaper than a personal trainer – that's if you can find one who knows anything about looking after your stomach and healing diastasis!
I can work out at home and their workouts look after and heal my body in a way I just can't find anywhere else.
And all those Tabata star jumps I've been doing…well ladies, let's just say I'm working on fixing the not so 'L' LBL, if you know what I mean.
How to look after your body is information every woman should know. If you've had kids, you're pregnant or you ever plan to have kids, I recommend checking out all the free information on the Fit2B* website!
I wish I knew this information years ago! My body would be a lot stronger and happier if I did.
We're different to men. While it might give us bragging rights to do a workout session fit for men, the reality is we're much better off tailoring our fitness around our body's and our lifestyle's needs.
Maybe you're already well into fitness. Or maybe you're a beginner like me. Either way, if you're a woman, you can benefit from the high intensity interval training method as well as focusing on exercises that strengthen, not ruin, your core.
*You know the drill, always consult a doctor before starting a health regime. HIIT workouts can be tough and potentially dangerous if you have pre-existing conditions.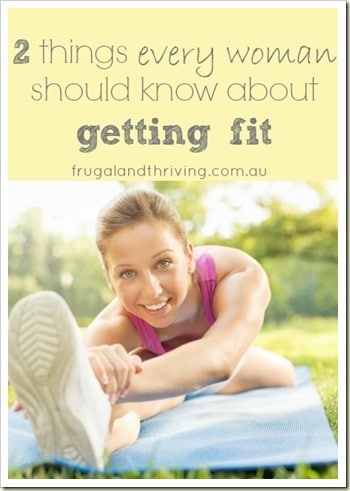 *This is an affiliate link. That means, should you choose to make a purchase, I receive a small commission, which helps support my blogging activities. I only recommend stuff I use and love myself and I truly believe this is information all women should know to make empowered decisions about their bodies.
Melissa Goodwin is a writer and the creator of Frugal and Thriving who has a passion for living frugally and encouraging people to thrive on any budget. The blog is nine years old and is almost like her eldest baby. Prior to being a blogger and mum (but not a mummy blogger), she worked as an accountant doing other people's budgets, books and tax.