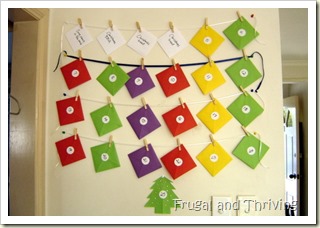 This post is a little belated as it's the 5th today, but I wanted to share with you the Advent Calendar we made for Christmas this year.
Now that the little fella is nearly three (!), he's much more aware of what Christmas involves.
So this year I decided to incorporate the advent calendar into our family Christmas tradition.
An advent calendar is not only a great way to count down to the big day, it also extends the fun, making it last the entire month.
(And as an added bonus, it's helping him understand time and recognise numbers).
This advent calendar is quite simple. A few bits of ribbon strung up on drawing pins (I used what I already had on hand – we didn't have quite enough blue or white ribbon!), some pegs and some coloured paper.
The colour paper is origami paper folded into an envelope with a little star sticker (also on hand) to stick it down. In the envelope I placed a note with the day's Christmas activity on it.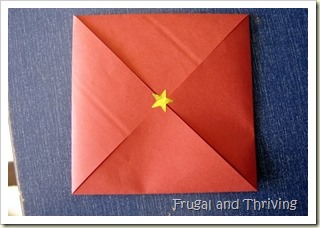 To do the number on the front, I cut a circle out of paper and stuck it down with glue. Nothing fancy and no special equipment required.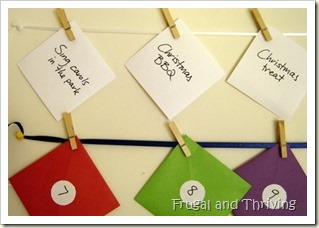 As far as the activities are concerned, I planned them out according to our December calendar. For example, Sunday was DH's work Christmas party and so that was the Christmas activity for the day.
Other activities include doing some Christmas cooking (they might be raw bliss balls rather than Christmas cookies if this heat keeps up!), making Christmas tags and wrapping paper, putting up the Christmas tree, having a special afternoon tea with Nanna and Pa, driving round to view the Christmas lights and wrapping presents for other members of the family.
On days when we are normally busy, when we are out at Mother's Group or Mainly Music for instance, the 'activity' for the day is 'Christmas Treat'. That might be something like staying up a little later to look at the Christmas lights on the tree in the dark or it might be a little chocolate Santa with morning tea. Something nice and easy for mum!
I have all the activities on a list to keep track of what's coming up and do any prep work in advance if necessary (in the instance of crafting or baking).
For activity idea inspiration, I Googled 'activities for advent calendars' and came up with dozens of great ideas (although many more relevant for a Northern Hemisphere Christmas).
Maybe next year I'll make an advent calendar that's a little bit more fancy and that can be used year after year, but this one was quick and easy to make, cost less than $4 to make and everything can be used again, even the folded paper. All the fun of course, isn't in how fancy the advent calendar is, but in the opening of the envelope each day, something that the little fell already anticipates with excitement each morning.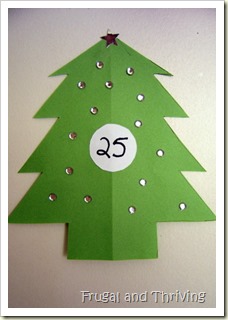 Melissa Goodwin is a writer and the creator of Frugal and Thriving who has a passion for living frugally and encouraging people to thrive on any budget. The blog is nine years old and is almost like her eldest baby. Prior to being a blogger and mum (but not a mummy blogger), she worked as an accountant doing other people's budgets, books and tax.