garbage out, garbage in – meeting your needs with second hand goods
This website may earn commissions from purchases made through links in this post.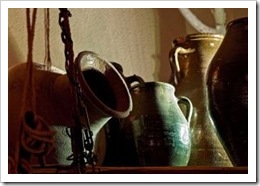 DH had the day off on Monday, so we organised for the grandparents to look after the kids while we did a little Christmas shopping…at the local tip.
Our local tip has a shop (I beg your pardon, a Resource Recovery Centre). It hurts paying money for garbage, but funds go to charity and this eases the pain a little.
As we got in the car I made the comment that this is probably the only date we're going on any time soon (it happens to be our sixth wedding anniversary this week). It is surely true love when you take your wife to the tip as an anniversary date and your wife is happy about it.
Not just happy, ecstatic. It was a treasure hunter's paradise. Stuff. Good stuff. Awesome stuff (it's amazing what people throw away!!) for mere dollars.
If you're thinking "What! You're getting Christmas presents from the tip?!!" let me explain. One of our Christmas projects this year is to make the kids a toy kitchen by upcycling an old chest of drawers or cabinet. You can see some ideas that have inspired us on my pinterest board. Don't they look great! They certainly don't look like something picked up from the tip.
Of course, first we need a cabinet of some sort. Which brings us back the the tip shop – a cornucopia of old furniture, books, hardware, old paint (perfect for small projects!), fittings, kitchen sinks, a pair of beautiful carved hardwood doors in perfect condition, 7 million old remote controls, bikes also in great condition, gardening tools, pots…
But nothing we could use for a kid's kitchen.
We did find a table for the yard. I've been scouring gumtree every week looking for an outdoor setting without a lot of success. Instead we picked up this table that is the perfect size for $10. It needs a bit of a clean and sand but it's a sturdy table and folds away if we need it to.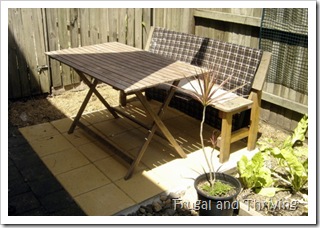 We put the pavers in recently and added a garden round the edge and belatedly stuck some seeds in the ground – hopefully we'll get some veg before the wet season floods the yard. Time passes quickly with a two year old and a three month old and plans don't always run on time.
The bench in the picture (we have two) we got for free a few years ago from DH's chef cousin, who opened an up-market restaurant in an old Pizzeria. They fit perfectly with the table.
After visiting the tip we went to our local Lifeline warehouse. Yes, one huge shed (with upstairs mezzanine) full of things that someone didn't want anymore. You can just about buy anything and everything here. It was heaven.
As I picked through old bits and bobs in the hardware section shoulder to shoulder with a couple of old blokes I suddenly thought of my father and indeed his father too, who both liked scouring junk stores and collecting old junk treasure in case it came in handy. They were both good at building and fixing things. I guess this is where it starts.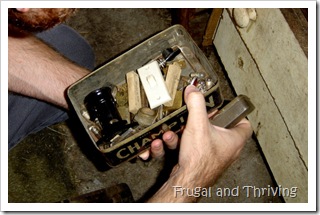 Some 'stuff' from my dad's shed – probably taken from his own father's shed. There was similar stuff to be found at the op-shop warehouse.
I tried to take some photos to show the variety of treasures available (as you do when you're a blogger), but mostly failed. Here a couple that aren't completely blurry.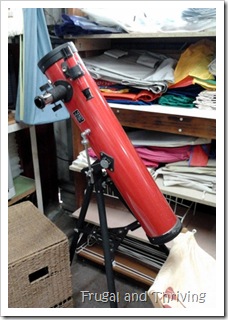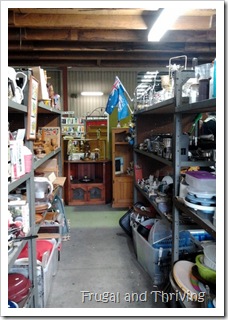 I came across a lovely rocking chair, not on the shopping list, but I just had to test it. A rather hairy gentleman in a chesty-bond singlet and a bikie beard said (in a broad ocker accent you don't often hear anymore): "a rocking chair is great for breastfeeding!"
Um, and how would you know? I thought, but I agreed politely and admitted that I already own a rocking chair and yes, it is very useful when you have babies.
A hello was all it took for another man to launch into a sad and sorry story about his daughter that involved drug addiction and violence. He had a weight of worry on his shoulders and obviously needed to talk to someone about it. And without pause, it all came tumbling out. I think there truly is comfort in strangers. It can be easier to talk to someone you know you will never see again. You just don't connect with people in the same way (or at all really) in a shopping centre.
Back to our treasure hunting. We also found some more doors. A new door is on our list of things we need as the bottom of our laundry door has rotted due to very minor flooding over the last two Queensland wet seasons. I had been doing research and it looked like we would have to pay over $500 for a solid wood door. And yet here we found exactly what we were looking for, for a tiny, tiny fraction of the price.
I also picked up some kid's quilt fabric for another Christmas gift I'm working on for the little fella (more when it's finished).
And yet, and yet… we still didn't find what we were looking for. They had plenty of drawers and cabinets, but they were all in too good a condition to pull apart, some were genuine antiques in mint condition.
We will keep looking, but we may need to go to plan B – making a kitchen from scratch. I'll keep an eye out for old lumber, just in case.
But now to end this post with a challenge.
Gavin from The Greening of Gavin is challenging himself by having a Buy Nothing New Month. Except for essentials like food, hygiene or medicine, the idea is to buy nothing new, funnily enough, for a month. I think this might be an easy challenge, especially if you're not much of a shopper anyway.
Rather than going to the shops first to fill a need or want, the idea is to try borrowing or swapping or buying from your local op-shop, tip or online first. You get the thrill of the bargain as well as the potential enjoyment of restoring something old and making it your own.
If you haven't started saving for Christmas already, a 'buy nothing new month' will also help you save for gifts. On the other hand, buying second hand or making your own gifts for Christmas will save you even more.
I'm curious: what are your best second hand finds? Where are your best haunts? Op-shops, garage sales, markets? What are your tips for buying second hand?