getting more from your menu plan
This website may earn commissions from purchases made through links in this post.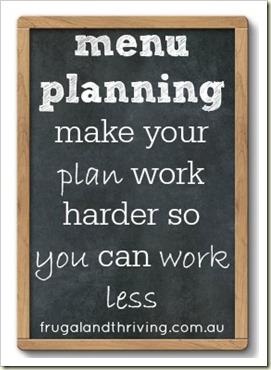 Conventionally, a menu plan is a tool used for planning what you are going to eat and when you are going to eat it.
I know that can sound tediously boring but a menu plan takes the guesswork, last-minute stress and last minutes shopping out of cooking dinner every night.
You can take your menu planning one step further and make life that little bit easier by using it to plan food preparation in advance as well.
Cooking food from scratch takes a little extra effort and a little extra time than opting for convenience foods.
That's the pay-off for eating healthy, whole food and saving money at the same time.
While we may all agree the pay-off is worth it, some days it's easier said than done.
Which is where being prepared comes in.
Below is our menu plan for a fortnight. It helps to see a plan in action to understand what I mean.
As well as planning ahead what we're going to eat each night and writing a shopping list at the same time to ensure we've got all the ingredients on hand, I also note down when we're going to be out of the house, when we're going to be busy or any upcoming special occasions and make notes to remind myself to prep ahead in order to take the stress out of those busy days.
I don't plan breakfasts, lunches or snacks, but I do occasionally plan ahead what we'll bake on baking day (see below).
It seems a bit full on, but the whole process only takes about 10 minutes a fortnight, less if you recycle menu plans.
a recent fortnightly menu plan
Notes
Fri (out)
Roast pumpkin, caramelised onion and feta quiche with salad
(*Cut pumpkin and onion at breakfast time. Cook in the morning and reheat to serve.
*Pack as a picnic (weather permitting)
*Defrost chicken for tomorrow)
Sat (out)
Paprika chicken
(*Prep veg in the morning.
*Photograph for blog.)
Sun
Vegetable curry and rice
Mon
Lamb chops and veg
(*Defrost chops)
Tues
Rice and cabbage casserole
(*Defrost chicken for tomorrow.
*Make cottage cheese in the afternoon.
*Cut meat and veg and store in fridge for tomorrow's stir fry.
*Photograph for blog.

*Baking: Banana, oat and choc muffins)

Wed (out)
Chicken Stir Fry
Thurs (arvo visitors)
Easy cheesy vegie pasta
Fri
Spaghetti Bolognaise
(*Defrost lamb mince)
Sat (out)
Fish wraps
(*DH to cook)
Sun
Chicken pilaf
(*Defrost chicken and stock)
Mon
Ratatouille and cous cous with beans
(*Cut vegetables in the morning.
*Defrost sausages for tomorrow.)
Tues
Sausage and bean stew
(*Bulk up with lots of veg, freeze 1/2.
*Prep in morning and use slow cooker.
*Cook rice and prep rissoles for tomorrow.
*Baking: apple and almond meal muffins)
Wed (out)
Tuna rissoles
Thurs (arvo visitors)
Surprise night
As you can see, Wednesdays, for instance, we are out of the house and busy, so I prep dinner the day before to make cooking quick and easy. A stir fry takes minutes to cook, but ages to cut all the vegetables and meat. By doing all the chopping the night before, dinner is on the table minutes after we get home and we're still eating frugally yet healthily.
I'm the first to admit that I don't like to think too much about these things each day. Having notes stuck to the fridge takes the thinking out of dinner preparation (at least, I only have to think once a fortnight rather than every day), but it still gets done.
P.S. If you're wondering why our week starts on a Friday, that's when DH gets paid and so that's when I do the grocery shopping – our menu planning fortnight starts with a full kitchen. Surprise night on the last Thursday is to use up any leftovers that may be lurking in the fridge.
Melissa Goodwin has been writing about frugal living for 10+ year but has been saving her pennies since she first got pocket money. Prior to writing about frugal living, Melissa worked as an accountant. As well as a diploma of accounting, Melissa has an honours degree in humanities including writing and research and she studied to be a teacher and loves sharing the things that she has learned and helping others to achieve their goals. She has been preparing all her life to write about frugal living skills.
JOIN THE NEWSLETTER