homemade laundry detergent
This website may earn commissions from purchases made through links in this post.
Save money with this environmentally-friendly, homemade laundry detergent.
These are recipes that I use at home and have collected from various sites over the internet or from various books and adjusted to suit.
Update: Below is a recipe for laundry powder that you can find at various places on the net, but I no longer use this recipe. I do not use borax at all (which makes the powder cheaper and better for the environment) and only add a sprinkling of nappy soaker in a really dirty load (or in with the bath towels).
This is how I make my laundry powder: 2 parts grated laundry soap to 1 part washing soda. That's it!
I also add a few drops of eucalyptus oil into the fabric softener compartment in the washing machine to give nappies and towels a bit of a disinfect and a fresher smell (that fades once dry).
Laundry Powder
4 cups of grated soap (vegetable soap, homemade soap, Sunlight/home brand laundry soap or Lux flakes)
2 cups of washing soda
1 cups of borax
1 cup of nappy soaker
Combine. Use about 2 tablespoons or up to a quarter of a cup of powder per wash.
You can leave out the nappy soaker, it just gives the powder some extra grunt, an eco soaker without optical brightening is best.
If you are using your washing water as grey water on the garden, leave out the borax.
The role of the borax is to brighten laundry, soften hard water, remove soap residue, neutralise laundry odours, disinfect, remove stains, you can substitute with bicarbonate soda, which does the same things. It's not going to be exactly the same, but bicarb is a cheaper, more ecological alternative. (Note: I find that adding bi-carb can leave white, powdery marks on the washing if you use too much.)
This is the recipe I usually use to do my washing. I wash in cold water and I don't use any softeners. I usually add 1 few drops of essential oil like lavender or tea tree oil to the final rinse especially to towels, for a little extra fresh smell.
Laundry Liquid
11/2 litres of water
1 bar of soap, grated (vegetable soap, homemade soap, laundry soap or lux flakes)
1/2 cup washing soda
1/2 cup of borax
In a saucepan, combine the water and the soap and stir over a medium heat until the soap is dissolved.
Add the washing soda and borax and stir until thickened.
Pour the mixture into a 10 litre bucket and then fill with hot tap water. Stir to combine.
At this point, you could add a few drops of your favourite essential oil for fragrance.
When cool, store in a plastic container.
Use approximately 1/4 cup per load
Add a few drops of essential oil for a fresh scent.
For a fabric softener, add about 1/2 cup of white vinegar (the really cheap stuff) to the final rinse of washing. Once the washing is dry, you don't smell the vinegar.
For homemade laundry detergent, you need to be a little organised. It's a bit of a pain trying to put on a load of washing at 6 am before work, only to remember you have to grate a bar of soap first!
Update: These days I usually grate a cup of soap at a time, at washing time.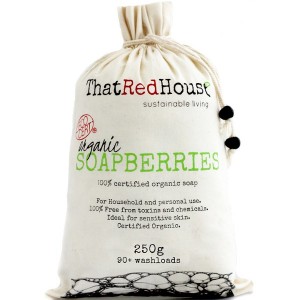 A natural, frugal alternative to making your own washing powder is to use soap nuts (also known as soap berries). Soap nuts are natural, greywater and septic safe, fully compostable and hypoallergenic. You can get soap nuts here.
JOIN THE NEWSLETTER