House Guests for the Holidays–Simple Stress-Free Hosting
This website may earn commissions from purchases made through links in this post.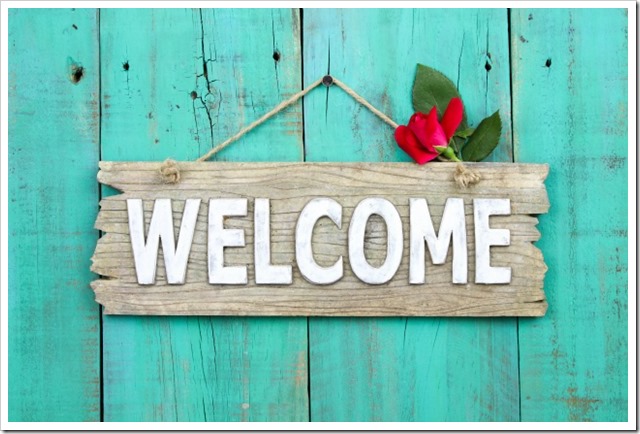 There's something special about waking up early on Christmas morning and opening presents in your jammies with a house full of family.
It's casual, it's relaxed, and you're not running around on Christmas day, getting ready to drive to Grandma's house. Grandma's already here and you can sit and have a quiet cuppa, while the kids go wild in the yard.
So why is it we find hosting house guests over the holidays so stressful?
Maybe it's because we can't just fling the bra off as we walk in the door (I'll find that tomorrow morning), flop onto the couch and defrag in front of the TV. We have to remain on show and on call in our private domain.
Or maybe it's the dread of persnickety in-laws, or Uncle Barney's smelly socks and unrefined habits.
Tone down the stress, and dial up the happy holiday memories with these stress-free hosting tips.
simple, stress-free hosting
Before your guests arrive…
EXPECTATION COMMUNICATION
Communication is key to almost everything in life, right?
Before your guests arrive, it's a good idea to have a casual chat about their stay. Here are some things to ask:
When are you coming and how long are you staying?
Do you have your own transport?
Do you have any plans or things you want to do while you're here?
Do you have any food requirements or allergies?
What do you like for breakfast?
How do you want to handle meals?
Do they have any special requirements (like hiring a travel cot, for instance)?
It's also a good idea to communicate any information that will impact their stay:
Your work or other commitments
Household routines (maybe you've got a baby that has set nap times or a pet that likes to be let out at 5am)
Sleeping arrangements (especially if your guests will be on an air bed in the lounge room etc.)
DECLUTTER AND MAKE ROOM FOR YOUR GUESTS' STUFF

When their stuff mingles with your stuff, and there are Christmas presents to open, and you've got extra kids running everywhere dropping toys as they go, the stuff in your house can quickly get out of control and with it, the stress levels rise.
Start off on the right foot and create a calm environment before your guest arrive by removing as much of your own stuff from view as you can.
Clear all surfaces!
I admit, I'm not above shoving everything into a basket and hiding it the cupboard. Now is not the time to start a whole house declutter.
But don't fill every cupboard.
Clear some space in one cupboard and a couple of drawers if you can, for guests to put their own stuff away. Physical clutter increases stress, so the less clutter hanging around, the more calm your holiday hosting will be.
CHILDPROOF
From toddler to teen to Uncle Barney after one too many, accidents happen. You don't want to be stressing that your house is going to get trashed. Reduce the likelihood of things getting broken by stashing them away.
Look around from a child's point of view and put away any breakables, lock any cupboards, put away anything poisonous and make sure the pool is properly fenced (kids are smart and will pull a chair up to the gate to open it, so make sure it has a lock with a key).
If you can, create a child-friendly space (like a bedroom or the yard) where the kids can go nuts…so you don't.
ESSENTIAL CLEANING

Your guests, probably family and friends, are coming to your home (the one you live in every day) not a guest house, so they should expect it to look lived in.
However, if your house tends to look like a den of trolls like ours does, a basic clean is a good idea. But if you find yourself on your hands and knees on Christmas Eve re-grouting the shower (yep, that was me), you know you're over doing it.
Focus on the essentials.
You've already hidden your clutter in the spare cupboard, so the house is probably looking pretty good by now anyway. The five basic areas of cleaning before guests include:
Clean bedding for your guests
A clean toilet and bathroom
A clean kitchen (avoid a side serve of food poisoning with the Christmas turkey)
A quick vacuum
Smell*
*What do I mean by smell?
Every house has a smell and it's the first thing that your guests will experience as they walk through your door. That initial smell will leave a lasting impression that will set the tone for the whole visit.
A few dust bunnies won't be noticed, but the overpowering stench of kitty litter…that'll flatten anyone (we once had a cat, I am guilty of this).
Empty bins and kitty litter trays. Throw out or freeze over-ripe bananas (is that just me?). Put smelly shoes out in the shed. Give the house a once over spray with a natural air freshener.
KEEP A FEW ACES UP YOUR SLEEVE

It's always a good idea to have a few activity ideas up your sleeve. You don't need an hour by hour itinerary, but a few suggestions for house guests who are feeling a little lost will help.
Frugal ideas include: a picnic, taking the kids to the park, going to the pool, beach, river, dam etc. for a swim, going out for coffee, seeing a local attractions.
For some at-home down time or as a bad weather back-up, borrow some DVDs (especially kids ones), magazines and books from the library to have on hand, or invest in a pack or cards or a board game or two.
STOCK UP

I know Martha Stewart is the supreme authority on everything domestic, but I'm going to contradict her here and say you don't need to stock up on toiletries (like shampoo or toothbrushes) for your guests!
Who travels without their own toiletries? You're not their mum (well, unless you are their mum, and even then the kids are probably old enough to look after their personal hygiene needs).
Unless you live out of town, far away from a late-night IGA, guests can always duck out for a forgotten toothbrush or use a bit of your shampoo.
What you will want to stock up on is extra toilet paper, soap, tea, coffee or other drinks and snacks and make these things easily accessible to your guests.
after your guests arrive
YOU ARE NOT THE ENTERTAINMENT

Of course, you want to have plenty of quality time with your house guests.
But entertaining all the time is exhausting for even the most outgoing person, especially if your house guests are staying for more than just a couple of nights. If you're an introvert like me, you need a regular dose of alone time to stay sane.
Plan downtime and take it. Retire to your own room in the afternoon for a siesta or a quiet cuppa and a book.
Have a few suggestions for out of the house activities or day trips around your local area and don't feel guilty if you don't accompany your guests on every single outing.
If your house guests tend towards the high maintenance variety and you're feeling a little overwhelmed, use the "I have an important appointment" excuse to slip out for a few hours to recharge.
ACCEPT HELP

I have fond memories of conversations had while doing the dishes with extended family. Embrace daily household chores as part of the bonding, not as a distraction to it.
Your guests will most likely offer to help with cooking and cleaning – accept that help graciously.
If your guests don't offer, don't be afraid to delegate.
At the same time, allow your guests to be independent (so you don't have to be the servant all the time) by inviting them to help themselves when they feel like a cuppa or snack (the ones you stocked up on) and showing them how to use the washing machine.
COOK WHAT YOU KNOW

It's tempting to try that fancy looking recipe when you've got guests to impress. But unless you want the added stress, now is not the time for trying that super complicated dish. Cook what you're comfortable cooking.
Even better, allow your guests to cook one night and take the opportunity to relax.
There are a lot of tips out there (no one can beat Martha, and her colour-coded guest towels) that show you how to be the host with the most. But if you want to enjoy yourself and your company over the holidays, go simple, casual and stress-free.
WHAT ARE YOUR BEST TIPS FOR HOSTING HOUSE GUESTS?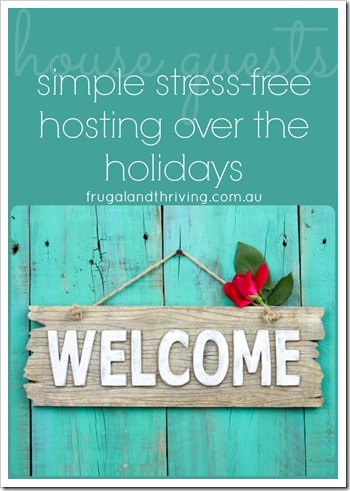 JOIN THE NEWSLETTER