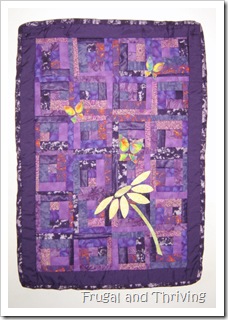 Last week I mentioned that now is the time for planning and beginning handmade Christmas gifts.
The great thing about handmade gifts is that not only are they more personal, but they also save you money.
Or do they?
The truth is that craft hobbies can add up. Not only do you need the required tools (not to mention all the unrequired tools that go with having a hobby), but the materials themselves can be expensive too.
If that puts you off taking up a hobby, then there's good news. Crafts don't need to cost a lot – here are a few ways to save on crafts.
Tools
Save money on tools for your hobby by sticking to the very basics. For instance, all you need to make a whole bed quilt is a needle and thread and a good pair of scissors (seriously). Most hobbies have a vast array of specialty tools that while are useful or fun, are generally not necessary.
Often people take up crafts only to get bored, become too busy or move onto something else and they sell off their tools second-hand. That's where you benefit – rather than paying full price check out eBay or browse op-shops and garage sales for second hand tools.
remnant and second hand materials
The first place to find remnant materials is your own stash from past projects. The above wall hanging was a stash buster and gift. For variety, fill out your stash by pilfering from exploring crafty friend's or family's stashes or get together and have a remnant swap.
Op-shops, garage sales, curbside pick-ups, skips at renovation sites, recycling bins and tip shops are also great places to source craft materials.
Fabric remnants can be found at op-shops and garage sales along with notions (buttons, zips etc.) and yarn remnants. When sourcing materials however, think beyond fabric remnants and look at clothing or linen that can be repurposed. Clothes can be cut up to make smaller clothes or quilts, woollen jumpers can be unwound and reworked into new items, tablecloths and sheets can be sewn into clothes, bags, stuffed toys, rag mats or anything else your imagination can create.
Curbside pick-ups and tip shops can be a source of furniture and other goods that can be restored or repurposed. If you're a woodworker, renovation sites can be a good source of wood that can be recycled.
Find old cards, cardboard, wrapping and coloured paper that can be used in paper crafts in recycling bins.
shop savvy
The other benefit to planning Christmas craft now is that you can keep an eye out for sales and stock up when materials are discounted.
Alternatively, check out the many online craft stores that offer materials at a discount price all year round. Incidentally, the internet is also a great place for free patterns, tutorials and how-to videos.
Discount or two dollar stores can be a surprising place to find inexpensive craft materials. If you have any doubts, check out the Dollar Store Crafts blog for inspiration.
Craft hobbies can eat a hole in your pocket if you let them but you don't have to spend lots of money to enjoy a hobby or create stunning handmade items for yourself or for gifts.
What are your tips on saving money on crafts?

Melissa Goodwin is a writer and the creator of Frugal and Thriving who has a passion for living frugally and encouraging people to thrive on any budget. The blog is nine years old and is almost like her eldest baby. Prior to being a blogger and mum (but not a mummy blogger), she worked as an accountant doing other people's budgets, books and tax.