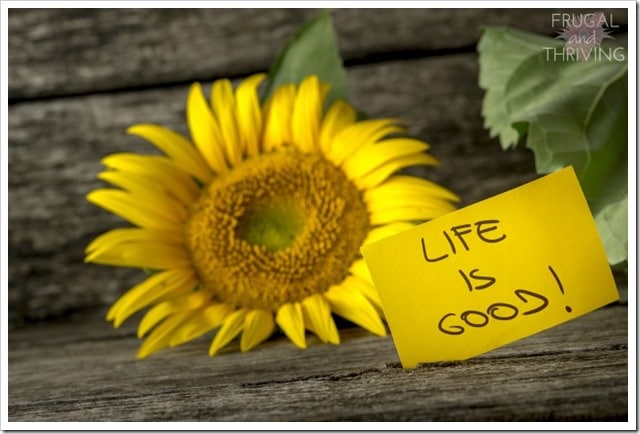 There was once an old quiltmaker who lived in a small cabin high in the mountains. She spent her days making the most beautiful quilts anyone had ever seen. Many people climbed her mountain, hoping to buy her quilts, but the woman would not sell them.

"I give my quilts to those who are poor or homeless. They are not for the rich."

At this time there also lived a very powerful and greedy king, who loved presents. Over the years, the king had come to own almost all of the prettiest things in the world.

And yet, he was not happy.

"Somewhere there must be one beautiful thing that will finally make me happy, and I will have it!" he said.

One day, he heard news of the magical quiltmaker who lived in the mountains. The king stamped his foot, "I must have one of those quilts!"

He marched a thousand soldiers up the hill and demanded a quilt from the quiltmaker, but she only laughed.

"My quilts are for the poor and needy, and you are neither. Give away all you own, and I'll sew a quilt for you." the woman replied.

"I cant! I love all my treasures!" the king cried.

But if they don't make you happy, what good are they?" *
We all want to live the good life, but often it seems elusive and out of reach.
What is the good life, anyway?
We long to thrive, we long for happiness and prosperity, and yet most days just surviving can seem a struggle.
We are living through a period of unprecedented wealth. The growth economy, love it or hate it, has done amazing things for raising the standard of living in western societies. The most humble of us today live better than the kings of old. Thanks to electricity and all that it offers, the average person enjoys a lifestyle requiring the equivalent of 100 human servants. Or more.2
But there's a dark side to the growth economy. We may live like kings; we may have houses full of all sorts of treasures, just like the king in the story, but we are also unhappy, unhealthy and unfulfilled and heading for catastrophe as an unsustainable system reaches the limits of a finite world.
So if wealth is not the path to the good life, what is?
The king searched his castle for something he could bear to give away and found a single marble. But the boy to whom he gave it smiled so brightly that the king was encouraged to go back for more things.

As he gave away more and more of his treasures, the town rejoiced. The king saw the merrymaking and joy his gifts had bought and, for the first time in many years, he really began to smile. He even laughed out loud.

And so he kept on giving. He went out into the world to find others who might be in need of his gifts.

For years, the king gave away his treasures, and as he did, the quiltmaker kept her promise and sewed the king a quilt.

When the king had given all his treasures away, the quiltmaker found him and gave him the quilt he so longed for, many years ago.

"What is this for?" asked the king.

"As I promised, when the day came that you were poor, I would give you a quilt."

The king laughed.

"But I am not poor! I may look poor, but in truth my heart is full to bursting, filled with memories of all the happiness I've given and received. I am the richest man I know!"
what is the good life?
You may be familiar with this story. It is from The Quiltmaker's Gift* by Jeff Brumbeau, one of my all-time favourite children's picture books, with beautiful illustrations to go with the inspiring story. I highly recommend you check it out of your local library. It may even make it to your permanent collection, as it did with us.
Now I'm not suggesting that to live the good life, we need to give away all our possessions and lead the life of an ascetic. But there are a few hints in this book about what the good life is.
The good life is not about wealth and riches. The king had a palace full of stuff (sound familiar?) but he still wasn't happy.
On the other hand, poverty isn't the good life either, which is why the quiltmaker gave away her quilts: she recognised that we all need warmth, shelter and security.
The good life includes creative and meaningful work. The quiltmaker spent her time creating beautiful quilts. It also includes leisure and play: the town celebrated with singing and dancing when the king gave away his treasures and as he joined in, he was happy for the first time in his life.
The good life is about relationships. The king was most happy, not when he was sitting alone in his castle with all his possessions, but when he was out in the world interacting with people.
The good life is about giving and kindness, love and laughter. It's about doing what's right. It's bigger than us as an individual.
Hugh Mackay, in his book The Good Life*, describes the good life as the moral life. In The Quiltmaker's Gift, the king threatens the quiltmaker's life to try and make her give him a quilt, but then he can't sleep due to the resulting attack of conscience. Happiness only comes when he decides to do the right thing.
The seven essential pillars of the good life
"…our continuing addiction to consumption and work is due, above all, to the disappearance from public discussion of any idea of the good life. Those fixed objects of [the good life]…have long since melted away, leaving nothing but the shifting fortunes of the Joneses' to guide us. If we are to recover an understanding of what it means to have enough, we must relearn to ask the question: what is it to live well." 3
What is it to live well?
For me, the good life is one that I can look back on with satisfaction at the end of my life. Have I lived to the best of my ability? Have I savoured the good times? Have I come through the bad times a little wiser and stronger? Have I given something back?
When I think of all the things that make up the good life, they fall under these 7 categories:
Health and Wellbeing – having a healthy and active lifestyle
Emotional Wholeness – accepting and embracing the whole range of human emotion
Financial Security – building a solid financial foundation for financial wellbeing
Connection and Relationships – forming strong relationships with family, friends and the wider community
Simple, Sustainable Living – recognising we are part of a bigger system and enjoying that
Play and Creative, Meaningful Industry – living beyond work and consuming
Values and Purpose – knowing and living by your values, following your purpose in life.
If we focus on these seven things, rather than consumption, I think we can live a pretty good life, no matter what it throws at us.
Here at Frugal and Thriving, I've focused on building financial security and living frugally, but I'll be exploring each of the other topics more in depth on the blog over the coming months.
What does it mean to you to live the good life?
3. How Much is Enough: The Love of Money and The Case for the Good Life by Edward and Robert Skidelsky (Penguin, 2012, Chapter 6, para 1), Kindle Edition.
4. The Good Life by Hugh Mackay (Australian social researcher and philosopher).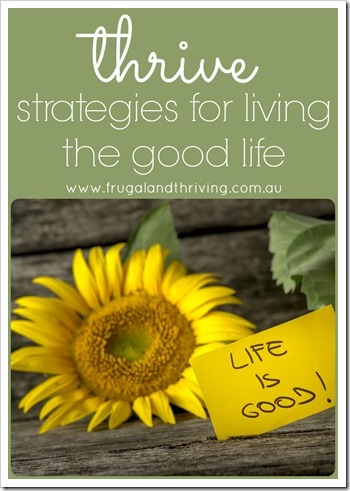 Thrive on any Budget!
Subscribe to the newsletter and join a community of like-minded people!
As a bonus: get your copy: FREE Quick Fix Guide: 5 Money Fixes You Can Implement Straight Away to Save More.
We take your privacy seriously. No Spam. See our Privacy Policy.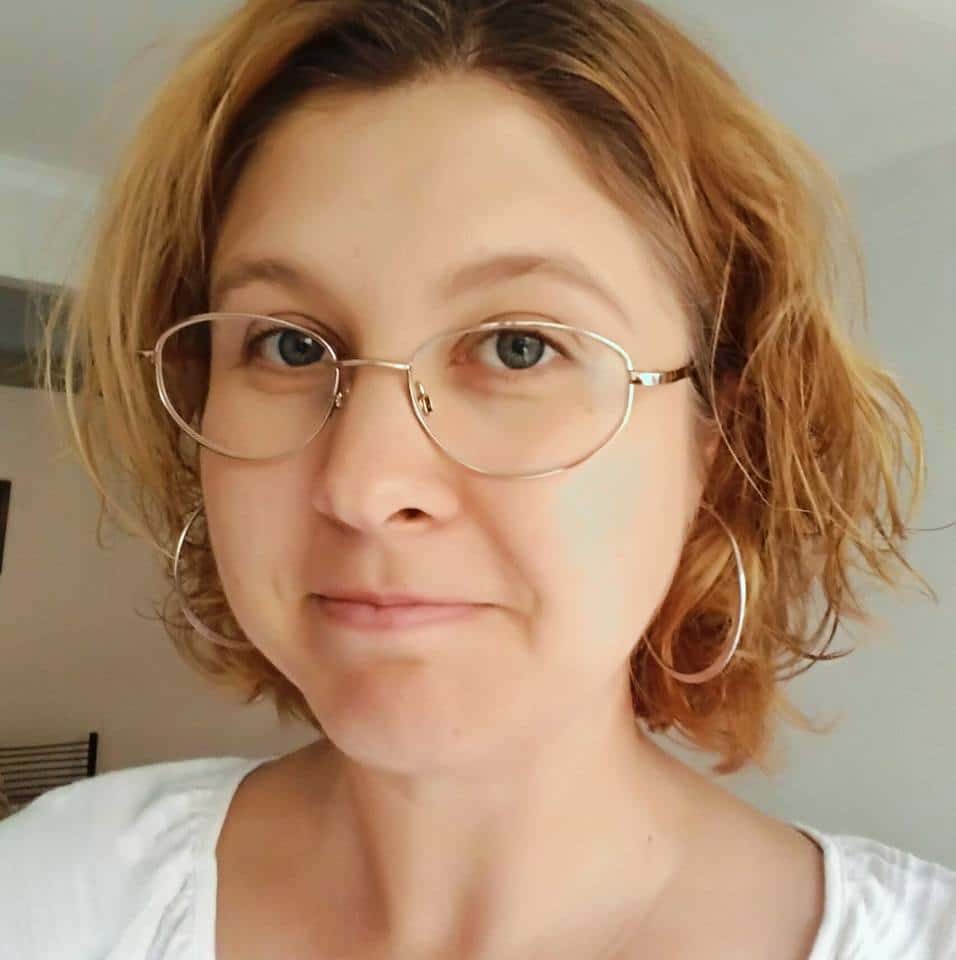 Melissa Goodwin is a writer and the creator of Frugal and Thriving who has a passion for living frugally and encouraging people to thrive on any budget. The blog is nine years old and is almost like her eldest baby. Prior to being a blogger and mum (but not a mummy blogger), she worked as an accountant doing other people's budgets, books and tax.
Disclosure: Links to merchants within this post may be affiliate links.