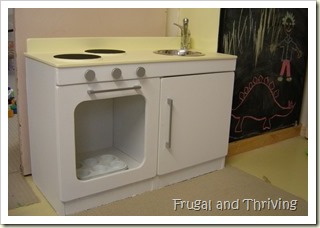 Firstly, I wanted to share the kid's kitchen that DH and I made for Christmas (ok, DH made it, I supervised). I think it turned out pretty well.
The body of the kitchen is made from two old bedside chest of drawers. We used an old black-laminated pair of drawers that were DH's from his teenage years and were getting a bit worse for wear. These were actually in use in the kid's bedrooms, so we replaced them with a much nicer pair bought second-hand off Gumtree for $30.
The top and doors of the kitchen, DH made from purchased wood, mostly what we had on hand from other projects. The sink bowl I picked up from the charity store, the handles and knobs are care of Bunnings and so too are the hotplates which were wooden trivets found in the Bunnings craft section.
We searched high and low for a tap: we looked through op-shops and at the markets and online and at the tip shop, I asked friends if they had any old taps lying around. We looked online for ideas on making a tap. But DH's parents came through in the end with an old broken mixer they had stashed in the shed.
The most expensive part was the paint, particularly as we were painting over black laminate and needed an undercoat that would 'stick'. I will use the leftover paint on an old bookshelf (also from DH's childhood) that I have been wanting to paint. The black paint is leftover chalkboard paint that I used to paint the door of the cupboard DH built for the garage/playroom (you can just see in the picture above).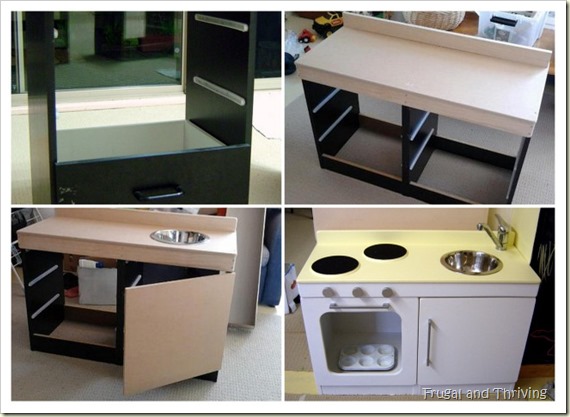 I'm pleased with the results, the little fella loves it and I'm sure the little lady will have a lot of fun with it as she gets older.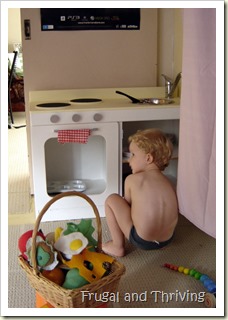 Doing some cooking. I strung up some sheets in the garage/playroom to make a 'house' during our week of wet weather. Pots, pans and spoons are straight out of my kitchen. The basket of food wasn't placed there for the picture's sake lol, but the basket I picked up at an op-shop – a great place to find baskets.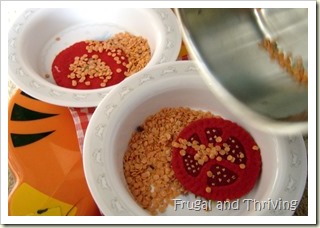 What he cooked me: lentil and tomato stew – his creation.
Felt food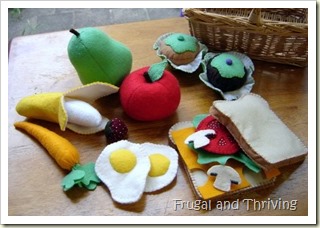 To go with the kitchen, I made some felt food.
Now, the little fella likes his felt food, and plays with them most days, but I have to admit that I get more out of making felt food than he does playing with it. It is well and truly my latest addiction.
Regarding the food pictured above, for some items I followed tutorials, for others I winged it. The fried eggs, banana and mushrooms I drew freehand after looking at various tutorials for ideas and for the cupcakes I used a paper patty case as a template.
We also play shop with the felt food – the milk caps are money. Great counting practice as well as being fun.
Below are some links to some brilliant felt food tutorial collections on the web. Once you make a few items and get the general idea, it's relatively easy to create your own patterns. For further inspiration, you can check out my Pinterest board of felt food.
The little fella has asked for passionfruit. I'm currently crafting some passionfruit that can be 'cut' in half. I'll share the pics on Facebook when it's done.
As an aside, you don't need to use felt to make these things – any fabric will do. I wish I could remember the blog (if you know which one I'm talking about or it's your blog, please let me know below) but one Aussie blogger makes her play food from old felted woollen jumpers and reclaimed polar fleece from the op-shop. Great idea!
The kitchen and the food were Christmas gifts, but they weren't a surprise. The little fella watched the development of the kitchen and some of the sewing as well. I think this helps him gain an appreciation for the time and effort that goes into making things. Lately he asks of everything "who made this?" I admit, my answer is often "Your shirt? A lady in China made that." But I'm ok with that.
Finally, I thought I would share one last photo – the Christmas gift I made for the little lady.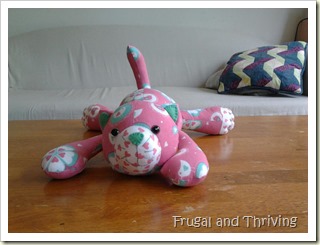 I bought the kit for this kitty from the Brisbane Quilt and Craft Fair. The kit is from Funky Friends Factory – you can also download the patterns from their website. Their toys are exceptionally cute.
This is the most challenging project I've ever tackled. Each seam I sewed, unpicked and resewed at least twice. It was fiddly to say the least. I think it turned out well, but I'm in no hurry to make stuffed animals again.
Hope you enjoy the felt food tutorials. What things did you make for Christmas?
Melissa Goodwin is a writer and the creator of Frugal and Thriving who has a passion for living frugally and encouraging people to thrive on any budget. The blog is nine years old and is almost like her eldest baby. Prior to being a blogger and mum (but not a mummy blogger), she worked as an accountant doing other people's budgets, books and tax.