live intentionally and stay organised with a home management binder
This website may earn commissions from purchases made through links in this post.
live intentionally and stay organised with a home management binder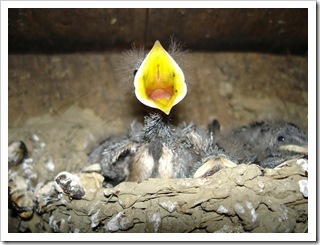 Do these scenarios sound familiar to you?
The toilet's overflowed and you can't find the number for your plumber.
You tore out a recipe and don't know where you left it.
You can't remember the last time you cleaned the oven (except it's been a very long time).
You wrote goals down at the beginning of the year, but then forgot all about them.
You know a bill is due, but which one and where did you put it?
You've forgotten the great idea you had for redecorating the kid's bedroom.
There's so many projects to do, not enough time to do them. In fact, you're not sure how you passed today?
You want to change your habits and live more sustainably, but you're overwhelmed by your current to-do list, let alone all the changes you want to make.
A home management binder is the answer to these and many more organisation problems. When used effectively, this binder will act as the brain in your household's central nervous system – a place to keep all the information you need, easily accessible for when you need it.
An organisation system goes hand in hand with a frugal and thriving lifestyle: it helps you to be more organised; it helps reduce stress; it helps you plan and live more intentionally; it helps you get through the things you need to do more efficiently; it helps you set goals and plan for projects that improve your life; it helps you to have more fun.
Below is all you need to know to create your own home management binder.
first things first – digital v old school
Whether you choose a digital or computer based organisation system or an old-school pen and paper binder will depend on how much time you spend plugged in. There's no right or wrong way, just what works best for you.
I prefer to keep a pen and paper binder system (for most things, not all) simply because I find it annoying and time consuming having to go and turn the computer on every time I want to look something up. If you are online a lot or have a hand-held devices like an iPhone that you can sync with your computer (or you operate in the cloud), it might be more convenient to keep your organisation system digital. Or use both.
Some resources for digital home management systems include:
If you have an iPhone / iPad or android device, there are dozens of time management / organisation apps available to download (often free); try some until you find the ones that work best for you.
and old school binder – What you will need
A ring binder – Check your local op-shop for binders before hitting the discount or stationery store, you may be able to pick one on up there.
Tabbed dividers
Loose leaf lined notepaper (pre-punched)
Plastic sleeves
Pencil case (either one specially made for binders or one that you make yourself by punching holes in an old pencil case) and pens / pencils to put in it. This is so you don't waste time searching for a pen when you want to write something down in your binder.
Hole punch
Optional extras:
A printer
Stuff to decorate your folder with
Scrap paper – for writing out menu plans, to-do lists etc.
creating your binder
Put the tabbed dividers in your binder and some loose leaf pages under each tab (throw in a bit of scrap paper too for to-do lists). Add a few plastic sleaves at the back or under each tab – these are handy for keeping bills together, or other bits and pieces you want to collect – like recipes torn from magazines. Put your small pencil case in the front with a couple of pens to make adding information to your journal quick and easy (no hunting around for a pen).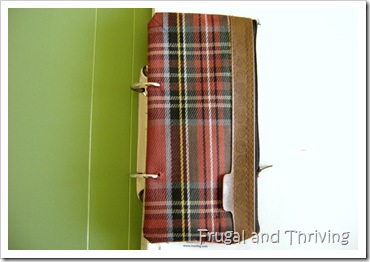 An old pencil case from school with holes punched into the the base.
Decide what information you would like to keep in your household binder (suggestions below) and label your tabs accordingly. What you put in your binder will reflect your personal circumstances and will probably change over time.
I like to use pencil to label the tabs – that way it's easy to re-label later as your circumstances change. But you can get as fancy as you like with your labels.
Speaking of getting fancy, many people prefer to pretty up their binders and make them personal. I'm a minimalist kind of gal, but if you want to decorate your journal, now's a good time.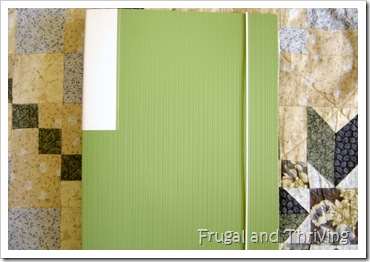 There may be suggestions below that you would prefer to use a different system for. For example, I prefer to keep my menu plan on the fridge for easy viewing. However, I do keep the planning tools I use for menu planning in my household binder. You may prefer to keep a separate gardening journal or use a stand-alone calendar.
Now that you've created the skeleton of your binder, it's time to fill it with the information you need to run your household. Do this over time and it will reflect your true organisational needs.
To fill your binder, you have several options:
You can download forms or free 'printables' from the internet to fill in (see resources section below for some great sources of free printables).
You can create your own custom pages and forms on the computer to print out (Microsoft Word and Excel are good programmes to do this; GIMP and Inkscape are great free graphics programmes that I also use for creating forms).
You can just use plain old pen and paper, which is usually what I find the most time-efficient, flexible and cheapest (no printer ink). Short term lists (like daily to-dos) can be written on recycled scrap paper.
Or you can use a combination of all three options.
Important to note: Keep in mind that the information in your binder will change over time and as such, it will grow over time. This is not a one day project! It's meant to help your life run more smoothly and stress free, not add another stress. If you create a routine, for instance, and you're finding yourself a slave to the routine or it's not working for you, work out why and change it or ditch it.
potential information to put in your binder
The list below is relevant to both a digital and hard-copy system. It is extensive and is meant to give you ideas of what you could include in your binder not what should go in your binder. Less is always more, so just pick a couple of the ideas below (or your own ideas) that work for you.
Many things may not be relevant to your circumstances, some thing may be relevant temporarily. For instance, if you're planning a wedding, you may have a section for wedding plans, and then turn that section into something else once the nuptials are done.
If you're like me, then you'll have lots of ideas and potential projects – more than what you've got time for. Your home management binder is a great place to keep these ideas for when you're ready or you have more time.
For some items, you may prefer to keep information separate, especially if you have lots of information for a particular section. For instance, you may prefer to keep a separate gardening journal with it's own specific sections. Or, if you process all of your bills online, an electronic bill payment system may be more convenient.
Important note: pick one section to work on at time and take your time not only building the section but working out routines that suit your circumstances. Don't try to do it all and certainly not all at once. The most important thing is that your management binder works for you.
General information
Important numbers – as well as family, include numbers like your local police station, the Poison hotline, after-hours doctor, Healthcare line, after-hours plumber and electrician, electrical company (for emergency repairs), real estate agent, bank, lost bank card line etc. Anyone you need to find the phone number for quickly. If you find yourself rummaging round for a number often, add it to your list.
Address book – for snail mail.
Calendar – even if you use a separate calendar or diary, having a yearly calendar in your binder can be useful when planning.
Website passwords – Passwords to include here are things like forum passwords. Don't include sensitive passwords like bank passwords! In fact, bank passwords should not be written anywhere.
To do lists / project lists – see here and here for information about how I create to-do lists that work.
Business card sleeve
First aid information – For quick reference – things like current CPR technique, printed from the internet or photocopied out of a current first aid manual.
Medical Information and History – Allergy information, medications, blood type, medical conditions, and a history of illnesses and accidents for each member of the family, even extended family like grandparents. It can be invaluable information when a doctor is trying to make a diagnosis.
household information
Cleaning routines and schedules – These include daily, weekly and monthly cleaning routines and schedules. You may also want to put in a quarterly, six monthly or yearly cleaning schedule.
General routines and schedules – These include morning and evening routines (useful for getting out the door on time) as well as daily schedules (good if you're at home all day). Each month I create a daily routine that gives a bit of structure to our day. I do it monthly because it's based on the little fella's routine and his age Things change so much as he grows, a monthly review keeps the routine relevant.
Household maintenance schedule – for things like clearing gutters or cleaning out air con filters or checking for drafts.
Car maintenance schedule / log
Storage inventory
Media Library – an inventory of DVDs you have on hand.
Cleaning recipes – for things like homemade spray and wipe, laundry detergent, furniture polish etc.
Cleaning tips – how to remove certain stains, for instance.
Pest control recipes / tips
Household medicinal – recipes and tips for natural remedies.
Pet care – vaccination, flea and worming schedule, recipes for homemade pet food. This can also include 'productive pets' like chickens.
Home renovation projects or ideas
Home decor projects or ideas
Travel checklist
Baby sitter information – things the baby sitter needs to know
Clothing sizes – to keep track of all the family's clothing and shoe size – also good to carry a small version of this information in your wallet.
Clothing needs – a list of items that each member might need in the near future, so that you can keep an eye out for sales or when op-shopping.
A list of resources found in your personalised library – If you have created a personal library, keep track of the information by creating your own library reference system and storing that information in your home management binder. For instance, you may have a separate folder for your home medicinal tips and recipes – keep a reference to where specific information can be found rather than having all those recipes stored in your management binder.
Menu planning
Menu plan – I prefer to keep my menu plan stuck to the fridge, but an alternative is in your household binder. Or you could keep next weeks 'work-in-progress' menu plan in your binder until it's finished and ready to go on the fridge.
Family favourites list – This is a list of meals that you know your family will enjoy. This list makes menu planning quick and easy.
Seasonality Guides
Recipes / recipe ideas – I often see recipes online or in a book that I would like to try and by the time I get to writing out the next menu plan, I've forgotten those recipes. To keep track of them, I write them down (and where to find them) and keep them in my menu planning section.
Basic recipes / cooking guides / food information – This is where I keep basic reference info. like cooking times for different beans, blanching times for freezing vegetables, basic recipes like yoghurt etc.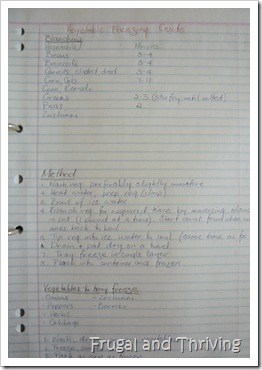 Blanching and Freezing Guide for Vegetables – hand written. Source: Library books and net.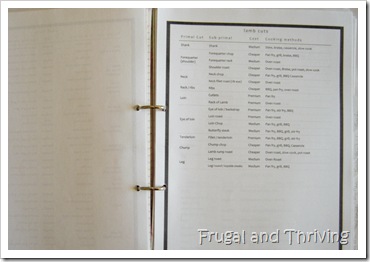 Catalogues, coupons, discounts, sales info etc. – If you shop from catalogues or see sales or coupons in the local paper, it can be convenient to keep them altogether in a plastic sleeve, ready to look at when doing your menu plan and writing your grocery list.
Grocery list – A list of regular groceries that you buy.
Your price book
Freezer and pantry inventories
Stockpile list
Takeaway phone numbers – Phone numbers for your favourite local pizza takeaway etc. Alternatively, keep a few takeaway menus in a plastic sleeve for easy reference.
Financial
A copy of your household budget
Bill Payment System – store bills to be paid in a plastic sleeve.
Tax information – this section may include tax file numbers and ABNs for easy reference, a tax checklist, log book information for claiming deductions, receipts and other information needed for claiming deductions, a place to store group certificates until tax time, income information like dividend notifications and capital gains info.
Special Occasions
A calendar or list of birthdays, anniversaries and other important dates
Family celebrations and planning notes – Thinking of celebrating Lent next year? Or winter solstice? Want to start planning for Christmas early so that you can make your own decorations? That's what this section is for.
Family activity ideas / calendar – I like the idea of a possibilities calendar – a way to keep track of what's on and things to do that you may or may not do, depending on how the mood takes you. It's a great way to keep track of what's on in your local area. Alternatively, you could keep a family activity list – more general ideas for rainy days and family weekends.
Gift list – Keep track of gift ideas and gifts purchased for each person in the past.
Party Planning – For hosting parties. Also, if you often cater for friends and family members with special dietary needs, this is a great place to keep track of who can't eat what.
Personal
Personal reflection section – This section may include things like affirmations, daily bible study, daily meditation, quotes, inspiration, prayer list, reflections, gratitude journal.
Personal exercise programme – This may include your exercise schedule or routine, specific exercises you do and number of reps etc., exercise progress (writing down when you exercise, for how long and what you do during each session), results (weight and measurement progress if you're trying to lose weight).
Kid's records – A place to journal all those things that they say or do during the day that you want to remember after they are all grown up.
Goals and planning – Yearly goals, action plans and a record of your progress.
Book list – a list of books you would like to read.
DVD list – list of movies you would like to watch.
Cosmetic recipes – recipes for homemade cleansers, shampoos, balms etc.
Wish list – of things you would like to purchase.
Bucket lists – Things to do before…
Wedding or other event planning
For the kids
School information – Forms, newsletters, excursion information, sports schedules, after school activity schedules, homework info etc.
Homes schooling information – Curriculum, ideas, activities etc.
Routines – sleep and feeding routines for babies and young children.
Kid's activity ideas and planning – For all those craft and activity ideas you see on Pintrest. Make them happen by keeping a list of age appropriate activities, creating a daily routine and planning ahead to make these activities happen.
Recipes – for things like play dough, finger paint, chalk, glue etc.
Kid's wish lists – A list of things your children would like for Christmas (or things you would like to get them) or activities that they would like to do.
Chore charts
In the Garden
Garden design and planning notes
Planting Guide
Maintenance calendar
Notes – notes on what you've been doing in the garden and when.
Craft / Projects
General craft information – For example, this is where I put knitting needle size conversions and pattern abbreviations.
Hints and tips
To do list / project ideas / project planning
Regular patterns – a plastic sleeve is good for keeping patterns in. Things that you may make regularly, like knitted dishcloth patterns.
Outside the home
Professional development / career journal
Blogging – If you're a blogger, your binder can be a good place to store post ideas, outlines, research etc.
Volunteer work information
Car pool schedule
Colleague numbers
Church schedule / contacts
Using your home management binder
Once you have your binder set up, it's not going to be much good to you if it's left on the shelf to gather dust. There are three ways to make the most of your home management journal.
The first is that it will be your point of reference every time you want to look up a phone number or a cleaning recipe. For this to be efficient, put your binder in its very own spot that is easily accessible. Whenever you find yourself hunting for something, add it to your binder so that you don't have to hunt around for it next time.
Secondly, it's a good idea to pick a time each day to sit down with your management binder to review your to-do lists, schedules, etc. Early morning is a great time to plan out the day, however it's not always convenient. With an early rising toddler, I find it's easier to sit down at the end of the day, when all is quiet, to plan and reflect.
This does not have to take a lot of time, nor is it something that has to be done every single day – 20 minutes is generally all that is needed to check over to-do lists, look at schedules, check when bills need to be paid, write in a gratitude diary and plan for tomorrow (or even the whole week). If you use other organisational tools or other journals (like a diary, for instance) as well as a binder, sit down with those things too.
Finally, once or twice a year go through your binder and purge it of information that is no longer relevant or useful. Update pages (like contact numbers) periodically. Using your binder won't be efficient if you are searching through redundant information while looking for that one piece of vital info.
---
A home management binder is like having a second brain – one that doesn't suffer from brain fog! It is useful for helping you run a smooth household, meet goals and plan projects and fun stuff to do.
Resources
Image by
g_kovacs
, used under the creative commons licence.
JOIN THE NEWSLETTER