It's been just over two years since I last worked full time. I expected my working hiatus to be temporary. A few weeks holiday until I found new bondage a new position. Then the GFC came and I got pregnant and my unemployed status became permanent.
I've kept a budget for many years and when our income was halved, I went over and over the numbers and thought "there is NO WAY we can manage on only one income." And yet here we are, two years on and still getting by, some days only just, but getting by nevertheless. And yes, there are even days when we are thriving.
It's true that your expenses expand to match your income. When I look back now at what we spent our money on when we were a two income family, I wonder where it all went. Oh, we saved some and those savings have supplemented our income for the last two years. And we invested some too. But then there are the thousands of dollars that was spent (wasted?) on dinners out, bottles (and bottles it seems) of wine, movies, books, CDs, clothing, holidays and goodness knows what else. Don't get me wrong, I'm glad we didn't live monastically, we're glad we had those experiences, but I know now just how empty some of the spending was. Dining out is a lot more special when you don't do it all the time.
Anyway, I laugh now at how much I worried that we wouldn't be able to make ends meet with me out of work. Today I look at our budget with new and more frugal eyes and see a hundred places where we could tighten our belts if we had to. Sometimes it's not fun, but it's doable. I thought I would share some of our thoughts on living on less money aka, one income.
Meeting the challenge
We have found frugality challenging in many ways. Challenging as in "it's too damn hard, I'm going to stick my head under my blankie, 'cause I don't want to think about it any more". And challenging as in "bring it on baby, check out my super-duper recycled, repurposed, duct-taped bit of creativity, I don't need you big business, Pbbfflliitt!" challenging.
There are plenty of times when being frugal just seems too hard. Juggling the budget to find the extra money for a trip to the dentist, having to say no to yet another social engagement because dinner and drinks just isn't in the budget or waking at 3am wondering how we will possibly afford a new car if the old bomb in the garage decides to finally give up the ghost.
On the other hand, it's fulfilling being able to rise to the challenge and conquer it. The thrill of finding a bargain. The relief of not having any personal debt. Knowing we're paying more towards our mortgage than we have to (even though our mortgage is over 60% of our income). The reassurance that 'going without' means we have a buffer in the bank against future emergencies (or trips to the dentist).
Being frugal is all about mindset and how we cope with frugality is inextricably linked with how much sleep we have.
Eh?
Yep, as with everything, it's easier to find creative ways of living without spending money when your night tired. If there is any frugal tip that I recommend above all others, getting enough sleep would be that tip.
Temptation and Deprivation
I'm not immune to wanting nice new things. Nor am I immune to the pull of advertising or comparing our own circumstances to how others live. There are days when I want to stamp my foot on the ground yelling "I want, I want, I want". At the moment I really want to make new curtains. And a new lounge cover. And then there are all the things that I don't even know that I want yet, but they're out there, waiting to tempt me…
Limited money can feel like limited options. However, more often our options are limited by imagination (and energy) and now having a baby to look after. However, sometimes it feels like it's due to lack of 'disposable' income. To illustrate:
DH: "If we had more money, we would do more stuff, like go out more."
Mel: "Like where?"
DH: "You know, to dinner and the movies."
Mel: "Who would mind little fella?"
DH: "Oh yeah, I guess we wouldn't. But we'd do more with the little fella – there's only so many times we can walk down the river without it getting boring."
Mel: "What else would we do?"
DH: "Don't know…"
Speaking of whom, parenthood provides a whole new temptation and new ways to feel like we're depriving the little fella of developmentally stimulating toys, music appreciation lessons (I kid you not), swimming, Gymbaroo… We know he's not really deprived but sometimes it seems we've left the cranky "I want" behind only to have discovered the guilt ridden "maybe we should for the baby's sake".
Temptation and the feeling of deprivation is a matter of perspective. We're not immune, but we can often ward off these feelings by thinking about our real values. You know takeaway is our spending foible. Well, we're getting a lot better at saying no by asking ourselves "is it really worth it? Wouldn't we prefer to save for the dentist, a new house or something else we really want? Isn't it just going to make us feel bad after?" By asking ourselves these questions, we've gone from buying takeaway once a week to only once a month.
My frugal journey
I think I have always been frugal to some extent. I started working after school when I had just turned 14 and while I bought clothes and CDs like a lot of teenagers, I also saved a good deal of what I earned because I wanted to go to university. Even then I was tight with my cash, after all I had to earn it myself and at $4.17 an hour, it didn't go far.
I worked all through uni, sometimes holding down three jobs at once, maybe that's how I learned to appreciate that money just doesn't fall from trees. I still wear socks that I darned at uni 10 years ago (yep, that's them above). When I bought a car, every spare cent went to paying it off long before I had to.
Just before we got married and moved interstate we got really motivated to save money. To pay for a wedding, a honeymoon and to put a deposit on our house. While I had always been frugal, I researched every which way that we could save money and pinched pennies with a force to be reckoned with. Or so I thought.
Since living on a single income, we've taken frugal to a whole new level for us and I know there are hundreds of ways we can be even more frugal. We have our foibles, but on the whole, I think we do pretty well with what we have.
A new perspective
The other day I went to a cafe and had a pot of tea. It cost me $4. For one small pot. I can buy a whole box of tea leaves and drink tea every day for a month for $4.
So I ask myself, is it really worth it?
I've been looking into vermiculture recently and was horrified at the cost of worms. Around $40 – $80 for a bag of worms. $11 for mulch. Surely I can find some mulch for free.
Maybe I've become too much of a tightwad.
When I think in terms of value, it's not so much about whether something is actually worth the outlay (after all, the cafe has to pay its staff and overheads etc) but whether it's worth it for us in terms of how many hours work it is costing us, what the opportunity cost is, and the functionality or enjoyment factor.
In other words, it would take DH almost as much time to earn the four dollars as it would take me to drink the cuppa and I can enjoy a cuppa just as much at home with friends than in a cafe (actually, with the little fella starting to crawl, I would enjoy it more at home).
I look at shopping now a little differently. I wonder how shops survive. People must buy a lot, all of the time. How many t-shirt shops can one town support? How can people pay $60 for a shirt. No wonder people need to live on two incomes.
When we started being frugal it was to make ends meet. Then it was to save money for a house deposit and a wedding. Now a large motivator for us is how our purchasing decisions affect the environment. It's cheaper to clean with vinegar, but we're also not putting chemicals into our waterways. It's cheaper and healthier to eat whole foods, but it also means we're not using so much plastic packaging. We save money by repurposing junk to fill our needs, but it also keeps it out of landfill.
Once you begin to take into consideration the impact that your everyday decisions have, there is no turning back. Frugality becomes a way of life.
Living on less, living on one income is doable, even with a mortgage, even with children. In a world full of advertising, easy credit and social status being about what you own, it's not easy. Everywhere you turn consumerism is screaming at you to spend, spend, spend and it's hard not to be tempted. But knowing why you choose to be frugal: because you want to be at home for your kids, because you want to save for something important, because you are concerned for the environment, or for some other reason – it's the why that makes living on less not only achievable, but something that you can be proud of.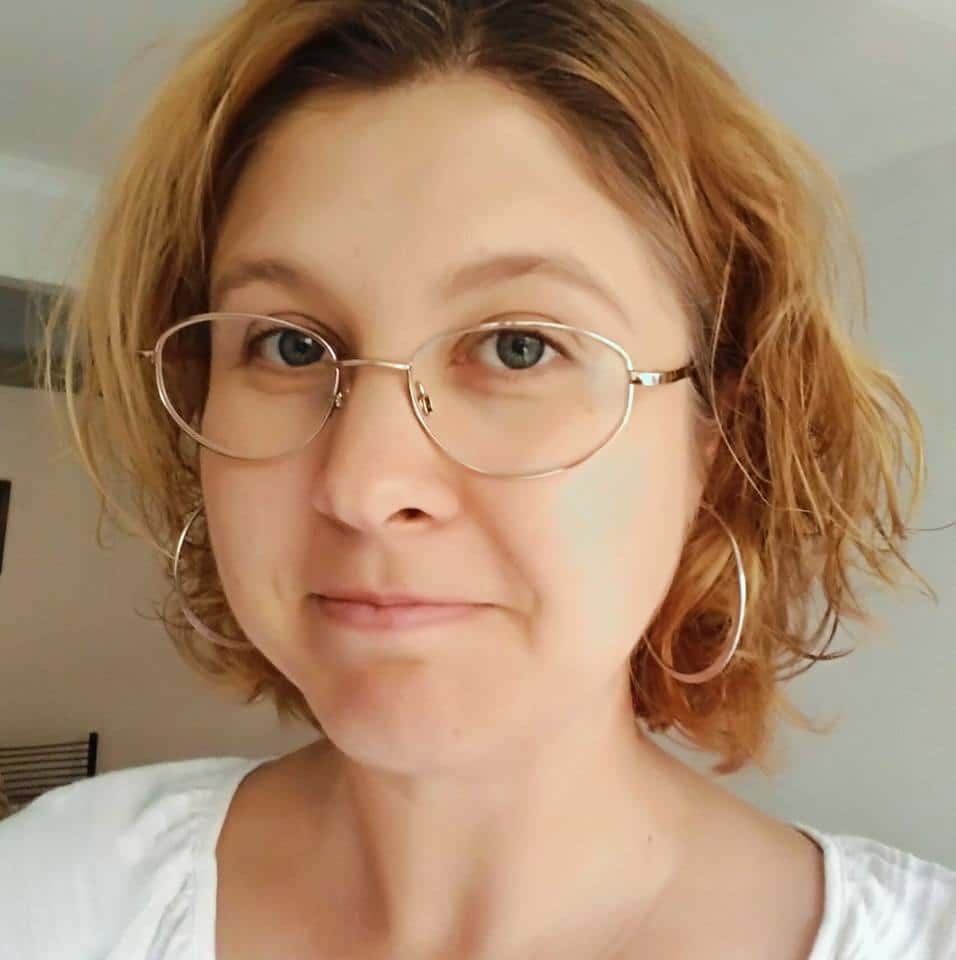 Melissa Goodwin is a writer and the creator of Frugal and Thriving who has a passion for living frugally and encouraging people to thrive on any budget. The blog is nine years old and is almost like her eldest baby. Prior to being a blogger and mum (but not a mummy blogger), she worked as an accountant doing other people's budgets, books and tax.