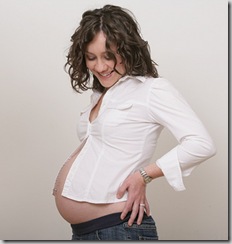 Finally getting out of the morning sickness phase and I'm finding that my clothes aren't fitting already. I've been scouting around the internet for low cost maternity wear ideas, but I'm really not ready at all for maternity wear. A the moment I'm doing the old rubber band round the button trick, but that is only going to last so long.
If you have been down this road already – help! I would love to hear your ideas for low cost maternity wear. My budget at the moment is a shy above $0.
After doing some research, here are some low cost/ no cost options I found for maternity wear.
The Belly Band. This is like a 'boob tube' for your waist. It is supposed to help keep pants up when you can't do up the buttons and zips (and hide the fact your duds are undone), and cover your belly and your plumber's when your tops get too short. In other words it extends the life of your pre-preggers clothes (as long as you can still fit into them otherwise!) It also helps keep loose maternity wear from falling off.
Borrow maternity wear. If you're lucky enough to know someone who has maternity wear lying around in the cupboard then borrowing it is a no cost alternative.
Buy second hand. This can be at charity stores or some specialty maternity wear stores that buy and sell second hand maternity clothes.
EBay. This is a popular suggestion. I've bought clothes off eBay before, but browsing through the maternity wear, I didn't find it all that cheap. There seemed to be high demand for maternity wear and therefore more bids and higher costs (something to keep in mind for later!)
Buy Online. Depending on your budget and what you're looking for, buying online can be cheaper. I found a nice pair of pants for $38AUD which I guess is reasonable (but beyond my current budget).
Raid hubby's wardrobe. Particularly for the in between period where your clothes are too small and maternity wear is too big.
Buy bigger 'normal' clothes. Again for the in between period.
If you have any other ideas or you would like to share what you did for clothes during pregnancy, I would love you to share your thoughts in the comments section.