Mould in the Bathroom – Prevention and Cure
This website may earn commissions from purchases made through links in this post.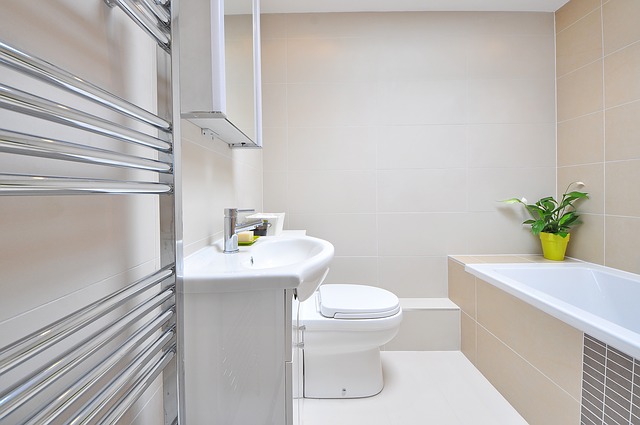 Mould growth – not only is it unsightly, it can be bad for your health. Mould can reduce the quality of indoor air and can aggravate asthma and hay fever as well as increase the risk of respiratory illness, especially in children.
Mould is typically caused by bacteria that loves to grow in hot, humid environments. Our bathrooms, therefore, provide an ideal environment for mould to establish some real estate and start a family.
Prevent the next generation of mould colonising your bathroom with these tips.
Preventing mould in the bathroom
The best cure is prevention, as they say. These tips will help keep your bathroom mould free.
Take shorter, cooler showers. Not only do you save money on hot water, the less build up of steam, the quicker a bathroom dries, helping to prevent mould.
If your bathroom has a window, keep it open to allow air circulation both during and after showering.
Use a ceiling exhaust fan whilst showering to vent the humid air out of the bathroom. Keep the exhaust on for a while after your shower to help dehumidify the bathroom (don't tell DH I said that, I'm always nagging him to turn off the bathroom fan).
Hang your towels outside to dry in the sun rather than leaving them to stay damp all day in the bathroom. If you shower at night, consider hanging towels out over an airer to dry.
Check your bathroom for leaks and fix dripping taps.
Make sure the shower recess dries each day. Use a squeegee to give it a quick, 5 second wipe over to help it dry.
Clean the bathroom regularly to prevent mould build up.
Next time you paint the bathroom, consider using a paint or primer that has an anti-mould agent in it to help prevent mould from recurring.
Getting rid of mould in the bathroom
While there are a lot of products on the market designed for ridding the bathroom of mould, I've found good old vinegar and a bit of elbow grease to be the best way to eliminate mould. Apparently the experts agree.
According to an Australian Environmental Mycology Laboratory, the best way to clean mould from surfaces is to vacuum the affected area with a HEPA vacuum to remove spores, then wash with vinegar (80%) / water (20%) solution. Check out their cleaning advice page for specific details. As a side note, they also suggest using bi-carb soda to remove stubborn stains. Just another reason to avoid the chemical cleaners and stick to the cheap and natural stuff.
Despite being a commonly suggested remedy, bleach does not kill mould. Here's what the experts say:
Specifically, bleach has a high pH which makes it ineffective to kill mould. The mould detects the bleach as a chemical attack and defends itself with exo-enzymes and a good defending membrane. The exo-enzymes makes the chlorine compounds in the bleach inert which then the fungi uses it as a food source. So when we put bleach on mould we are actually feeding it. Visually it looks like the mould is disappearing because bleach "bleaches" which means it strips the melanin compounds out of the hyphal membrane (just like the melanin in our skin when we get a sun tan). Three weeks later the fungi hyphae recovers the melanin content and the mould becomes visible again so it was actually never gone. [source]
If mould has gotten under silicone sealant in shower recesses, then you will need to remove the sealant, clean the area well with vinegar, allow to dry and then reseal with new sealant specific for use in wet areas.
It can be easy to ignore a spot of mould when there are so many other things to do. But ignoring it can turn a small job into a big problem, which in turn can have adverse affects on your health. And the answer is actually simpler and cheaper than buying and using expensive and toxic chemical cleaners (along with all the necessary protective gear) – plain white vinegar comes to the rescue once again.
JOIN THE NEWSLETTER