organising recipes and menu planning using evernote–part two
This website may earn commissions from purchases made through links in this post.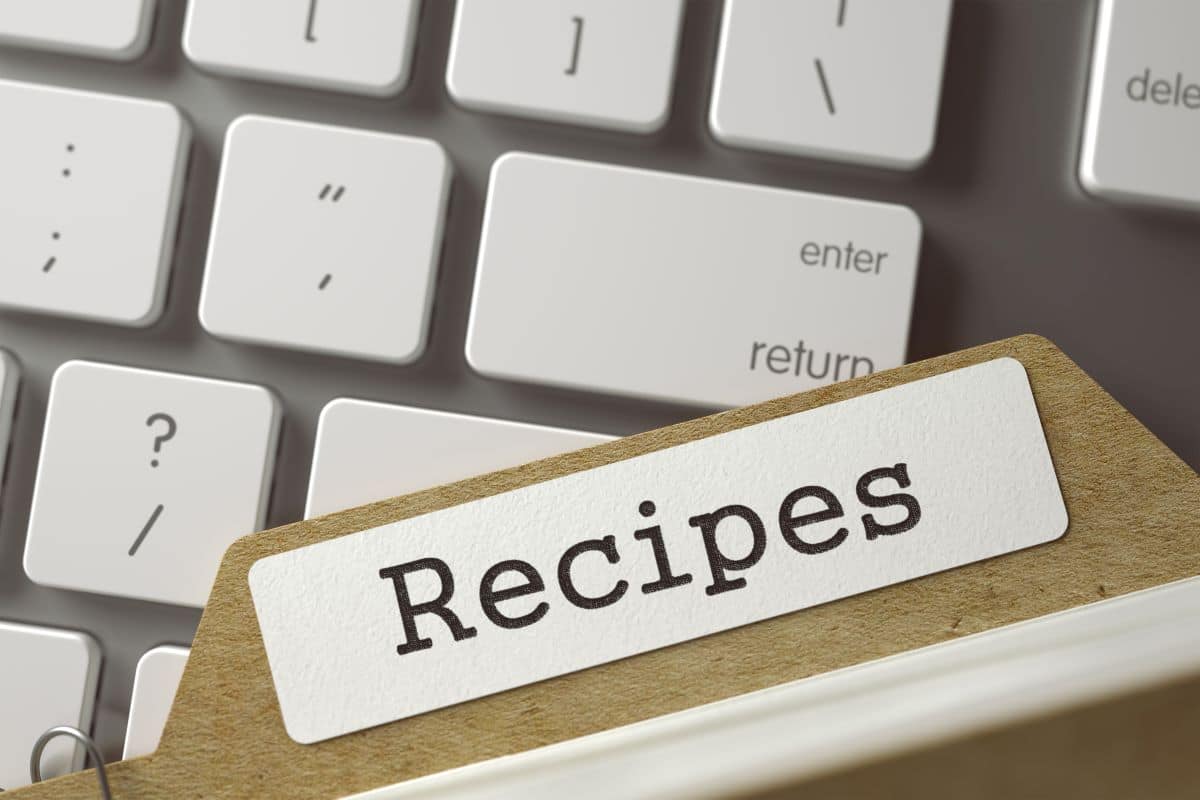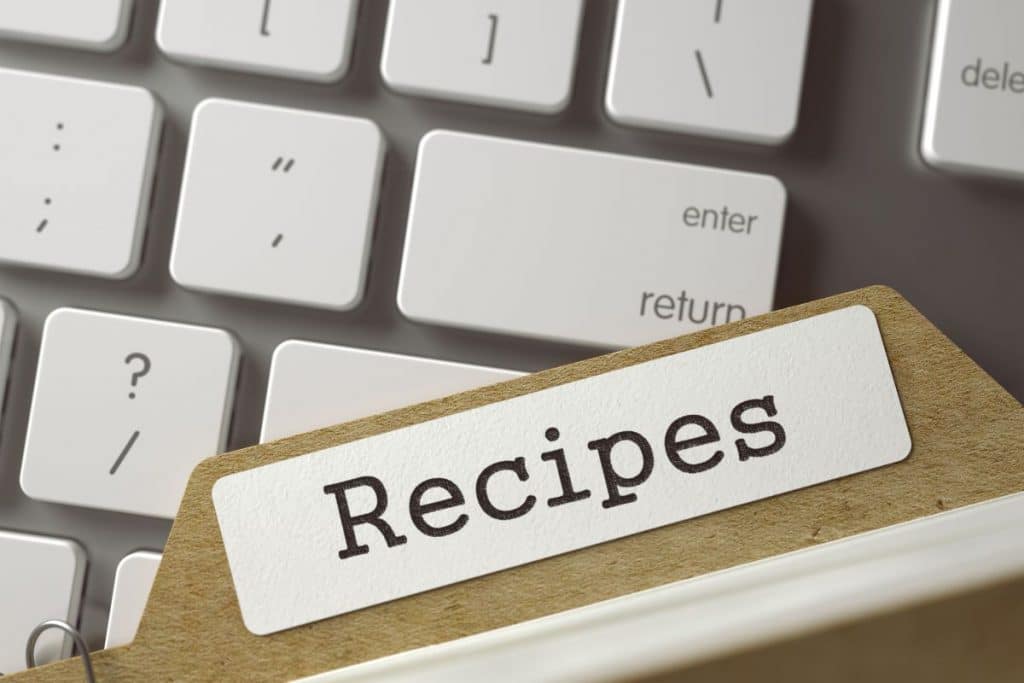 Part one of this two-part series covered how to organise recipes using Evernote. Today's post covers how to create menu plans and shopping lists using these stored recipes.
Now that you have all your recipes collated and ready in Evernote, it's time to get planning and cooking. Creating menu plans from your recipe super-database is a four-step process:
Create a menu plan 'note' and a grocery list note.
Search or browse your recipes in Evernote.
Link your recipes to your menu plan to make them easy to find and make any prep notes that you need.
Add ingredients in your grocery list from the recipes as you go.
It sounds like a lot, but it really only takes a few minutes a week or fortnight. Below outlines how to use Evernote for menu planning.
Side note: I still like to use paper for my menu plans and post them on the fridge. However, I also put the menu plan into Evernote as described below. This makes looking up a recipe quick and easy, particularly if you sync Evernote on your phone or tablet with your computer.
Creating your menu plan
Create a new notebook in Evernote and call it Menu Plans. It's a good idea to keep your menu plans because then you can recycle them, saving you time later on.
Next, create a new note, which will be your menu plan. Give it a title and tag your note by month. List the days of the week in your note (to make this process quicker, create a 'template' note from which you can copy and past the list).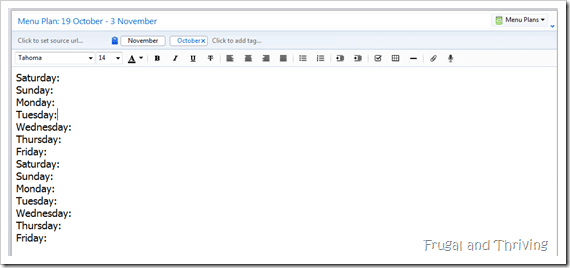 Why tag your menu plan with the month? This means you can select seasonally appropriate menu plans to recycle later on, saving even more time.
Searching for recipes in Evernote
Now the fun part: choosing recipes from your database to insert into your menu plan.
Some people find it useful to have a regular cycle to their menu plan. For instance, Mondays are chicken nights, Tuesdays are vegetarian nights, Wednesdays are burrito nights etc.. This makes it easy to search Evernote for "chicken" recipes to slot into Monday night.
Alternatively (and this is the way I do it), you can start with the ingredients you have on hand or with produce that is currently in season (we buy meat about once every six weeks, so I look for recipes that suit what we have in the freezer and what is in season) and then search recipes using those ingredients.
Tip: If while browsing the web or cookbook you find a recipe that you would like to cook in the next menu plan cycle, tag it with something like "to cook" or "next week" to make that recipe easy to find again when you need it.
linking recipes to your menu plan
Rather than just writing down the meal on your menu plan, create a link to your recipe. That way your recipe is just a click away – you won't need to search it out again when you're ready to cook.
Here's how to create a link:
With the recipe note open, go to Note ~ Copy Note Link and click to copy.
Then go to your menu plan note and paste the link into your menu plan on the appropriate day.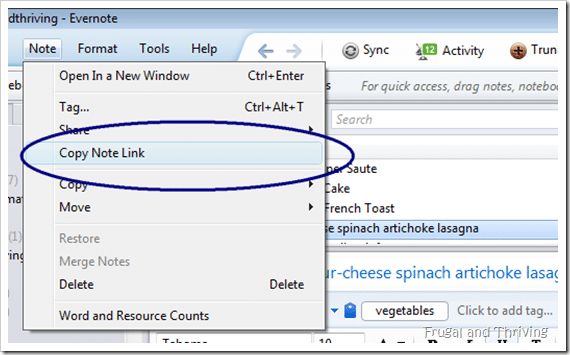 This is what your menu plan will look like: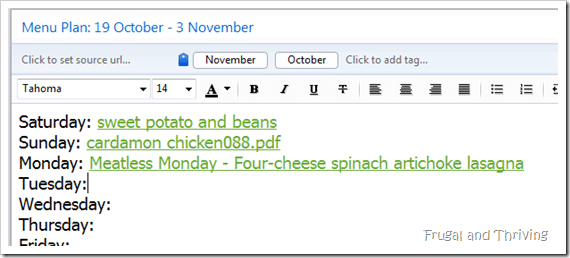 Clicking or tapping on the links will take you directly to the recipe.
Creating your shopping list
As you're reading through your recipes, don't forget to jot down any ingredients that you will need to buy.
You can do this on paper if that suits you (I still use paper lists!) or if you use a smart phone, you can create your list in Evernote and look up your list on your phone when doing the grocery shopping.
If you're using Evernote for your shopping list, create a new note and call it "shopping list", then add ingredients as necessary. You can date this note to organise or just delete the list and rewrite on the same note each week.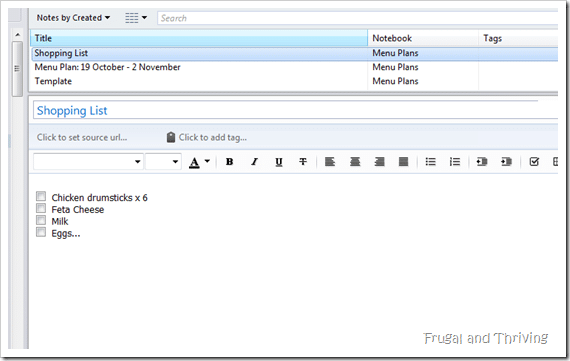 To add check boxes go to Format ~ To Do ~ Insert checkbox. You need to do this in front of each item on your list.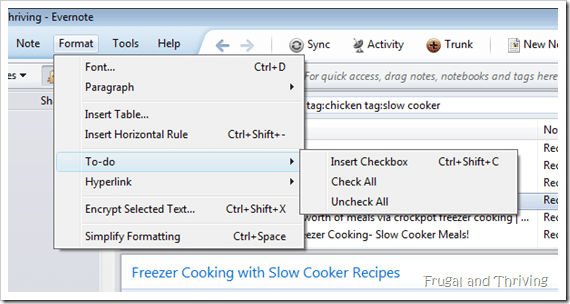 Why would you put checkboxes on your list? Assuming you are reading your shopping list on your phone as you shop, you can mark off each item by simply tapping on the checkbox. This ensures you don't miss anything on your list (the 21st Century alternative to scribbling on your list with a pen).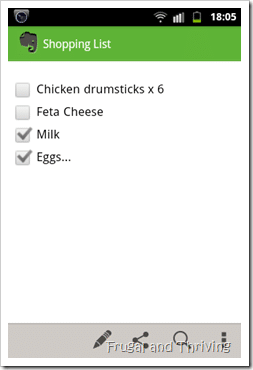 Tip: If one recipe calls for an ingredient that you won't use all of, say sour cream for instance, search for other sour cream recipes to put in your menu plan so that you use the rest before it goes bad. This goes for any ingredient that would otherwise be wasted.
Creating shortcuts to your plan and list
Access your menu plan or shopping list quickly on your mobile device by adding a shortcut. An icon will appear on the main screen of your device making your menu plan just a tap away.
With your note open on your phone or tablet, tap on the menu button (the column of three squares) and then select Create shortcut.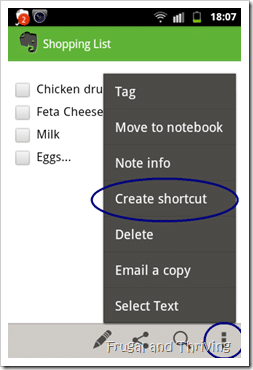 Your shortcut will appear on the main screen of your mobile device.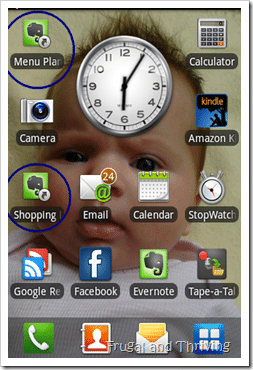 You now have a completed and easily accessible menu plan and shopping list – each recipe is just a click away and (if you're anything like me) you can finally cook all those recipes that look so good but get filed away and forgotten about.
Hope this two part series has helped you get more out of Evernote.
JOIN THE NEWSLETTER