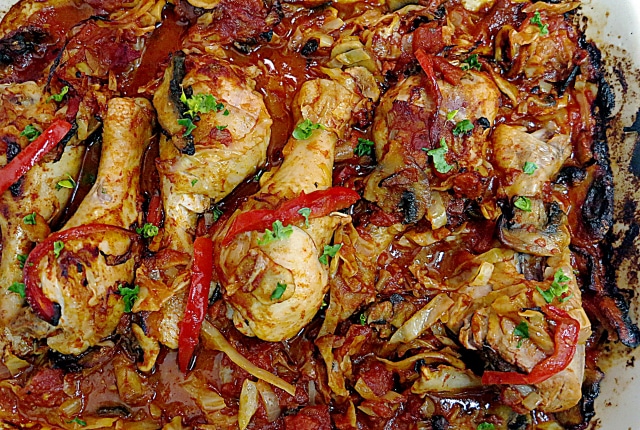 This dish is both tasty and inexpensive – less than five dollars for a family meal.
Serves 4 – 6
Ingredients
6 – 8 chicken drumsticks
1 onion, sliced
2 cloves of garlic, crushed
1/8 cabbage, finely shredded
1/2 red capsicum, sliced
1 Tbsp. plain flour
1 Tbsp. paprika
1 Tbsp. tomato paste
handful of mushrooms, sliced
1 – 11/2 cups of chicken or vegetable stock
1 – 2 Tbsp. sour cream
rice and fresh chopped parsley to serve
Method
Heat a little butter or oil in a large frypan or saucepan. Lightly brown the chicken pieces on all sides. Remove from pan.
Add the onion and sauté until almost soft. Add the cabbage, capsicum and garlic and toss sautéing for two minutes or so. Remove from pan and add to chicken.
Melt a little extra butter in the pan and add the paprika, flour and tomato paste, stirring to a smooth paste. Add the stock, a little at a time, stirring well until all the stock is incorporated and you have a smooth sauce.
Return the chicken and vegetables to the pan, add the mushrooms, stir and cover. Bring to the boil and then simmer for 30 minutes or until chicken is cooked through (test by cutting into the largest piece – the juices should run clear and there should be no pink).
If the sauce is too runny at this point, you can remove the chicken, increase the heat and reduce the sauce until it thickens. This also concentrates the flavour of the sauce. I like to remove the chicken anyway before stirring in the sour cream, just because it makes it easier to stir.
Turn off the heat and stir in the sour cream and some chopped parsley. Serve over rice with an extra sprinkling parsley.
Melissa Goodwin is a writer and the creator of Frugal and Thriving who has a passion for living frugally and encouraging people to thrive on any budget. The blog is nine years old and is almost like her eldest baby. Prior to being a blogger and mum (but not a mummy blogger), she worked as an accountant doing other people's budgets, books and tax.