Today's action step, as part of the disaster preparation series, is to organise and back up your photos and make a list of mementos that you would like to grab, should you have time in an emergency situation.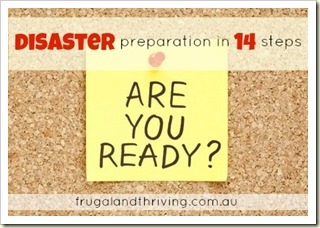 When told, in an evacuation scenario, to grab what you can and leave, it's the photos and mementos that people think of first.
And while these things have the most sentimental value, they are not the things that will be most useful in an emergency.
The great thing about living in the digital age is there is no need to lose all your precious photographs and memories, should something happen to your home.
A little organisation means that if we don't get time to grab the family album, the memories won't be lost forever.
And should you never have an emergency, taking the time to back up your photos will ensure they aren't lost if your computer goes on the fritz.
backing up digital photos
Thanks to digital photography, you need never lose a photo again. The important thing to remember is to regularly backup, backup, backup your files and photos.
There are several ways to backup your photographs. It's best to use more than one backup method:
1. Backup your photos online using an online storage including:
2. Backup your photos onto disk; or
3. Backup your photos onto stick.
For options 2 and 3, it's a good idea to store a backup at a family or friend's house, preferably someone who doesn't live too close (and therefore will not potentially be affected by the same emergency).
On Wednesday I wrote about using Google Calendar to schedule cleaning and maintenance tasks. It's a good idea to schedule backups for your computer files and photos. It doesn't take an emergency to lose information on your computer – a simple virus or computer malfunction can do that for you. So it's wise to backup regularly if you don't do it automatically every day.
digitizing old photos
For pre-digital photos, it's a good idea to digitise them. That way, if you can't grab the family albums in an evacuation situation, your photos aren't lost forever.
You can digitize your photos by scanning them into your computer and then make a backup (here's a comprehensive article on how to do it).
If the thought of scanning hundreds of photos or negatives sounds tedious, or you don't want to invest in a scanner for the job, you can outsource the work to a professional service (there are heaps online).
Then, once your old photos are digitized, make sure you make back ups of these as well.
Other mementos
What about other mementos that can't be digitised, like family heirlooms and jewellery?
These are the types of things you grab in an evacuation scenario only if you have time.
To make it easier, write a list now of the sentimental items you would take in an emergency and where each item is located. Leave this list with your 72-hour kit or emergency folder.
In an evacuation situation, you won't have to waste time deciding on which items you will take and searching for them. Having a list will make the task quicker and therefore you will be more likely to have time to grab these things.
This is the last post in the series on preparing for emergencies. I hope you've found the series useful and it's helped you prepare. It's easy not to do emergency preparation – there are so many other things that need to be done each day and an emergency may never happen. But if one does, you will thank yourself that you spent the time getting prepared.