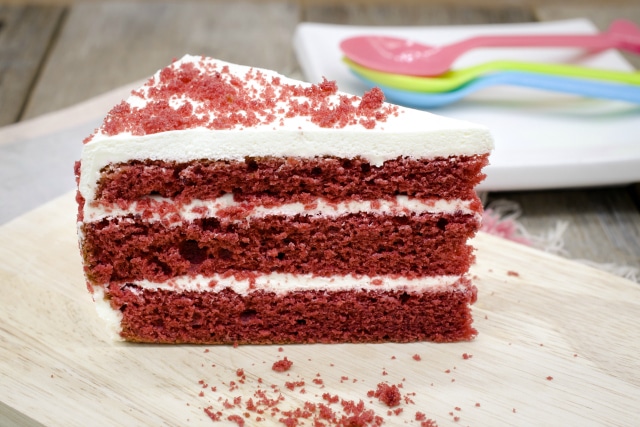 Something a little decadent for today. Red velvet cake is a popular American cake often served on Valentines Day due to it's red hue, offset by the white icing (my poor photography skills don't do this cake justice).
Generally red velvet cake calls for buttermilk, but I substituted sour cream instead as buttermilk can be expensive and we don't really use it much. This cake has a lovely subtle chocolate flavour and a delicious cream cheese icing.
Ingredients
2 1/2 cups plain flour
1/2 tsp salt
1 Tbsp cocoa powder
1/2 cup butter at room temperature
1 1/2 cups sugar
2 eggs
1 tsp vanilla extract
1 cup sour cream or buttermilk
2 Tbsp red liquid food colouring
1 tsp white vinegar
1 tsp baking soda
Cream Cheese Icing
250g cream cheese, softened
1 tsp vanilla
1 cup icing sugar
1 1/2 cups thickened cream
Method
Preheat oven to 175°C (350°F) and grease and line a 23cm cake tin.
Sift together flour, salt and cocoa. Set aside.
Beat butter until soft, add sugar and beat until fluffy. Add eggs one and a time and vanilla, beating well until combined.
Alternately add the flour and sour cream to the butter mixture, beating in each addition well. Add the red food colouring mixing well.
In a small cup combine the vinegar and baking soda. Allow the mixture to fizz and then quickly fold into the cake batter.
Pour mixture quickly into the cake tin and bake for approximately 30 – 50 minutes or until a skewer comes out clean. Invert onto wire racks and cool cakes completely. To make cutting and filling easier, place cake in fridge for an hour.
Slice cake horizontally in either half, thirds or quarters (whichever you prefer) with a serrated knife.
Beat cream cheese until smooth, add the vanilla and icing sugar and mix well. Whisk in the cream until thick enough to spread. Add more icing sugar to taste or to get the right consistency.
Spread icing between each layer of cake, the top and sides of the cake.
Melissa Goodwin is a writer and the creator of Frugal and Thriving who has a passion for living frugally and encouraging people to thrive on any budget. The blog is nine years old and is almost like her eldest baby. Prior to being a blogger and mum (but not a mummy blogger), she worked as an accountant doing other people's budgets, books and tax.