revive the look of an old lounge with a DIY slipcover
This website may earn commissions from purchases made through links in this post.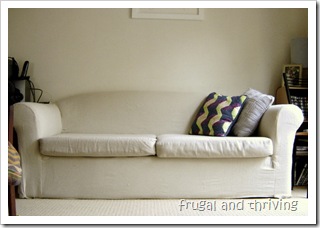 Lounge covers are a great way to revive the look of an old lounge without going to the expense of purchasing a whole new one. However, lounge covers themselves can be pretty pricey, not to mention the fact that they don't always fit very well, giving the lounge a messy bed look.
The alternative is to make your own lounge cover.
While buying the fabric to do this project can cost as much as buying a pre-made cover, there's a cheaper alternative that was a bit of craze last year in home decorator circles.
That craze was recovering furniture with painter's drop cloth.
Painter's drop cloth is cheap, sturdy cotton canvas, ideal for upholstery projects. It's unbleached and has lots of imperfections (which is why it's so cheap) but it gives the fabric some personality, while still looking good.
Admittedly cream isn't the most practical colour for a lounge in a household with kids, but the upside is that I can throw the cover in the washing machine (and we have a no eating in the loungeroom rule – at least for the kids. I think I should probably not drink coffee on the lounge either).
I would rate the difficulty of this project as medium. There's no fancy sewing, but it does take some patience and some strength to haul the whole cover under the sewing machine. My cover isn't perfect, there's some puckering and a bit of sneaky tucking here and there, but I'm comfortable with not perfect.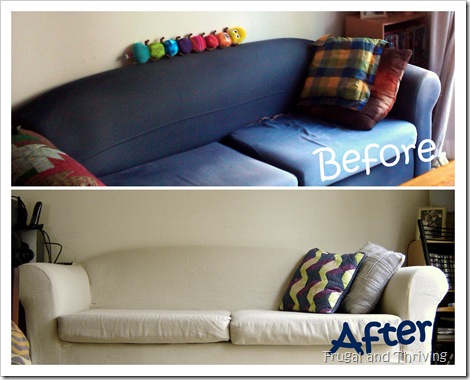 You can't see it, but the cat had scratched the arms of the chair to bits so that the 'wood' and foam was exposed. The lounge is also pretty faded with a few stains.
Now for the details: materials and how tos.
You can buy painter's drop cloth from Bunnings or any other hardware store. It cost me about $45 dollars to cover this lounge and there's some fabric left over already earmarked for a Christmas project for the little fella. The zippers I repurposed from the original cushions. I also added a little velcro (I literally glued it onto the lounge) to help keep the cover in place, which in hindsight probably wasn't necessary – I've fitted it fairly tightly.
There are a lot of tutorials on the web on how to cover a chair (or lounge – I got ambitious) but I think the best one that I've seen is from the Miss Mustard seed blog. Miss Mustard Seed has a six part video tutorial on her blog where she covers a wing chair, but the technique can be used on any chair or lounge. You can find the whole six slipcover video tutorials here.
I'm so glad this project is something I can finally cross off my list. It's been a 12 month work in progress. It certainly gives the room a lift and revives a tired old lounge that was looking worse for wear.