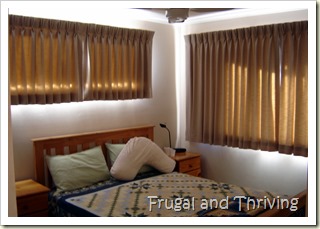 Many of the skills necessary for making and keeping a home are being lost. They are no longer being passed down from parent (or grandparent) to child.
Not only do we often lack the skills to perform homemaking tasks of old, we lack the time or the motivation: it's so cheap and easy to fill our needs with a pre-made import.
I thought I would look at some of the old-fashioned homemaking skills that are worth reviving, starting with sewing curtains. These skills not only save us money, they are a source of personal satisfaction and pride and give real meaning to the word homemaking.
Sewing curtains
Sewing your own curtains will give you a better end product than buying pre-made curtains. You can make curtains from a wider range of fabrics, you will be able to line them, according to your needs and you can make them exactly the right size.
DIY curtains will also save you a huge amount over custom-made curtains. I purchased fabric to make lined curtains for 3 bedrooms (4 windows in all) at a cost of $400. I was quoted between $2,000 and $2,500 to have similar curtains custom-made.
Good quality, well line curtains will also save you money on your power bill by making your heating and cooling systems run more efficiently. They will prevent heat loss through windows in winter and heat gain in summer.
At the same time, you will benefit by learning a new skill (as was my case) or honing an old one and generally gaining confidence with your sewing.
Sewing curtains is not hard, but I won't lie to you, it is laborious. It took about 10 months of stops and starts and procrastination and nap-time sewing to make these curtains, but the effort was well worth it.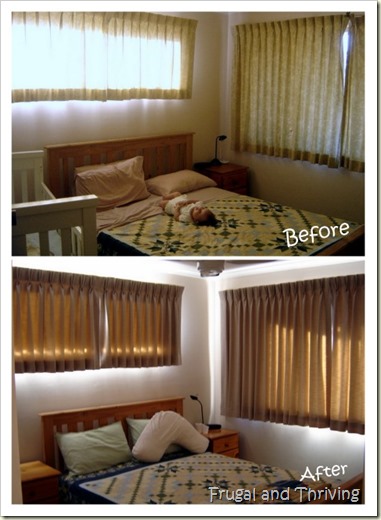 Check out the bedside tables. "New" to us; purchased second hand off eBay for $50 for the pair – a fraction of the cost of new ones and in perfect condition – just what I've been looking for.
It's hard to see in the photos, the angle of the sun is deceptive, but the backing on the old curtains was rubbed away and they were not very effective in keeping out light or heat. The lining on the new curtains makes them more effective at both.
Learning how to sew curtains
I've never sewn curtains before. Thanks to YouTube, you can learn just about anything and it's almost like having a personal instructor show you how to do things step by step.
There are thousands of website that will show you how to sew a variety of curtains. The videos below are the ones I used to learn all about curtains, decide which ones I wanted to make and eventually, how to make lined, double-pleated curtains using old fashioned buckram tape in the header.
[A few tips I found along the way: use a walking foot when joining fabric, it will prevent puckering. Use bull dog clips for holding the pleats together as you sew them to prevent the weight of the fabric from pulling them askew.]
paying for new curtains
You may be thinking $400 is still a lot for new curtains. And it is a lot of money. But the end result is equivalent in quality to custom-made curtains, not the $20 pre-made variety, and the savings in comparison to custom-made are significant (in my case, at least $1,500).
We used our savings system to save for large purchases. It took some months to save for the curtains, but it meant we could pay cash for the fabric. I also kept an eye out for sales on curtain fabric and purchased it at a 30% discount. Furthermore, because I am a Facebook 'fan' of Spotlight, I receive discount offers. I used a voucher for a further 25% off, which gave us a saving of a couple of hundred dollars.
The combination of saving in advance and waiting for sales and discounts makes paying for this investment much easier.
If you're looking at replacing your old window dressing, don't shy away from making your own. The sewing is simply machine and hem stitch, and is all straight lines. The amount of fabric can be daunting, but the results are quality, functional curtains at a fraction of the cost of custom-made ones.
Melissa Goodwin is a writer and the creator of Frugal and Thriving who has a passion for living frugally and encouraging people to thrive on any budget. The blog is nine years old and is almost like her eldest baby. Prior to being a blogger and mum (but not a mummy blogger), she worked as an accountant doing other people's budgets, books and tax.