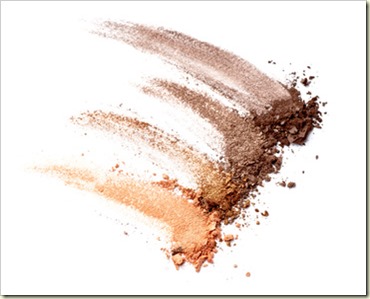 Fellas, there's one thing you need to understand when it comes to the household budget: us ladies, we have a few extra essential expenses.
No doubt you want to avoid all details related to secret women's business, but you get the necessity of those products.
(My husband, who proof reads my articles, was adamant that I shouldn't use the work 'menstruation' here. You can thank him for the euphemism.)
But there are also a few other personal care items that need to be budgeted for.
Makeup is one of them.
Fellas, no matter how frugal we are, a lady's got to have a lippy or two.
And a good concealer.
It makes us feel good. And when we feel good, the whole family benefits, so it's a win win all round.
And our bosses often require that we wear make-up to work. Seriously! Check out the workplace dress code. Right there under where it says we have to wear stockings. Yes, the inner-feminist is a screaming banshee at the audacity. But as you can see, that new mascara was a totally necessary purchase.
Bu here's the thing: we're savvy shoppers. And we've got a few tricks for looking our best without spending a fortune.
we're not sold by all the extras
There's some serious art happening in bathrooms around the nation each and every morning.
That thing that we do, where we look like we haven't spent all night awake with a cranky baby, that's beauty sleep in a bottle.
The world of make-up is a scary place. Trust me on this one. Primer, concealer, foundation, powder, highlighter, bronzer, blush…and we're only just getting started.
But we don't buy into all that. And we certainly don't have time for it either.
We save time and money by sticking to the essentials:
A simple foundation. It might be a natural mineral powder, a BB Cream, a foundation or a tinted moisturiser with SPF.
A good concealer
A mascara
A neutral blush
A lipstick or tinted lip gloss
For less than $80 a year, we can have all the makeup we need to look daisy fresh each and every day.
A sleep in – that's free, fellas. Just saying.
we are expert multi-taskers…and so is our makeup
Every woman needs about 8 hands (now there's an evolutionary boo boo) and yet we're pretty adept at completing tasks with just one (while holding the toddler in the other, cooking breakfast, finding lost homework…)
Those 5 essential makeup products, they multi-task too.
A tinted moisturisers with SPF is one product that replaces three. A third of the price, a third of the time in the bathroom.
A concealer can be used as a highlighter and an eye lid primer.
A neutral blush can be used in place of a bronzer; it can be used to tint a little lip gloss and it can also double as an eye shadow.
A thin brush and a little mascara can replace an eye liner.
A neutral to light pink lipstick can be used instead of a blush. It can even be used as an eye shadow.
Alternatively, just a few extra dollars will get you a 'palate': a variety of colours that can be mixed and matched, particularly if they are neutral colours (electric blue is sooo Boy George anyway).
we don't need our products to look fancy
Fella's you're probably thinking right now, what's the difference between high-end makeup that you buy in the department store, and discount makeup you can get at the chemist or in in Priceline?
Well, it's the price!
Yep, we're onto their fancy packaging and glossy adverts.
The secret is out, the cheaper lines are just as good as the designer makeup brands. We don't need to pay extra for pretty packaging.
But…that doesn't mean a girl can't have a high-end brand or two, without blowing the budge because…
we know how to shop the sales
Sales time is a great time to pick up that favourite high-end product for less.
Yes, David Jones is a little hoity-toity on a shoestring budget, but at sale time, we can get a good lippy for $2 that will last all year.
And what's that at the bottom of the drawer?
Free. Samples.
Being frugal doesn't mean we have to go all Quaker. Even if makeup is not a workplace requirement, a little makeup can be a great boost to our feelings of wellbeing and self-esteem, especially when we're feeling a little flat. And we can get the made-up look, without spending a fortune.
So ladies, what are your makeup on a budget tricks and tips? What are your absolute makeup essentials? Best makeup buys? Recommended brands that are cheap but good?
Melissa Goodwin is a writer and the creator of Frugal and Thriving who has a passion for living frugally and encouraging people to thrive on any budget. The blog is nine years old and is almost like her eldest baby. Prior to being a blogger and mum (but not a mummy blogger), she worked as an accountant doing other people's budgets, books and tax.