saving money when having a baby part one – feeding
This website may earn commissions from purchases made through links in this post.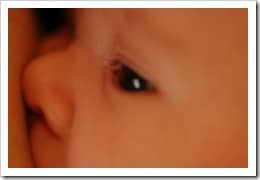 Last time I wrote about saving money when having a baby, I was on the other side – pregnant with my first and pondering how I was going to save money.
Now that that baby is over two years old and the second is due in only eight weeks, I can speak more from experience when it comes to saving money on baby stuff.
There are lots of ways to have a frugal baby. This series of articles is a reflection of my own personal experiences.
There are three major things you can do to save lots of money when having a baby:
Breastfeed
Use cloth nappies
Borrow or buy second hand (checking safety standards)
Below (and in the following articles in the series) is a list of lots of little ways to save money. Little savings add up to big savings over the course of the first two years.
Breastfeeding
As you already know, breastfeeding is pretty much free, so if you want to raise a frugal baby, breastfeeding is the way to go! And, of course, it provides the ideal nutrition and immune protection for bub as well as numerous other benefits. But like I said, you already know all that.
As it turns out, I'm no expert in this area, being one of those women who had no milk at all. I did spend the first two months or so trying to encourage a milk supply, breastfeeding and supplement feeding at the same time, so here are a few things I learned during that time.
Try using a normal, cotton non-underwire bra and stretchy tops / button shirts before buying special maternity bras and feeding shirts (or just buy one maternity bra to try – you can always get more later). This is going to be a very personal thing, for some ladies (erm, those that may be flat chested like me) you may find that regular clothes suit you just fine. Others will swear by the specially designed maternity wear. You won't know until you try.
Cotton breast pads are washable and reusable and will save you money (and the environment) over the disposable ones (and they are much more comfortable). If you are crafty, you can make some of your own with recycled materials.
If you need help with breastfeeding then there's lots of free advice available to you. If you were in the public health system, then you can seek the advice of a lactation consultant for free in a private consultation. Also, your local drop-in centre or baby clinic will have trained midwives (sometimes lactation consultants also) for you to talk to – this is also free. Finally, the Australian Breastfeeding Association is not only a great association to join, they offer free breastfeeding advice over the phone. I used all of these services and highly recommend each.
Wraps or muslins work as feeding covers without needing a separate cover.
If you want to use a breast pump, compare the prices between hiring one (you can hire one for half price from the ABA if you are a member) and buying one. Sometimes it is cheaper to purchase one outright. I would wait until after the baby is born and you have a bit more familiarity with it all before deciding to get a pump.
If you are looking at buying a second-hand pump (I sold one-second hand), look for ones that have a detachable milk collection kit and buy just those parts new for hygiene reasons.
Alternatives to an electric pump is hand expressing (think of it as a massage, actually a microscopic amount of olive oil may make it easier) or manual pumps (which is what my mother used when I was a baby).
Wait until after the baby is born to get things like nipple cream as you may not need it. Now I'm going to be controversial here and say that smearing your nipples with breast milk is a bit of an old midwives tale (particularly if your baby has a really strong suck and you're bleeding). The best and most compassionate midwife I had was a male midwife who had just become a father himself. Men tend to be more practical (I would even go so far to say, more reasonable) about these things. He told me to stop sucking up the pain and get Lansinoh and I swear by it.
For info. on bottles and sterilisers etc., see below in the formula feeding paragraph.
Formula Feeding
As I said above, I happened to be one of those women who had malfunctioning mammaries. I'm guessing it will be the same for this baby. I won't go into the emotional turmoil we went through in those first few months, nor the unsuccessful efforts we went to to get milk into production. It was hard, we tried hard, I'll leave it at that.
The experience, however, puts me in a unique position for a frugal blogger; one that allows me to talk in detail about formula feeding. So if you find yourself in the same position as me, or you opt to formula feed for whatever other reason, then here's some tips on saving money.
Formula itself is the biggest expense (we spent over $1,500 on formula in one year). Like any grocery, keep an eye out for specials and stock up when formula goes on sale. That's the number one way to save money on formula. Don't forget to keep an eye out in discount chemists and discount stores (like Big W). Just remember to check the used by date on the bottom of the can before stocking up.
As far as my lactation consultant was concerned, all formulas are the same, and there are minimum regulations and standards that all brands must meet, so there's no need to buy the most expensive one on the market.
If bub is having feeding issues, it can be tempting to switch formulas. Talk to your GP or paediatrician before switching to the specialty (and more expensive) formulas (like soy or reflux formula).
Formula needs to be made up strictly according to the directions on the can. Brands will vary, but as an example, one scoop usually makes up around 60mls of formula, 2 scoops 120mls, three scoops 180mls and so on. But what if your baby drinks around 80mls? You have to make up the whole 120mls. Not only that, to ensure bub is getting enough to drink, you want to have formula left in the bottle after each feed. Babies will naturally stop drinking when full (which is good, don't force them to finish the bottle). However, that remaining formula must be thrown away. Over the course of a year, that's a lot of wasted formula. So here's what we did to reduce the waste safely: make up a bottle of formula according to the instructions on the tin in a sterilised bottle and keep it in the fridge (it's ok to keep formula in the fridge for up to 24 hours). At feed times, make up a bottle as usual and according to instruction, and then top it up with a little of pre-made formula from the fridge. Then warm as usual. That way you are still making the formula up exactly according to direction, while being able to vary the amounts offered and reduce waste.
Skip the pre-made formula or formula sachets when you're out and about and get a formula container. I got a Pigeon brand container than can be used when bub gets older for snacks. Fits the perfect amount of sultanas in for a toddler! Take the formula and a bottle of boiled water, shake and serve. Just as easy the pre-made stuff and less waste. You don't need to warm the bottle (it's up to you, but I never did when out of the house). Depending on your timing and climate, you can take the bottle with warm water and it will still be at body temp when it's feeding time.
Even though I wasn't breastfeeding I preferred to get a bottle with a wide mouth, for two reasons: it's 'supposed to' encourage a wide mouth motion that helps work jaw muscles, similar to breastfeeding and necessary for later speech and chewing (again, according to my lactation consultant). Secondly, the sippy cup spout (at least with the Pigeon brand) also fits the wide mouth bottle which can be convenient (and cheaper) for the bed time drink of milk when older.
We got by with six bottles, you might prefer eight. Save money by starting out with the bigger bottles; you're only going to grow out of the smaller ones very quickly anyway. The teats fit any size bottle and you're the one holding it. While you can't fit 240mls of formula in a small bottle, you can easily feed a baby with 60mls in a large bottle with a small teat.
Teats come in different sizes, you will need to get the correct size for the baby's age and move up the sizes as they grow. As well as moving up through the sizes, you will need to replace any teats that have deteriorated, have holes or that have been chewed through.
Teats and bottles can be purchased for less in discount chemists.
Bottles will need to be sterilised; after boiling the single bottle we started with 12 or more times a day (which is almost free but labour intensive), we invested in a plug-in steriliser (on sale) and it was the best purchase we made!
You will also need a bottle brush; grab one with a teat brush and brush gently to make the teats last longer.
Cotton bibs are a great investment for keeping clothes stain free. Just soak and wash with the sheets and towels.
solids and beyond
When the little fella started on solids, we skipped the rice cereal altogether and just started with vegetables and fruits. After doing a lot of reading, I felt this was better nutritionally. It's also a lot cheaper. Here are some tips for saving on solids.
Skip the pre-made baby food in jars and squeezy baggies (who eats food by squirting it into their mouth?) and make your own baby food. The quickest way is to mash up extra veg that you've steamed while making your own dinner. To start with however, I preferred to make up a few batches of fruit and veg to freeze in ice-cube trays. This was more convenient for me for the first few months of solids. Baby food in jars costs a small fortune and tastes like rubbish! Much cheaper to make your own, although the occasional convenience can be worth it.
If you're on the go, pack your own mush in a small container and place it in a small wet pack with an ice pack.
Cloth bibs are inexpensive and can be soaked, washed and reused. We also have a pile of flannels/face washers for hand and face wiping after a meal. These too go into the soaking bucket, ready to be washed with the towels (btw, this is a separate bucket to the nappies.)
When it comes to snacks, avoid the individually packaged servings and make up your own snacks. A compartment container or small containers are useful for slices of cheese (sliced off the block), sultanas (bought in a bulk pack), thin slices of apple or cruskit.
Carry a full water bottle everywhere for both yourself and your toddler. A damp flannel in a little baggy is useful for hand and face wiping on the go.
Once bub is a toddler, consider feeding them the family meal. We eat as a family at 5:30pm each night. If that sounds ridiculously early, it did to me too! But we tried it anyway and loved it (obviously, it's not going to suit everyone). By 7pm everything is washed up and tidy, the little fella is in bed and we have the rest of the night to ourselves! Within reason, the little fella eats everything we eat (I don't serve hot chilli, for instance, although he doesn't mind sweet chilli sauce). This saves time as well as money.
Serve really small meals. Smaller than you would think is enough. As a child gets a little older, their appetite actually lessens. If there are leftovers in the kitchen these can be easily refrigerated for later, reducing waste and saving money. If there are leftovers on the plate (that have been mashed, partially masticated and spat out) well, I tend not to keep those . And if your toddler is still hungry, it's easy enough to get seconds.
I'm sure that there are lots more ways to save money on feeding a baby that I haven't covered, and that the many mums who read this will be able to add to! Next week, I'll write about the other end – nappies.
What are your tips for saving money on feeding a baby?
Melissa Goodwin has been writing about frugal living for 10+ year but has been saving her pennies since she first got pocket money. Prior to writing about frugal living, Melissa worked as an accountant. As well as a diploma of accounting, Melissa has an honours degree in humanities including writing and research and she studied to be a teacher and loves sharing the things that she has learned and helping others to achieve their goals. She has been preparing all her life to write about frugal living skills.
JOIN THE NEWSLETTER