saving money when having a baby part three–asleep and on the go
This website may earn commissions from purchases made through links in this post.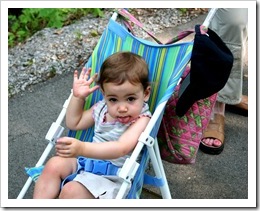 Today's article is the third in the series on saving money when having a baby as I count down to 'labour day' for baby number two.
Today I look at sleep and transportation. As always, it would be great to hear in the comments your experiences, products you would swear by, others you would avoid, things that worked for you, things that didn't.
The third major way to save money on bub that I mentioned in part one, is to buy as much as you can second-hand. Before getting into sleep and transport options, I wanted to go over some tips for buying second-hand with particular emphasis on ensuring you are getting products that meet today's Australian Safety Standards. Second-hand gear is great – babies grow out of things so fast! It does pay to keep safety in mind when purchasing goods, both used and new.
Some general tips on buying second-hand:
When it comes to buying second-hand baby products, you want to make sure they are both clean and meet current Australian safety standards.
Inspect all second-hand goods well for wear and tear, possible hazards and cleanliness.
Get the brand and model number of the product you intend to buy and do a search online to make sure it hasn't ever been recalled. We were going to purchase a second-hand cot and after some investigation online, found that model had actually been recalled as unsafe!
Look online also for reviews and comments on the second-hand product you intend to purchase.
Look for sellers that kept the tags, manuals and safety information. If you are buying a new cot and intend to sell it second-hand later, keep all tags and manuals to show prospective buyers.
Obviously, you have to be more rigorous with items that are required to meet safety standards like cots and prams than with things like clothes, which are great second-hand.
Another option is to choose to buy second-hand goods from a friend or someone you know and trust. While I wouldn't buy a second-hand car seat (you never know if it's been in an accident and it's recommended that they not be used after an accident), if I had the option to buy one from a friend who I knew well, then I wouldn't have the same qualms.
Sleeping
When it comes to sleeping there are many options, the best option is the one that is right for you. Options include: co-sleeping in the parent's bed; co-sleeping with a 'sleeper'; using a bassinet or similar either in your room or a separate room; using a cot either in your room or a separate room, putting baby on a mattress on the floor for the first few months, either in your room or a separate room. If you're not sure which is the best option, try some and see.
Obviously, the cheapest option is to co-sleep with baby in your own bed [here's an article I found really interesting on co-sleeping. I'm not generally the biggest fan of Dr. Sears, but the article was definitely food for thought.]
We chose to buy a cot and our little fella slept in our room next to our bed for the first six months of his life. I have to admit that all three of us slept much better once he went into his own room, however, we are going to use the same arrangement again with our next baby.
We chose to skip the bassinet / Moses basket and go straight to a cot – we felt in was an unnecessary expense to buy a basket that he would grow out of so quickly. I think the little fella would have gone to sleep easier in those first few weeks, if he had the closeness and security that the baskets offer.
We purchased the cot brand new and on sale with a new mattress for $130 in total from a baby store. Because it was the New Year sales, we managed to get a significant saving off the ticket price. If you are having a baby and looking at buying a cot, start looking early and keep an eye out for sales.
Second-hand cots are another valid option – check the tips on buying second-hand at the top of the post to ensure you are buying a cot that meets current safety standards. You may or may not prefer to buy a new mattress.
Speaking of mattresses, I think a mattress on the floor can be a great option, depending on your circumstances. If baby rolls, there's nowhere to fall. As the guidelines for co-sleeping safely recommend avoiding a soft mattresses and to be carful baby can't fall down between the wall or bedhead and mattress, a firm mattress on the floor or even two – one for you and one for baby – can be a great way to co-sleep comfortably.
If you opt to have your baby in a separate room or eventually move bub into their own room, you may want to consider a monitor, especially if there is some distance between your room or your living space and their room. Again, keep an eye out for when these go on sale or purchase one second-hand. You don't need a state of the art monitor, a simple radio one is enough to let you know that bub needs your attention.
As well as something to sleep on, your baby will need something to sleep in. Swaddling wraps are great for the first few months and make a great baby shower gift. They come in handy later on as play mats, breastfeeding covers and something to wipe up spills.
As the little fella grew older, I found the baby sleeping bags to be excellent at keeping him warm and covered. Again, we either used second-hand sleeping bags or purchased them on sale. A tip on keeping up with sales – 'LIKE' baby stores on Facebook. We purchased our baby sleeping bags at 50% by keeping up with sales via Facebook. Also, if you're like us and don't get junk mail, you can subscribe to store catalogues and keep an eye out for sales that way.
Transportation
Car seat
A car seat is essential…if you have a car. There are several options available.
You can choose to hire a car capsule. The QLD Ambulance service hire and fit a baby capsule for newborns up to 6 months old for around $90. The upside to these carriers is that you can remove the carrier from the car, rather than the baby from the carrier, if bub is asleep.
You can also choose to purchase one of these outright from a store rather than hire it.
A third alternative is to purchase an all-in-one, convertible type car seat that starts out as a rear facing seat for baby (often with inserts for small babies) and then turns round to be front-facing for older toddlers. The upside to this option is that it's cheaper than buying or hiring a separate capsule and then another seat for when baby gets older. The downside is that you have to take baby out of the seat rather than leave baby in the carrier if he/she is sleeping. We hired a capsule last time; as an infrequent car user, I didn't feel it necessary this time.
While I wouldn't necessarily buy a car seat second-hand (see tips above as to why), this is another item to have on the list early and keep an eye out for sales. We recently purchased a car seat, getting the toddler to eight year old model (with built in MP3 speakers would you believe, lol) on sale for a significant saving (and the baby will get the hand-me-down convertible car seat). The sale, coupled with some gift vouchers from Christmas, made it a much cheaper purchase.
Prams
Last time I wrote about saving money on our first baby, I was unsure whether or not we would get a pram.
Well, as we are a single car family and as I walk just about everywhere, the pram was probably one of the best investments we made! It gets a lot of use. Daily. The alternative – using the car more – would end up costing much more in extra petrol than the pram investment.
If you drive a car, stay at home a lot or prefer to use a baby carrier, a pram may not be a worthwhile purchase. What we did (and what we are doing now in regards to possibly getting a double pram) is we saved up before bub was born to purchase a pram, and then waited until after the baby was born to decide whether we needed one or not.
We purchased a pram on sale from Target. It's not a state of the art pram but it has all the necessary features like a cover and a basket underneath (good as I usually walk rather than drive to the shops).
A good alternative is to purchase a pram second-hand either through eBay, through your local classifieds or your local Facebook buy, swap and sell group, or through the Baby markets.
Baby carriers
I really like the idea of baby carriers, I just didn't have a lot of success the first time around.
After doing a lot of research, we opted for the wrap type carrier. I have to say, these are very comfortable and I'm a big fan. We purchased one of these wraps off eBay brand new and fairly cheaply.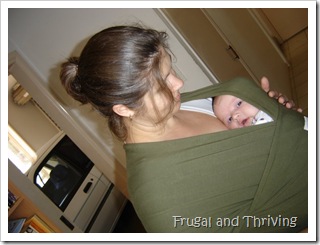 The problem was, all that material wasn't great for our climate. Both the little fella and I got quite overheated wearing it. His birth weight was also 4kgs and I was both quite unfit and had a lot of pregnancy arthritis and other pain, so I found carrying him to the shops and back was a strain.
This time around I intend to give the wrap another go – a winter baby will make a difference to the overheating problem. Also, I'm much fitter and stronger this pregnancy, so I'm hoping we will make do with a single pram and a baby carrier rather than one of those unwieldy double prams (we'll see how we go).
When the baby is older and if baby carrying is working out well, I was thinking of getting one of the Ergo carriers. Has anyone had any experience with these? They look comfortable for both mum and baby (no dangly legs) and you can wear baby easily on your back, which again I think would be more convenient, once bub is older, than having one of those double prams.
If you're wondering about the different carrier options, Stephanie at Keeper of the Home has a great post about her experiences with the different variety of baby carriers.
To save money on baby carriers, purchase second-hand, buy online or on sale or make your own.
---
You don't need to buy a $700 cot with matching bumper and quilt cover for baby, nor do you need an expensive pram (or even a car seat with built in MP3 speakers – it was the only one there, I swear

). You just need a safe place for baby to sleep, and way to get from A to B comfortably, safely (and legally). In other words, it's not necessary to spend a fortune when having a baby.
Now over to you – what worked for you in the sleep and transport category of baby rearing and how did you save money on these things?
JOIN THE NEWSLETTER