start planning your frugal and handmade gifts now
This website may earn commissions from purchases made through links in this post.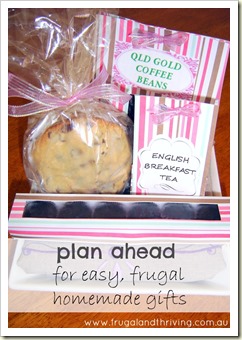 You may be thinking 'sheesh, it's not even March and she's already talking about gift giving.'
And I feel a little bit the same, to be honest.
But stick with me, and I'll explain.
The some of the best kind of frugal gifts are ones you make yourself.
If you plan now and start crafting, you can spread the work (and pleasure) of crafting throughout the year instead of frantically trying to make a dozen things at the last minute.
Here are some things that you can make now, ready for birthdays and Christmas.
homemade preserves
Imagine this: it's Christmas and you want to put together a hamper of gourmet preserves. So you go to your pantry a pull out a jar of homemade this and a jar of homemade that. Instant frugal (but deliciously gourmet) hamper.
Every time you make a batch of jam or chutney (and there's going to be lots of recipes on the blog this year), put aside a small jar or two.
You're saving money by making your own preserves, your family gets to enjoy the fruits of your labour, and if you ever need to whip up a nice gift hamper, you've got plenty of things on hand – without having to spend extra money.
And if you don't give your jam away, well then your family can still eat it.
Preserves aren't the only things that can be made ahead of time.
Homemade liqueurs are another idea. Other ideas include wines, beers, vinegars and spice pastes and mixes.
In fact, anything you can make and stash away becomes a good standby gift.
Soap and other bathroom products
In a couple of weeks I'll be sharing a post on making your own soap. It's incredibly easy and homemade soaps can make a lovely frugal gift.
Again, if you make soap a couple of times a year, you can set a few bars aside for gifts or hand mill them into something special. Coupled with some DIY bath salts and DIY moisturising oil, you've got a lovely gift straight from your cupboard.
handicrafts
I have a tendency to leave gift crafting (no matter what the occasion) to the last minute.
This year I'm crafting ahead of time, starting with all the unfinished sewing projects I've got in the cupboard.
I have a purple quilt top that I started many years ago. While my tastes in fabric have changed, I know someone who loves purple and would appreciate a handmade quilt.
Starting now means that I've got some sewing to go on with, I'm finally finishing off old projects (freeing up room in the cupboard) and I have a nice gift that won't require anymore financial outlay.
If you don't have a half-finished quilt lying around, scrap-busting projects like placemats, mugrugs, bags etc. can be made now and put away for gifts.
Accessories like knitted items and jewellery are other things you can make now as standby gifts.
When birthdays and Christmas roll around, there's no last minute stress. And you get to indulge in some crafting throughout the year.
Second hand gifts
So this one isn't handmade, but still benefits from some forward planning.
The little fella turns four next week. He's really into puzzles at the moment (and so are we – it keeps him quietly occupied at 5am, while the rest of us are still snoozing). So I've been on the look out for some more puzzles for his birthday.
I found a lovely one for $35.
I smiled at the shop assistant. You know, that pained, teeth-clenched kind of smile, and backed slowly out of the store.
Then I went to the op-shop looking for something completely different, and found a whole bunch of puzzles in perfect condition (all pieces have been accounted for) for $1 each.
So I bought 4 of those instead.
I know buying second hand items as gifts can make some people cringe, but the little fella is going to be so pleased with these, and he isn't going to care (or know) how much we spent or where we bought them from.
Another lady I know looks for second hand Playstation games throughout the year for her (older) son. They are in perfect working order – many have hardly been played – and are a fraction of the cost buying new.
Books too, in good nick, make great gifts.
But here's the thing about buying second-hand. It's a serendipitous thing. You have to keep a sharp eye out. It takes time for the right thing to cross your path.
Which is why it's also important to plan second hand purchases ahead of time.
So next time you're doing a bit of sewing, putting up a batch of jam, or browsing the op-shop, put a little aside as potential gifts. Come birthdays and Christmas, you'll have a pantry and cupboard full of potential gifts, without spending a fortune.
Do you DIY gifts? When do you start planning your gift giving for the year?
JOIN THE NEWSLETTER