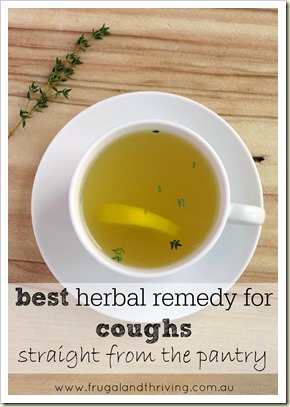 One of the worst things about colds and flu is the cough that can hang round for weeks and weeks.
On one hand, coughing is the body's way of clearing air passages and getting rid of the nasties.
On the other hand, constant coughing can be annoying and disturb your sleep and the sleep of everyone else in the household.
So here's a little twist on your usual hot honey and lemon drink that is particularly effective for soothing coughs caused by a cold or flu.
What makes this remedy so effective?
An unexpected ingredient that you don't find in your regular ol' hot toddy.
Thyme heals all coughs. Or at least soothes them so you can get a good night sleep.
Thyme is particularly effective for soothing coughs associated with colds and flu as well as bronchitis and other upper respiratory infections.
The other ingredients in this herbal remedy also play an active roll in soothing a cough.
The taste, by the way, is surprisingly good. Even when I'm not sick. When I am sick, I can drink just about anything without tasting a thing.
thyme herbal tea for coughs
First, a little rundown on the ingredients and what makes them so effective:
Thyme – Thyme has long been a remedy for coughs and other respiratory illnesses and preliminary studies are confirming the age-old wisdom of it's use 1, 2. It is approved by the German Commission E to treat symptoms* of bronchitis, whooping cough and inflammation of the upper respiratory tract.
*Treating the symptoms is not the same as treating the actual illness and you should always consult a doctor.
Honey – Studies have shown that honey is more effective for easing the symptoms of a cough than over-the-counter medicines3.
And while you might read that you have to use raw honey or Manuka honey, one study found that any honey is effective at reducing coughs. Honey is a safer and cheaper option than over-the-counter medications and it tastes pretty good too. Just remember not to give honey to children under 1 year old due to the risk of botulism.
Lemon – While lemon doesn't directly soothe a cough, it has strong anti-bacterial and anti-viral properties. It's also packed with Vitamin C, which supports the immune system. The lemon also makes this drink taste great.
Ginger – Ginger helps reduce inflammation and is thought to help reduce bronchial inflammation, thus help reduce coughing 4.
Hot water – The hot water, of course, helps keep up your fluids, which is why a drink is better than a cough lolly. Fluids thin out mucous, making it easier to expel, and they keep membranes moist, reducing the need to cough. Breathing in the steam from the hot drink can help clear airways and the heat can also soothe your throat.
Here's the recipe for the thyme herbal cough remedy. Drink every couple of hours including just before bed time.
[yumprint-recipe id='17']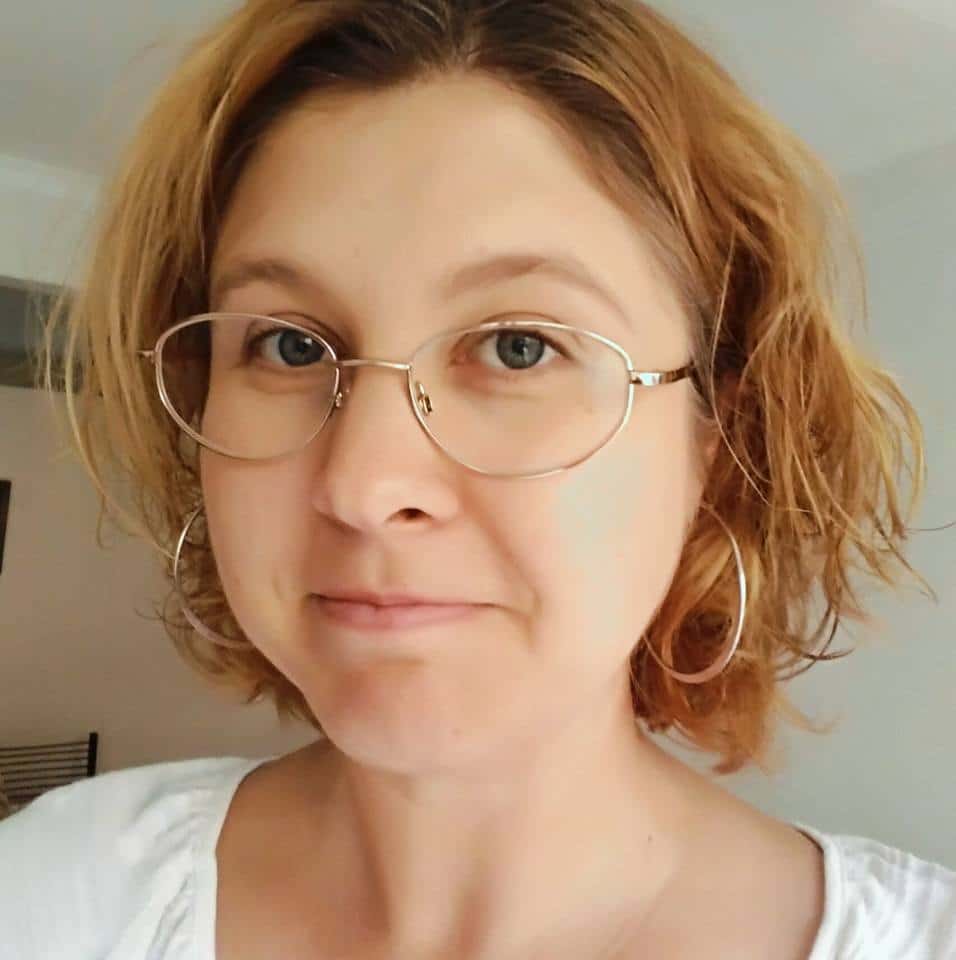 Melissa Goodwin is a writer and the creator of Frugal and Thriving who has a passion for living frugally and encouraging people to thrive on any budget. The blog is nine years old and is almost like her eldest baby. Prior to being a blogger and mum (but not a mummy blogger), she worked as an accountant doing other people's budgets, books and tax.