Tips Writing Your Last Will and Testament
This website may earn commissions from purchases made through links in this post.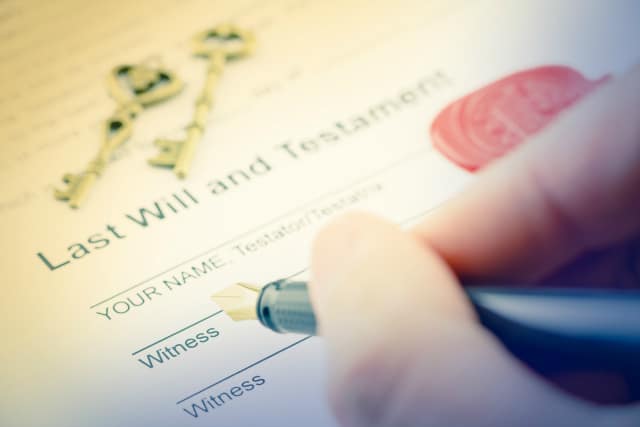 Do you have a current last will and testament?
Despite it being one of the most important documents a person will ever sign, writing a will is often at the bottom of our long list of things to do. In fact, according to the NSW Trustee website, at least 45% of Australians do not have a will.
No one likes to think about their own mortality. Writing your will can be a depressing and sometimes emotional process.
However, if you die without a will (known as dying intestate), your estate will be distributed according to a strict legal formula, which is not ideal.
For example, if you have certain items of sentimental value that you want to go to specific family or friends, these wishes are not carried out by the government trustee. Further, there may be additional fees and taxes that are charged to your estate. And if you have no will and no living relatives, your estate is passed to the government.
If you're a parent with young children, it's even more important to have a legal will. It is NOT pleasant thinking about who will raise your children if something should happen to you and your partner, but for their wellbeing and your peace of mind, it's important to have these things written down.
If you're don't have a will and you're not sure where to start or what it's all about here's what you need to know about getting your final wishes in order.
TIPS ON WRITING YOUR WILL
You have three options when it comes to writing your will:
You can get it drafted by a solicitor
You can purchase a will kit; or
You can get it drafted by a Public Trustee
Ideally, it's best to get your will drawn up professionally by a solicitor in your state. A will must conform to strict legal requirements, be precisely worded and witnessed properly for it to be valid.
Lawyers are especially important when your assets are multifaceted – when they involve shares, part ownership of a business, trusts etc. They will help you if you want to exclude a natural beneficiary from your will (i.e. a child). Legally, this is a very difficult thing to do, but a skilled lawyer will be able to guide you in this.
A lawyer who is knowledgeable in death taxes can also save your beneficiary thousands of dollars in superannuation death benefits tax and capital gains tax.
The downside is this option can be quite expensive.
An alternative is to purchase a will kit. If you do this, it's still a good idea to have a solicitor review it to make sure everything is in order. You can get a will kit from your local Australian Post Office or The State Trustee of Victoria sells an online will kit that is valid in all Australian states. It's important to note that a kit is only for those who have simple and straightforward circumstances, so check out the FAQs before purchasing.
Your state's Public Trustee's Office may also offer a will preparation service. In some but not all states, this is a free service. In others, the service is discounted if you appoint the Public Trustee as an executor of your will. Check the website for the Public Trustee in your state to find out your eligibility and their fees.
As some information differs from state to state, you should check your state's Public Trustee website for more detailed information that is relevant to your state.
WHAT YOU WILL NEED BEFORE MAKING A WILL
Before you write your will you will need to consider:
What assets you own and their current worth
Gifts you want to give away
People you want to include (beneficiaries) and what you want to give them. You will need their full legal name (correct spelling) address and date of birth. You may also need to think of secondary beneficiaries and have their correct details. For example, if your beneficiaries die with you, to whom will your estate go? If you want to leave money to an organisation, you need the correct name and spelling of that organisation.
Who you choose as executors to distribute your estate.
Your wishes regarding guardianship of any children under 18 years of age.
Any specific wishes upon your death like funeral arrangements.
If you are seeking help from a solicitor or Public Trustee you may also need to provide two forms of current proof of identity.
Check with your solicitor or Public Trustee before your appointment if there is anything else they require.
KEY TERMS
A beneficiary is a person who benefits from your will. The person(s) your estate will go to.
The executor is the person (or people) you have chosen to carry out your wishes after you die and to be in charge of looking after the distribution of your assets. This person needs to be over 18 should be someone competent and someone you trust. You should choose at least two executors. A beneficiary can be an executor. This is a big responsibility with lots of work, so it's a good idea to ask your chosen executor ahead of time. You can also appoint the Public Trustee as your executor and an executor can ask the Public Trustee to take over their role.
A testamentary trust is a trust set out in a will that only takes effect when the person dies. These trusts are usually set up to protect your assets. An example would be assets left in trust for children or grandchildren until they turned 18.
A trustee looks after ongoing bequests (trusts) for a specific time stated in the will. For example, a trustee may look after a trust to your children or grandchildren until they come of age.
A grant of probate is a court ruling that confirms that the will is valid and the executor has the legal authority to carry out the Will. To get a grant of probate, the executor needs to advertise the death in the paper, present to the court a valid will as well as details of assets and debts, a death certificate and completed court forms.
UPDATING YOUR WILL
Once you have a will, you can't just leave it forgotten at the bottom of a drawer.
Your will needs to be updated if your circumstances change.
You should update your will if:
you separate or divorce
you start a de facto relationship
you have (more) children
you have grandchildren
your children divorce or remarry or have extended families
the executor named in the will is unable to handle the responsibility or dies
a beneficiary dies
upon the death of a spouse
if you buy or sell assets that are bequeathed to specific people
every 5 years.
STORING YOUR WILL
A will can only be used if it can be found!
So it is important to store your will in a safe place (keep it safe from fire, theft or damage) and tell someone close and/ or the executors where your will is stored. Only the ORIGINAL will is valid.
Your solicitor might offer a will storage service for you. Let your executor know your lawyer's details and that they are storing your will. Alternatively, your state's Public Trustee may provide secure storage for you will at a fee.
POWERS OF ATTORNEY
It can be a good idea to set up your powers of attorney while you're creating your will.
A power of attorney allows you to appoint someone to make legal and financial decisions for you if you are unable while you are still alive.
This document is just as important as your will because if you don't have one when it is required, a court may need to appoint someone to make decisions for you.
There are different types of powers of attorney. Powers of attorney depend on the state you live in, so you will need to check with your state's Public Trustee or your lawyer.
The person(s) you nominate as your powers of attorney should be people who are trustworthy, financially astute and likely to be around when you need them.
While it can be depressing planning for your own death, writing a will and keeping it up to date is important, no matter what your age.