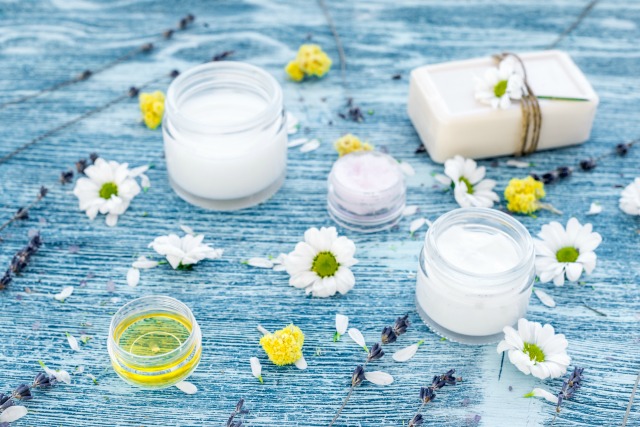 It's important to know what we're putting on our skin and in our bodies.
What goes on our skin doesn't just stay there! Up to 60% of what we slather, scrub and rub onto our skin gets absorbed into our bodies (that's why nicotine patches work).
If you think of all the skincare products we use on a daily basis, that adds up to a lot of different chemicals being absorbed by our bodies every day.
But what if your products say they're natural? Doesn't that mean it doesn't contain chemical ingredients?
Unfortunately, there are products that are marketed as natural when they're not. That's why it's important to check the list of ingredients.
While there are hundreds of different chemical ingredients used in our everyday cosmetics, there are three common ingredients that if you avoid, you're probably avoiding other harmful ingredients as well. These three ingredients are:
Sodium Lauryl Sulphate
Petroleum
Parabens
If you would like to know other ingredients to avoid, you can check out this list of 20 from Treehugger, or read the Environmental Working Group's top tips for safer cosmetic products.
If you're looking for natural skincare products, one of the best Australian retailers is Nourished Life.
Read further: How to Have Naturally Glowing Skin Without Spending A Fortune.
Parabens
Almost all regular personal care products today contain parabens.
Parabens are preservatives that extend the shelf life of our products. Without preservatives, most of our skin care products and cosmetics would either have to be kept in the fridge or used within a few days.
When it comes to natural skin care alternatives, preserving products is a big issue. As consumers, we have expectations as to the shelf life of our products. But natural preservatives don't give the same results as parabens. Things in nature aren't meant to last forever. As a compromise, many natural products do include parabens as their only synthetic ingredient.
The potential danger of parabens is that they are classed as endocrine disrupters: chemicals that mimic hormones (particularly oestrogen) and therefore upset the hormone balance in our bodies.
Our endocrine system runs every function in the body. A small imbalance in one hormone can result not only in an imbalance in other hormones but also in other systems in our body. These imbalances can affect our overall health.
Studies have also revealed a high concentration of parabens in breast tumours, linking parabens with cancer.
Sodium Lauryl Sulphate
Sodium Lauryl Sulphate (SLS) is a surfactant that is used in cleaning and personal care products to make them foam up.
It is commonly found in liquid soap, face wash, shampoo, toothpaste, bubble bath, baby shampoo and soap, shaving foam and anything else that has a cleaning purpose.
It is also a common ingredient in dish washing detergent, cash wash, laundry detergent, floor cleaners, engine degreasers and paint stripper.
All chemical compounds have a Material Safety Data Sheet that gives information about the chemical, safe use practices and first aid procedures. It is interesting to note that the MSDS for Sodium Lauryl Sulphate states to avoid contact with skin.
Is SLS harmful?
It seems the results are inconclusive and it's not the most harmful on the list of chemical used in skincare. But it is very common and so easy to look out for.
This study argues that SLS is completely safe, while other studies show it to be a skin irritant, even in low doses and this study shows it can be absorbed into the body.
The Centre of Disease and Control warns SLS can irritate the skin and be toxic to aquatic animals, although this is for it's pure form, not in <1% concentration in skincare products. It's important to remember though, how much shampoo we collectively wash down the drain though!
While not carcinogenic, it can sometimes be contaminated with 1,4 dioxane, which is a carcinogen.
Petroleum Products
There's a good reason why Vaseline rhymes with gasoline: the inventor of petroleum jelly came up with the idea when visiting an oil rig.
In a world of increasing demand for fuel, rising fuel costs and peak oil concerns, spare a thought for the petroleum products (mineral oil, petroleum jelly) that get smeared on your skin every day.
Petrolatum is a mixture of hydrocarbons that repels water and is used in skin care products where a smooth texture is required (as in lipstick). It is is particularly common in "moisturising" creams and lotions. Almost all 'mainstream' moisturising creams and lotions contain petroleum products because it is relatively cheap, it gives cream a 'nice' texture, and provides an effective barrier on the skin, trapping in moisture.
While many argue petrolatum clogs pores and prevents the skin from 'breathing' and functioning properly, this study argues that's not true.
Another concern is that petrolatum can become contaminated with polycyclic aromatic hydrocarbons (PAHs), which are associated with cancer, although there are no studies confirming a direct link between the two.
Either way, are you happy for petroleum by-products to be absorbed into your skin? If not, opt for natural alternatives include plant based oils, waxes and butters. Unlike petroleum based products, these oils are closer to the skin's natural moisturiser, sebum, and are more effective and less damaging to the skin.
Are these really toxic?
I realise I sound like someone with a serious cognitive bias, but I'm sceptical about the studies that argue these and other chemicals in our skincare are safe (although I try to keep an open mind).
Firstly, the statement that these chemicals are safe because they occur in our products in very small doses doesn't take into account compounding. These top three chemicals are in just about everything, including some food products. Because of this, we are getting anything but 'small doses'.
No study has ever assessed the long term effects of using these chemicals either alone or in relationship with the other synthetic chemicals in everyday products. Yes, these chemicals may actually be safe, we just don't know that yet, we don't know what being exposed from before birth does to us. We don't know the affect of one synthetic compound mixing with another (or multiple others) within the cells of our bodies.
And finally, there is the problem of causation. We assume that if there is no immediately discernible cause and affect, then there is no cause and affect at all.
This logic just does not do justice to the complexities of life and the human body. Just because someone doesn't immediately develop cancer from using "synthetic compound X", doesn't mean that the cancer that they develops later in life was not at least in part caused by continual exposure to low doses of the synthetic compound.
For the most part, I try to stick to natural products. It may turn out that I'm totally wrong and these chemicals are not harmful after all, but I haven't lost anything by taking the 'better safe than sorry' approach.
There are many other common chemicals in our personal care products (actually there are over 10,000 synthetic chemicals in common use in personal care products of which only about 11% have ever been 'tested'). Some of these chemicals are known to be carcinogenic but are still found in our products.
However, Sodium Lauryl Sulphate, petroleum and parabens are the top three most common synthetics. Avoid these and you can make a safe bet that you are avoiding the multitude of other chemicals.
Melissa Goodwin is a writer and the creator of Frugal and Thriving who has a passion for living frugally and encouraging people to thrive on any budget. The blog is nine years old and is almost like her eldest baby. Prior to being a blogger and mum (but not a mummy blogger), she worked as an accountant doing other people's budgets, books and tax.