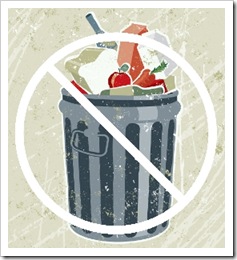 An important yet dying kitchen skill is being able to make a meal from ingredients lingering in the crisper. Being able to pull together a meal or do some baking using bits and bobs will prevent that food going to waste and will save you money at the same time.
While the best way to avoid food waste is to menu plan, sometimes life happens and you end up with food that needs using up in ways you hadn't planned.
There are two essentials that will help you create your own recipes. The first is a well stocked pantry, freezer or garden. If you don't have a few basic ingredients on hand you are limited as to what meals you can create or you are forced to shop for ingredients, wasting time and potentially money.
The other ingredient for success is a little inspiration. Reading recipes is one way to get inspiration and I'll share with you a 21st century way of organising recipes and creating a menu plan next week.
In this post I will share the thought process I use to create and / or adapt recipes when I have ingredients that I want to use before they expire. The first recipe is the milk puddings with strawberry sauce from Monday, the second a basic moussaka.
Milk puddings with strawberry sauce
I happened to have half a kilo of strawberries sitting in the fridge. As it's strawberry season and strawberries are are cheap and local, we've been eating a LOT of strawberries lately. Maybe too many. Maybe we're over-strawberried for the season because the strawberries in the back of the fridge had become quite mushy (but were still edible).
What do you do with mushy strawberries? Mush them some more, of course! Dessert was inspired not only by what was on hand but by it's shortcomings.
Ok, so how do I make the sauce? Should I cook it or just blend it? Either option is viable, but I decided I wanted to concentrate the flavour of the strawberries by boiling them down – it's still spring after all, so I wanted something halfway between summer fresh and winter warming.
Sweeten with sugar or honey? Honey has a distinct flavour and I didn't want it to override the strawberries. I also wanted a warm malty flavour to balance the strawberry freshness that sugar doesn't offer. Not to mention that we're trying to reduce our sugar intake. Brown rice syrup would work nicely – malty and not too sweet, but there was none in the pantry. Hmm, what about maple syrup? (Ok, so not really healthier than sugar). Yes, still a little in the back of the fridge – we have a winner!
At this point I now consult the internet and read about half a dozen recipes online. They were all similar. A dash of lemon to balance the sweetness was a standard addition.
But maybe balsamic vinegar might be a nice variation? Balsamic vinegar is always a nice pairing with strawberries. I have no lemons but I do I have some vinegar in the pantry and that will give the strawberries that touch of acidity.
I then thought about what other flavours I could add. Vanilla? Cardamom? Strawberry liqueur? A little infusion of rosemary? All interesting additions but why over complicate things, right?
So that's the sauce but what am I going to serve it with? Drizzled over ice cream would be nice, but we don't have any ice cream (and the idea was to use what's on hand) and the freezer is choc-a-block anyway.
Strawberry milkshake is another option, strawberry bellini a better option (strawberry and champagne cocktail – mmm, yes please).
But I settled on milk puddings – an easy, inexpensive yet impressive dessert that can be made with basic pantry ingredients and that has a creaminess that balances nicely with the sweet tang of the strawberry sauce.
It's been years since I've made milk puddings but it's simply a matter of setting flavoured, sweetened milk with gelatine or agar agar in a mould. I use your basic supermarket variety powdered gelatine – the directions on the box suggest 2 packets or 6 teaspoons of gelatine to 1 litre of liquid (just shy of 4 1/4 cups), so it's simple enough to extrapolate appropriate quantities to feed your family.
How sweet? The easiest way to find out is to taste and adjust. Add a little syrup and taste, then add a little more.
What flavours? Vanilla is always a nice addition to anything so I went with that.
Dessert was created and the strawberries didn't go to waste but were enjoyed in a new recipe.
moussaka with a twist
I recently committed the ultimate food waste blunder – I bought food with no real plan on how I was going to use it.
Not only that, I bought a vegetable I don't even like!
Eggplant. They just looked so purpley-good and they were so cheap I couldn't help myself.
Then I had to figure out how use them before they went bad.
Moussaka was an obvious choice. The mince would hide the eggplant. I had mince in the freezer and most of the other ingredients are pantry staples.
This time I did use this specific moussaka recipe as a starting point and guide. Here's how I adjusted it to suit:
I used kangaroo mince instead of beef. I browned the mince first and drained it (not that there's much fat in kangaroo mince, but that's how I like to do things).
I didn't have enough eggplant so I used zucchini as well.
I sliced the eggplant and zucchini lengthways and pan fried the strips (same pan as I later cooked the mince in) instead of grilling them (and I tasted the browned eggplant. Oh hello! You taste ok after all!).
I didn't add the carrot or capsicum – I was too time poor to cut up carrot and we didn't have capsicum.
I didn't peel the spuds. In fact, I rarely peel spuds, that's where all the flavour and nutrition is.
I used about 1/2 the amount of white sauce and added a little white pepper and the tiniest pinch of nutmeg.
I sprinkled some freshly grated cheese on top.
I added allspice as well as the cinnamon in the mince, threw in a little tomato paste, used dried oregano and tinned tomatoes instead of fresh.
I didn't add water or simmer it for ages, nor did I stir the white sauce for 12 minutes or let it stand for 15 minutes. Too much unnecessary mucking around.
The eggplant was the impetus for the dish, but really the mince was the main attraction – if I didn't have eggplant I still could have made this dish with zucchini (or neither!)
The rest of the ingredients are pantry staples: onion, garlic, potatoes, dried herbs, spices, tinned tomatoes, butter, milk, flour, egg, tomato paste, cheese – these ingredients are ones I always have on hand.
As this was my first attempt at moussaka, the original recipes acted as a general guide to cooking the dish. The more you cook though, the less you have to rely on recipes.
What I hope to show is that rather than wasting leftover ingredients, those ingredients can be the impetus for creating your own recipes that may go on to be family favourites. A little inspiration and a few pantry staples will mean you always have a meal, no matter what's lurking in the fridge.
Melissa Goodwin is a writer and the creator of Frugal and Thriving who has a passion for living frugally and encouraging people to thrive on any budget. The blog is nine years old and is almost like her eldest baby. Prior to being a blogger and mum (but not a mummy blogger), she worked as an accountant doing other people's budgets, books and tax.