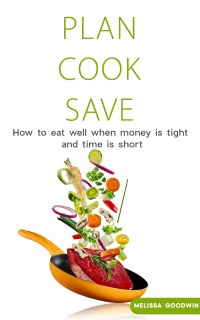 'What's for dinner?'
It's the dreaded question at the end of the day.
One that's especially stressful when it's asked in the supermarket on the way home.
Or one that's expensive if you're in the drive-thru queue.
It's not easy coming up with healthy meals on a budget each and every night of the year.
A meal that everyone in the family will like.
One that doesn't take ages to prepare after a long day.
Image for a moment that you get home from work, kick off your shoes and put some chicken drumsticks – that you've already marinaded – in the oven and set the timer.
Then you pour yourself a wine (or a cup of tea if that's your preference), ask your partner or your kids how their day was while you unwind and connect.
When the timer goes off, you steam some vegetables and sit down to a relaxed family meal together.
That's what this book can help you achieve.
Meal planning can help you create that reality and you don't have to sacrifice your whole weekend just to have an easy weeknight meal.
In this book you will:
Discover the quickest, easiest most effective way to meal plan.
Get organised, so you spend less time shopping and cooking.
Save money on the groceries.
Avoid the stress of last-minute dinner decisions.
Significantly reduce food waste.
Create meal plans that suit your tastes and budget.
Plan healthy whole food meals that don't cost a fortune or take ages to prepare.
This eBook is short and to the point and 100% full of practical information! You're already busy enough without reading a meal planning manual the size of War and Peace. So each chapter outlines clearly what you need to do for successful meal planning.
And as a bonus, there are free printable worksheets to help you create your grocery budget and meal plans without fuss.
This is not a recipe book. There are millions of free budget recipes available on the internet.
It's not a bunch of meal plans either that may or may not suit your tastes or circumstances.
Instead, it's a complete meal planning strategy that takes you step-by-step through the meal planning process including the vital one-off preparation tasks that will help make meal planning super quick and easy.
Create tailor-made meal plans that are 100% perfect for you, start saving money on the groceries while eating well for less.
Click the picture below to get your copy from your local Amazon store and start eating well on a budget straight away.
FREQUENTLY ASKED QUESTIONS
1. Do I need a Kindle Device to read the book?
No. You can read the book on your computer, tablet or smartphone using the free Amazon app.
2. Do I need to buy my copy from the US store?
The link above goes to the US store. If your Amazon account is registered in another country, simply click the option on the right that will take you to your local store.
Alternatively, search for Plan Cook Save in the search bar of your local Amazon store.
3. It says your book is not available.
This happens if you've clicked through on a mobile device to a country you're not registered in. Use the Amazon Kindle App to search for, download and read the eBook or go to your local Amazon store and search from there.
4. Is the book for sale in places other than Amazon?
Not currently, but if you would prefer it in a different format, let me know.
5. What does "Read for $0.00 with Kindle Unlimited" mean?
Kindle Unlimited is a monthly subscription service where you can read as many books as you like from those registered in the Kindle Unlimited program.
If you have any other questions, please don't hesitate to email.
Disclosure: Links to merchants within this post may be affiliate links.