Start Here
This website may earn commissions from purchases made through links in this post.
Start Here
Hi, welcome to Frugal and Thriving. I'm so glad you've stopped by to check things out.
My name is Melissa and I've been writing about frugal living on this blog since 2008.
Below I've shared what frugality really means as well as some of the best articles on the website to get started on your journey with Frugal and Thriving.
What Does Frugality Mean?
In a nutshell, frugality is the WISE use of resources.
What resources?
Money, of course. But also our possessions, our time, our skills as well as our collective resources and our natural environment.
It is NOT the same as being cheap or a tightwad. Being cheap is a short-term survival strategy when money is super-tight with the aim to move towards the more sustainable frugal habits that emphasise long-term value over short-term cheapness.
It is NOT the same as being stingy. Being a miser is the same as hoarding, which is the opposite of being wise with resources.
Frugality is a life-long philosophy with three main pillars:
Financial sustainability balances the spending needs of today with saving for future needs. Frugality promotes long-term financial security by adopting spending habits and behaviours that can be sustained over time.
Do you want to learn easy ways to budget your money:
Do you want to learn how to start living frugally:
Do you want to learn how to save money on the groceries:
Want to follow on social media?
Do you want to buy the eBook?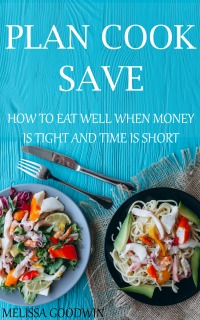 For more ways to save money on the groceries, check out the eBook Plan Cook Save: How to Eat Well When Money is Tight and Time is Short.
*Learn how to set the right grocery budget for your circumstances.
*Find out the easiest and quickest way to reduce the grocery bill.
*Discover a meal planning strategy that will only take you a couple of minutes a week but will save you hours.
*Download free templates to help you stay organised.