Smart Ways to Stay Warm And Reduce The Cost of Heating
This website may earn commissions from purchases made through links in this post.
Save money on the heating bill with these tips for keeping heating costs low.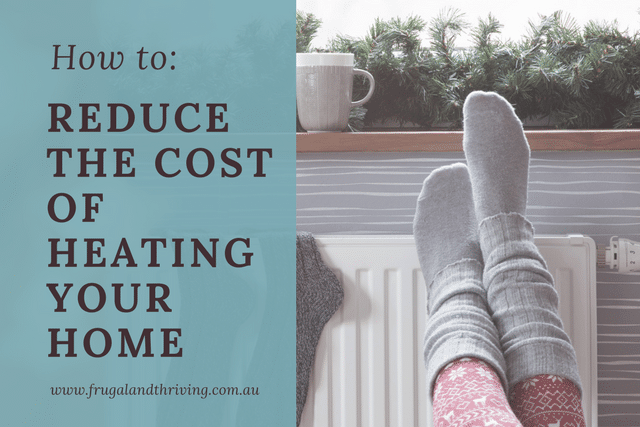 Winter is upon us and as the temperature drops, the cost of heating rises.
Did you know that cold weather kills more people than hot weather…in Australia? In fact, more people die from cold-related illness here than in Sweden!
While our climate is relatively mild, we don't tend to take it as seriously and therefore aren't as prepared for mercury plunges.
"[T]he Swedes are far more prepared for cold temperatures. They have better clothes and keep their homes warm.

Temperatures inside a flimsy wooden Queenslander in winter are often below 18°C whereas Swedish homes will be a comfortable 23°C whatever the weather. Many Australian homes are just glorified tents and we exposure ourselves to far colder temperatures than the Scandinavians do." [source]
The problem is that heating is one of the biggest energy costs in the home, and it can be wasted money if our house isn't well insulated and draught-proof. Tackling your heating costs will have the biggest impact when reducing your energy bill.
But you still need to stay warm. This article shares tips on keeping warm while still reducing your energy costs.
Ways to Reduce Heating Costs While Keeping Warm
INSULATE YOUR HOME
Up to 45% of heat can be lost through an uninsulated roof. An investment in insulation can save you hundreds or thousands of dollars over the lifetime of the insulation.
MAKE USE OF SOLAR PASSIVE HEAT
Solar passive heating is where you warm the house passively during the daytime using the sun.
The easiest way to do this is to open the curtains on north-facing windows to allow the sun in.
(If it's an overcast day and you have the heater on, leave the curtains closed.)
At dusk, close curtains to keep the heat in.
Tiles are great heat absorbers if they have access to direct sunlight, and they retain heat well if on a cement slab. But carpet will help insulate your home against the cold and keep the warm in. If you have tiles or floorboards, use rugs to insulate the floor. But if you have areas of tile that get direct sunlight, experiment with letting the sunlight warm the tiles.
COVER WINDOWS
Keep the warmth in by covering windows with heavy curtains or blankets in the late afternoon. Floor-length curtains work best for keeping the warmth in and the cold out and pelmets can also help.
If you don't have heavy curtains, blankets over the windows can help instead.
BLOCK DRAUGHTS
Use weather stripping or caulking to seal cracks around windows and doors. Use a draught 'snake' (here's a simple one made from a pool noodle) or door sweep to prevent draughts under doors.
But keep in mind that while sealing your home well will reduce heating costs, it also stops fresh air circulating. So it's a good idea to open windows on opposite sides of the house and let fresh air in sometimes during winter, either on warmer days (even 20 minutes will help circulate fresh air) or while you're not at home. Depending on the type of heater you're using (ie, gas heaters and wood fires), ventilation might be required for safety.
It's a good idea to also take steps to detox your home and improve the air quality.
ZONE YOUR HEATING
Heating the entire house can be expensive and a waste if you're not using all the rooms.
Instead, shut doors and only heat one or two rooms.
For open-plan layouts, use room dividers or curtains on tension rods to zone the room and heat a smaller space.
IMPROVE THE EFFICIENCY OF YOUR HEATING BY USING CEILING FANS
Hot air rises, so using ceiling fans on the reverse or 'winter' cycle can help distribute the heat and keep it down where you feel it the most. If you don't have ceiling fans, a pedestal fan in front of the heater can help circulate the heat. Just not too close.
TURN DOWN THE THERMOSTAT
Origin Energy recommends setting the thermostat at 18-20°C.
According to Origin:
"every degree of extra heating in winter or cooling in summer will increase energy consumption by about 5 to 10% and this will translate to a bigger energy bill." [source]
REGULARLY MAINTAIN YOUR HEATER
Maintain your heater according to the manufacturer's instructions. Ensure it is dust-free and airflow is not constricted. Make it part of your change of seasons ritual.
HAVE RULES FOR WHEN YOU USE THE HEATER
When I was a kid, the rule for the heater was that it wasn't allowed on between 9 am and 4 pm unless it was exceptionally cold (as in, it was snowing!).
Rather than turning the heating on automatically, try getting/staying warm by layering up in warmer clothes or being more active during the day and leave the heater for the evenings.
You might also like: How to Stay Warm Without Cranking Up the Heat.
GET THE MOST ENERGY-EFFICIENT HEATER FOR YOUR HOME
The right heater will depend on your climate, your home design, circumstances and needs.
For information on choosing the right heater for you see:
Using a combination of smart strategies to stay warm will help lower your power bill. Rug up and save on heating costs this winter.
What's your best tip for reducing the cost of heating?