8 ways to recycle yoghurt containers
This website may earn commissions from purchases made through links in this post.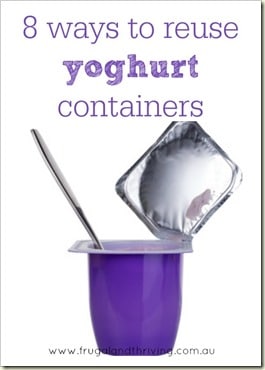 As much as I'd like to say I make all our own yoghurt, the truth is that I haven't had the time or the energy lately, so we buy it more often than not.
I buy yoghurt in 1kg tubs – the Greek style yoghurt that I can use either in cooking or mix it with a little vanilla and molasses and a bit of fruit for the kid's morning tea.
I get whatever brand is on special and cheapest – there's usually one brand or another on sale each fortnight.
The other great thing about buying yoghurt in 1kg tubs (besides the price) is that the tubs come in handy for all sorts of things once the yoghurt is gone.
Here are a few ideas for how to reuse yoghurt containers, no matter what size you buy.
ideas for reusing yoghurt containers
1. STORAGE FOR SMALL PARTS
The small containers are perfect for storing small things like art and craft supplies, pens and pencils, crayons, small toys like Lego (sorting the parts), playdough, hardware and accessories.
2. SEEDLING POTS
Grow seedlings or herbs in clean yoghurt pots. Just punch holes in the bottom for the water tor drain away.
2. KIDS CRAFT
Yoghurt containers can be used as paint pots or water pots when painting.
They can also be used as craft items themselves. Check out this Pinterest board for ideas.
3. CANDLE AND SOAP MOULDS
Do you make candles or soap?
Clean yoghurt containers make great moulds, especially because you can cut them open if needed to unmould your creation.
4. CUP SCOOP
The small yoghurt cups make a great sized scoop for the flour or rice bin.
5. FREEZER STORAGE
Use clean yoghurt containers to store portion-sized meals in the freezer.
6. SANDCASTLE BUCKETS
Use empty yoghurt containers for cheap sandcastles buckets when you go to the beach.
7. BATH AND WATER TABLE TOYS
Kids love pouring. Use empty containers in the bath or at the water table for pouring and filling with water.
8. LUNCHBOX CONTAINERS
Separate food in your lunchbox using small yoghurt containers. If your yoghurt containers have lids, you can use them to store dressings and dips.
How do you reuse yoghurt containers?
JOIN THE NEWSLETTER