How to Make a Cheap and Easy Compost Bin for Small Spaces
This website may earn commissions from purchases made through links in this post.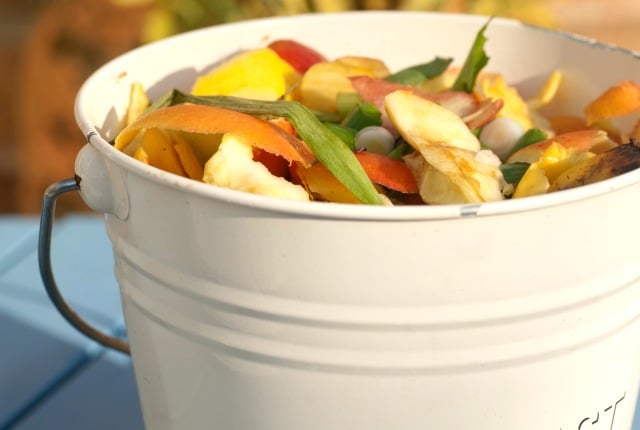 I was hesitant to compost.
We have a small yard. And don't those things stink?
Sometimes you just have to take the plunge and learn from hands-on experience, so we made a compost bin and gave it a go.
Here's what I learnt.
Compost bins don't stink. Actually, compost has a deliciously earthy hummus smell. And depending on what you've been cooking lately, it may be lightly scented with onion or garlic.
If it's smelly, you're composting wrong. But it is super, super easy to fix. And I explain how below.
And even if you have a small yard, even if you only have a balcony, you can fit a small compost bin in. Making your own will either be FREE or cost you less than $10 if you buy the bin.
Here's how to do it.
HOW TO MAKE YOUR COMPOST BIN
What you will need:
A small bin or two.
A drill or hammer and large nail.
Wet and dry compost
We opted for a small food-grade bin for our compost bin. Sometimes you can pick these up free from bakers or caterers or you can buy them cheaply from the hardware store. Any container with a lid will do nicely (and old, unused nappy bucket with lid is another alternative), but a round one will be easier to aerate.
If you have more room, you might opt for one of the larger black garbage bins. Just make sure to check that the lid locks. If it doesn't, you will want to get a bungee strap or similar to secure the lid.
To drill the holes in the bin, you'll need a drill and a fairly large drill bit. If you don't have an electric drill, use a hammer and nail to hammer in holes at regular intervals.
To prepare your compost bin, simply drill some holes in the base, lid and sides (or get your other half to do it), and you're done.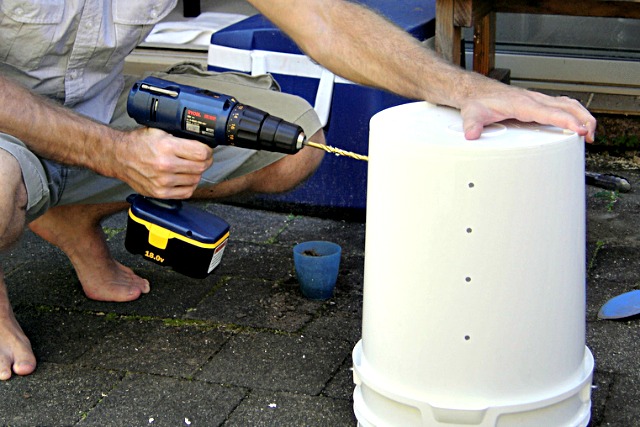 Don't be stingy with the holes, air is important for helping the compost break down and for keeping it stink free. We put about 8 rows of 4 holes in the sides of our bin, about 8 in the bottom and 6 in the top.
For the next bin, I was thinking of getting a little poly pipe that can run up the centre of the bin, and drilling holes in it to help aerate the compost from the centre out. I thought this was ingenious until I read this very hint on another website (which I cannot remember to link to, sorry).
Making Compost
To make compost, you need both wet and dry (nitrogen and carbon) ingredients.
Wet ingredients include kitchen scraps as well as lawn clippings, prunings, manure, coffee grounds, egg shells etc. For a lovely smelling compost, avoid putting meat and dairy in your bin.
Dry ingredients include straw, egg cartons, dry autumn leaves and shredded, non-glossy paper.
As a rough guide, you're looking for a ratio of around 30:1 dry ingredients to wet ones, although you don't have to get mathematical; looking, smelling and feeling will be your best guide (more info here).
Check the moisture levels when you add your kitchen scraps to make sure it's not too wet. If your compost is too wet, it will smell gross. Fix it by adding more dry ingredients and mixing them through.
A handful of compost should be damp and you should be able to squeeze a few drops of moisture out of it, but no more.
Another indication of good compost is earth worms. They are your composting friends who will help break down your compost and leave their 'castings', which your garden will love.
If your compost is too dry, it won't decompose. Add a little water or more vegetable scraps.
Here's why having a round compost bin is easier than a square one: once or twice a week, knock the bin over, roll it around on the ground a bit then stand it up again.
This will help aerate your compost with relatively little work. A stir with a stick will do the same thing.
Composting Practicalities
Keep a small container or bucket near the sink to throw your scraps in during the day so that you only make one trip to the bin each day. In hot weather, your scraps will start composting right there in your kitchen, so you'll want to empty this bin every day.
Apart from air and water, the other main ingredient for decomposition is heat. The potential down side of having a small bin is that larger piles tend to generate more heat. So you will need to keep this in mind when deciding where to place your bin in your yard.
If you want to speed up the composting process, check out this article on how to make compost fast.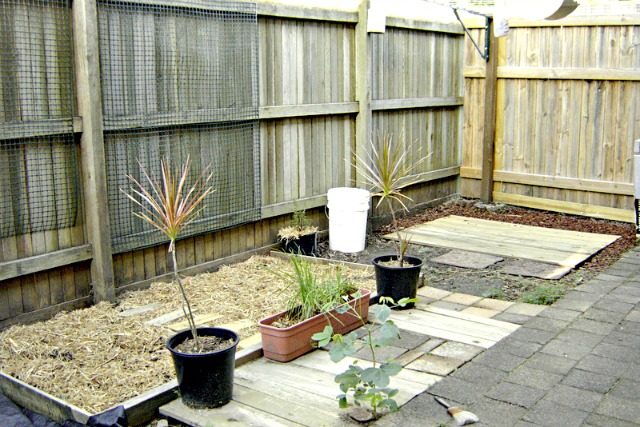 I put off making compost for a long time because it seemed too hard and complicated. It's neither. Even if you have the smallest yard or balcony, you can fit in a small compost bin. It's easy and convenient and anyone can do it.