Easy Homemade No-Cook Playdough Recipe From Pantry Ingredients
This website may earn commissions from purchases made through links in this post.
This homemade no-cook playdough is quick and easy to make from ingredients you already have in your pantry. What's more, it's very inexpensive.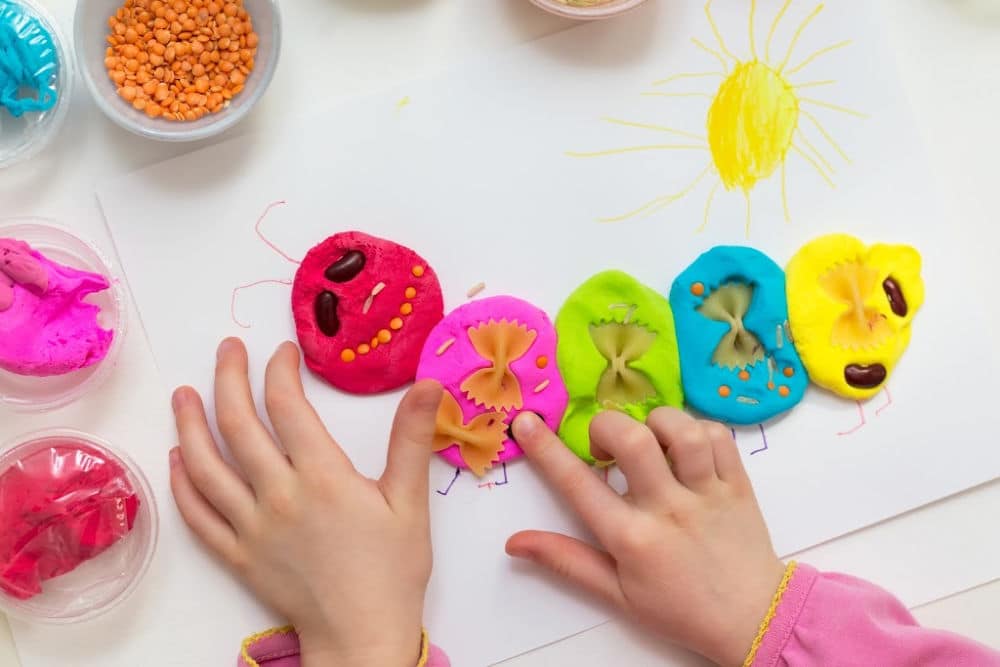 Homemade playdough is a fraction of the cost of store-bought playdough.
It can be whipped up in minutes and can keep children amused for hours, which is always a good ROI.
And because it's made from edible ingredients, it's non-toxic.
What's great about this recipe is you don't have to cook it on the stove. Instead, use boiling water to mix and this playdough is reading in just a couple of minutes.
Playdough is definitely a favourite activity at our house. It keeps my kids happily amused for hours. Not to mention for years!
It's great for fine and gross motor skills with all the rolling and cutting and pressing and shaping a moulding.
It's also perfect for pretend play. Make cakes and pancakes, cooked ina toy frypan, or make worms by pressing the dough through a garlic press.
If your kids need distracting while you're cooking dinner, set them up in the kitchen with a chopping board, a kid-sized knife and some playdough. Let them practise chopping beside you.
I tend to make up a batch of play dough and then divvy it out a quarter at a time, keeping the rest in an airtight container in the pantry. This makes it last a bit longer.
If left out, playdough dries out fast, so keep it in an airtight container for many hours of fun.
You might also like: Best Budget Art and Craft Supplies For Kids (lots of free ideas)
Playdough Tips
While there are many fun playdough tools on the market, it's cheaper and less clutterful (is that a word?) to use what you already have lying around the house.
Some ideas include:
Kid-sized blunt knife
Rolling pin
Spatula
Cookie cutters
Dried food like beans, lentils and pasta
Sticks and rocks
Pop sticks and craft matchbox sticks
Pasta cutter
Garlic press
Potato masher
Kid's scissors
Plastic Animals
Matchbox cars
Stamps
Lego
Straws
Beads
You might also like: How to Make a Recycled Materials Craft Box
Yield: 3 cups
Easy No-Cook Play Dough Recipe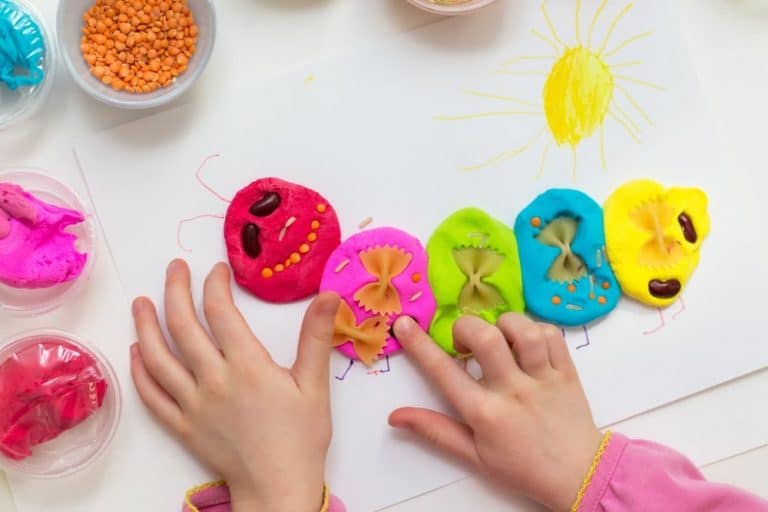 This homemade no-cook play dough is quick and easy to make from ingredients you already have in your pantry. What's more, it's very inexpensive.
Materials
1 cup of table salt
2 cups of plain flour
2 Tbsp. cream of tartar
2 cups of boiling water
2 Tbsp. of oil
food colouring
Tools
Mixing bowl
Mixing spoon
Small jug
Kettle or microwave for boiling water
Instructions
Add all dry ingredients to a bowl. In a jug, combine the wet ingredients and then pour into the dry ingredients.
Mix until the dough comes together then turn out onto the bench and knead lightly until smooth. The dough will be quite hot to touch at this time, so take care.
Depending on the flour or how much food colouring you add, the dough may come out a little sticky. If the dough is too sticky, knead in a little extra flour until you have a smooth dough.
Notes
Store in an airtight container.