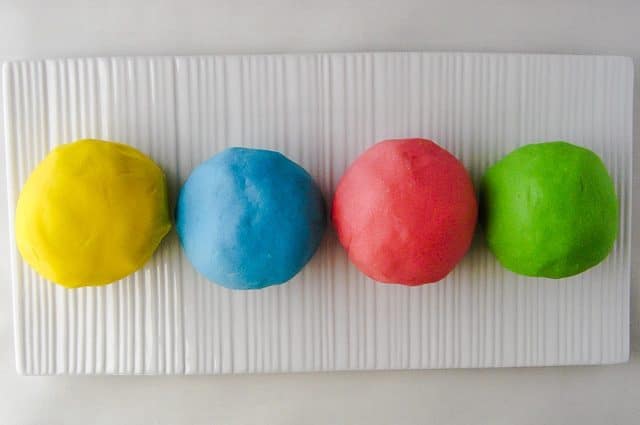 A recipe that's a little different today – something that is edible, but not something to eat.
Homemade play dough is a fraction of the cost of store bought, is something that can be whipped up in minutes (with or without the kid's help) yet can keep children amused for hours.
Play dough is definitely a favourite activity in our house. It keeps the little fella happily amused rolling and cutting or just pressing matchbox cars into it. Sometimes he will cook me play dough sausages and pancakes in a little toy frypan he has. Other times we will make 'worms' by pressing the dough through a garlic press.
If the little fella wants to help me cook dinner and I would prefer him not to help (like when I'm cutting up raw chicken or I'm feeling a little frazzled), I get a clean chopping board and a small knife and let him stand on a chair and practice chopping his play dough beside me. Maybe it's the change of location, or being able to cook 'with' mum, but it means we can work in companionable proximity without him getting in the way.
I tend to make up a batch of play dough and then divvy it out a quarter at a time, keeping the rest in an air tight container in the pantry. This makes it last a bit longer – it doesn't take long before the dough is full of dirt cat hair, despite the fact that our cat ran away over a month ago. If left out, the dough dries out pretty quickly. I keep it in a little airtight container on the little fella's table. Even in the direct sun, once it's in the container it will stay pliable.
Ingredients
1 cup of salt
2 cups of plain flour
2 Tbsp. cream of tartar
2 cups of boiling water from the kettle
2 Tbsp. of oil
food colouring
Method
Add all dry ingredients to a bowl. In a jug, combine the wet ingredients and then pour into the dry ingredients.
Mix until the dough comes together then turn out onto the bench and knead lightly until smooth (good job for the kids although check that it isn't too hot first).
Depending on the flour or how much food colouring you add, the dough may come out a little sticky. If the dough is too sticky, knead in a little extra flour until you have a smooth dough.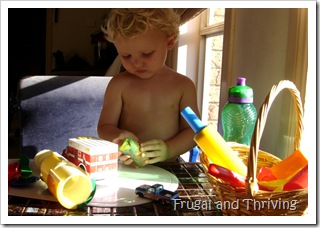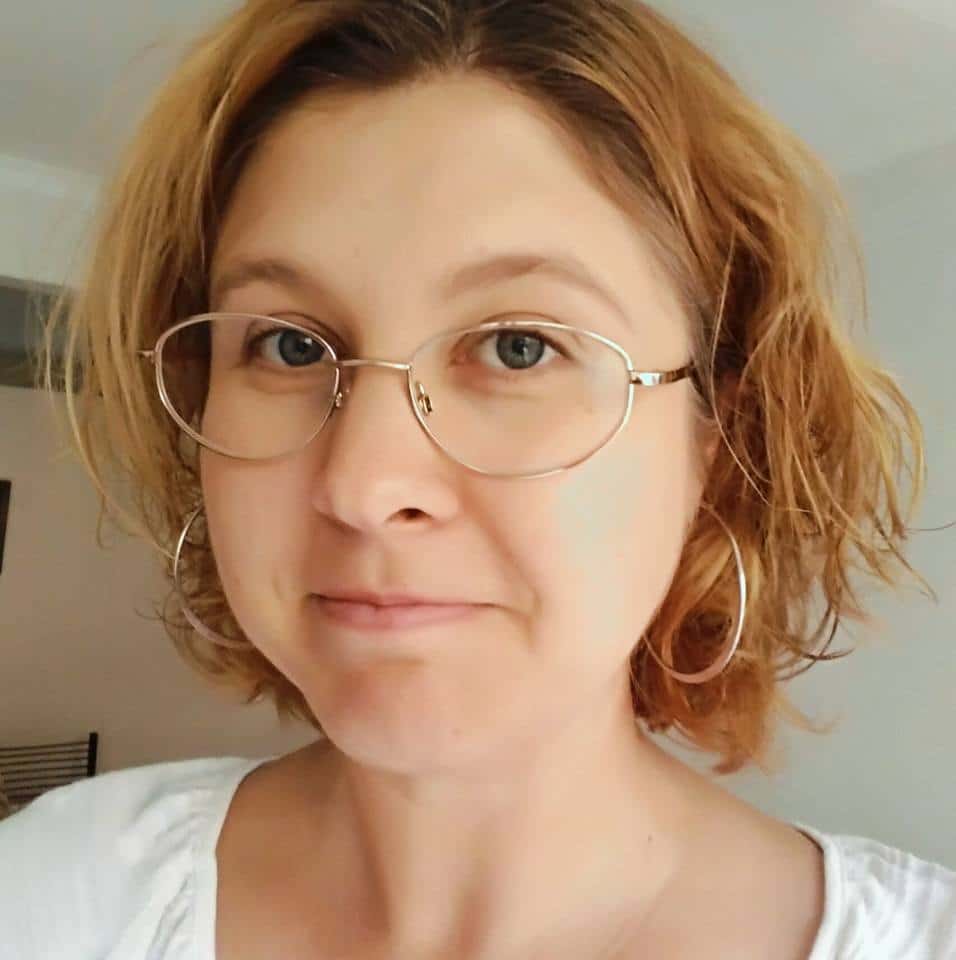 Melissa Goodwin is a writer and the creator of Frugal and Thriving who has a passion for living frugally and encouraging people to thrive on any budget. The blog is nine years old and is almost like her eldest baby. Prior to being a blogger and mum (but not a mummy blogger), she worked as an accountant doing other people's budgets, books and tax.