buying a used car – how not to buy a lemon
This website may earn commissions from purchases made through links in this post.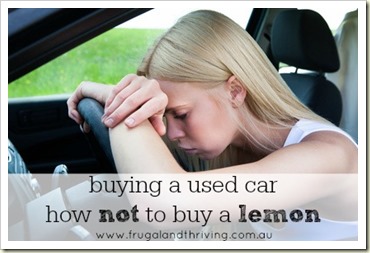 Brown bellbottoms, sideburns, Chrysler Valiants, and a car yard called Piggly Wiggly's.
Could the stereotype be more complete?
Well that was my dad.
He worked as a used-car salesman up and down Parramatta Road in the 70's.
He said he was the only honest salesmen in the game.
No doubt they all said that.
His knowledge and skills were good to have on hand when I was buying my first car. That slick salesman 'I'm-your-best-friend' technique comes in handy on both sides of a transaction – he could haggle down a price just was well as he could upsell.
It was a beautiful thing to watch.
Times have changed and shonky salesmen (not that I'm saying dad was one) are more likely to be found in a Hollywood movie than in real life.
Although it always pays to be savvy.
Buying a car second hand is a smart way to save money. The key is to buy a good second hand car. Not a lemon.
My preference is to buy a car from a dealership over a private sale. A dealer offers the most legal protection. They also offer a statutory warranty and a cooling off period.
I read recently on a forum someone who bought their very first car, only to find out it needed several thousand dollars worth of repairs. The absolute bargain turned out to be too good to be true.
You can protect yourself from making the same mistake by following a few simple steps when buying a second hand car.
steps to take to avoid buying a lemon
1. RESEARCH
Before you start searching the classifieds, write down what features you want in a car and what your budget is.
This narrows down the field and help you focus your search.
When you find listings for cars that match your criteria, check Redbook to compare the price. This gives you a good basis for negotiating the price. And if the price is too good to be true, be very wary.
Ideally, you want to buy the newest car with the lowest kms that you can afford. But also look for a car that has been well kept.
Who has driven the car? Where was it garaged? Has it been serviced regularly? How many owners has the car had? Has it ever been in an accident?
2. CHECK CHECK CHECK ALL DOCUMENTATION
Firstly, check the laws in your state regarding buying and selling cars. Some states require the seller to have a recent roadworthy certificate, most states require a 'pink slip'.
Check that the car is currently registered (and check the name and other details on the rego papers). Check too that it has current CTP insurance.
3. DO A REVS CHECK
Did you know that if there is still finance on the car from the previous owner, it could be repossessed!
It's important to do a REVs check to make sure the car is no longer financed, that it hasn't been written off or stolen, that it hasn't had flood or water damage and that the odometer reading is correct.
A licenced dealer is obliged to guarantee these things, but for private sales it's buyer beware!
To do a REVs check, you will need the rego number of the vehicle, the Vehicle Identification number (VIN) or chassis number, found on the bulkhead between the engine and the front door and the engine number, found on the engine.
Don't rely on the paperwork or the owner, check these numbers yourself.
Then put these numbers into the REVs website to check the car isn't financed, stolen or rubbish.
4. INSPECT THE VEHICLE YOURSELF FIRST
Now it's time to inspect the vehicle and give it a test drive.
Check out the NRMA checklist for all the things to look for, listen out for and feel for when inspecting and test driving a car.
5. THEN GET A VEHICLE INSPECTION
The next step is to get the vehicle inspected by a qualified mechanic.
A vehicle inspection costs money, so you only want to have one done on the car you really want to buy.
Your road service provider will do a vehicle inspection, so give them a call to team up a time with the seller to inspect the car.
Money spent here could save you thousands of dollars in the long run.
6. TRANSFER PAPERWORK
Now that you've found and bought your perfect used car, make sure you get all the necessary paperwork and transfer ownership to yourself.
Things to get include:
Adequate insurance in your name before you drive it away
A receipt of payment from the owner
Original registration papers
Roadworthy certificates
All sets of keys and beepers etc.
Car log book and service record
Transfer the ownership of the vehicle into your name as soon as possible at your state's road and transit authority.
Buying a second hand car is a good way to save thousands of dollars on the purchase price. But the savings can turn sour if the car requires costly repairs or it's a stolen vehicle or is still financed.
Reap the savings of buying second hand by doing the necessary checks before you buy.