printable fruit, vegetable and herb storage guide
This website may earn commissions from purchases made through links in this post.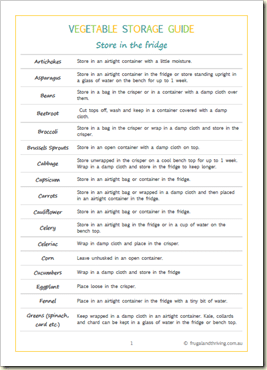 Wasted food that ends up in the bin without being eaten makes up an alarmingly large proportion of the average grocery bill.
When food goes to waste, it's the same as throwing your hard earned money in the bin.
On average, Australians throw away 20% of food purchased. If your average weekly grocery spend is $250 and 20% goes in the bin then you're throwing away $2,600 a year!!
One of the reasons fruit and vegetables go to waste is because they deteriorate before they are used.
While good menu planning ensures you aren't buying food that you're not going to use, proper storage ensures what you do buy doesn't go bad before you have a chance to eat it.
Today's post is a downloadable, printable PDF guide to storing fruit and vegetables. Print it out and stick it to your fridge or place it in your household binder so you can refer to it when you're unpacking the fruit and veg.
If your fruit and vegetables do end up looking a little worse for wear, don't throw them out just yet, see if you can revive them first.
And if you've bought extra fruit and vegetables or you don't use what you've bought for whatever reason, check out ways on how to use them up so they don't go to waste or freeze them for later.
Please note, if you live in a really hot, humid climate, 'room temperature' might not be cool enough to store fruit and vegetables on the bench or in the pantry and you may have to store all your fruit and veg in the fridge during the hottest months.
You can download the PDF storage guide here or click on the picture below.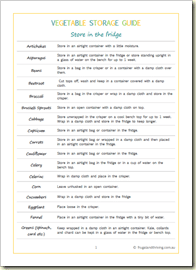 JOIN THE NEWSLETTER