Make Extra Money with these Creative Solutions That Anyone Can Try
This website may earn commissions from purchases made through links in this post.
There are dozens of ways to make extra money based on your current skillset. All you need is a little hustle.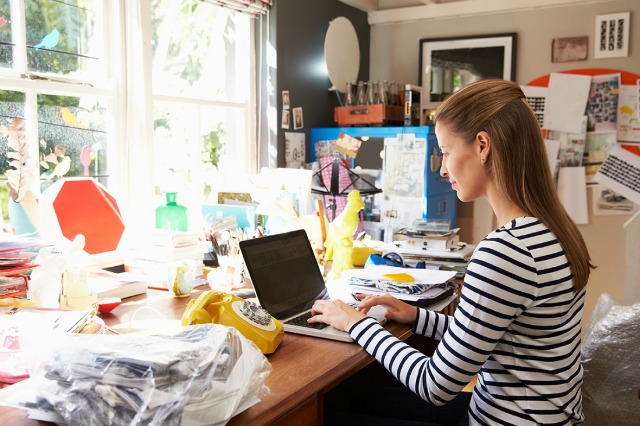 Want to make a few extra dollars to make ends meet?
Maybe you're a stay-at-home mum looking to earn some cash during nap time or school hours.
Maybe you're out of work and finding the job market tough.
Whatever your reason, there are dozens of opportunities to make some extra cash. All it takes is a little outside-the-box thinking and a bit of hustle.
Before you begin…Downsize Your Stuff to Save Money
Before you look at earning extra money, it's usually easier to live more frugally within the income you have.
Is your mortgage too big for your paycheck? Do you have a new car you can't afford to repay?
Before you get into the hustle, look at downsizing and simplifying first.
Downsizing can bring massive financial relief without a lot of extra work. Maybe you can then get by without a new job, a side hustle, moonlighting, or extra shifts.
Eliminating the need for extra money doesn't mean you can't try a side hustle. But it takes the pressure off and gives you the flexibility to explore your passions.
1. Declutter and Sell Your Stuff to Make Extra Cash
Selling your clutter is a quick and relatively easy win.
We all have a lot of extra clutter lying around we don't need. Flogging it for extra cash is one of the easiest ways to generate a bit of extra cash in a hurry.
Places to sell your stuff include:
Gumtree
eBay
Flea Markets
Local Classifieds
Facebook Groups
Community Notice Boards
Car Boot Sales
2. Freelance Your Professional Skills
Have you got professional skills with which you can start a business or that you can offer as a freelancer?
Maybe you have graphic design skills or computer programing skills that you can offer on a freelance basis.
Or maybe you've got handyman skills or bookkeeping skills. You might be a hairdresser, a massage therapist, or a beauty therapist.
Make the most of your training and experience by going solo.
You can either start a local business or become a global freelancer online. Check out your local government website for information on what you need to do to get started.
There are lots of places online to find work as a freelancer, below are just a few options:
Are you thinking: "that's great if you're a coder or graphic designer, but what if I don't have a professional skill?"
Don't worry; there are lots of other options like:
Transcription services
Social media management
Virtual Assitant
Remote telephone receptionist
Freelance blog writer
Stock photographer
Typist
Data Entry
Research
Translations
Website/app tester
Blog commenter
Voice over person/audiobook reader
3. Offer a Service in the GIG economy
The gig economy is big! And it's only set to get bigger – for better or for worse – with up to half the workforce being made up of freelancers within a decade.
And there are plenty of ways to use the gig economy to make extra money.
You will have lots of skills that aren't related to your employment history but fill a need and people are willing to pay for. Here are just a few ideas:
Handyman skills
Computer or tech skills
Gardening skills
Cleaning
Tutoring
Washing and Ironing
Deliveries
Car Service (Uber driver)
Cooking
Shopping
Babysitting
Typing
Event planning
When you think about all the skills you have, you'll realise just how much you have to offer. And there's always someone willing to pay for that service, as the rise of websites like Airtasker shows: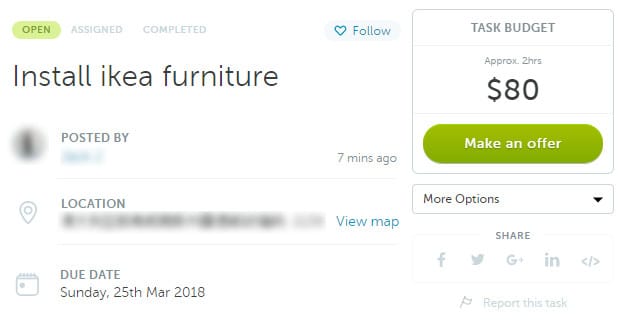 Alternatives to Airtasker in Australia include:
You don't need to go online to get work, however. The best way to start is still word of mouth. You can also advertise your services locally through the local classifieds, on notice boards and with flyers.
I started an ironing business when money was tight by placing an ad in the local classifieds. Ironing a service that requires little investment and little skill, but there are plenty of people who will gladly pay to have their ironing done.
4. Turn a Profit from Your Hobby
I have a friend who sells his photography online. Another who makes and sells the most amazing cakes – all from her home kitchen. Another who sells her jewellery at the local markets.
If you have a creative hobby, you could make and sell your wares. You could sell at the local flea or craft markets, online (like Etsy) or craft fairs. You could also sell wholesale to local small businesses that stock the kind of things that you make.
Ideas include a variety of homemade craft items, art, homemade cards, homemade baking, jams and relishes, clothes, baby clothes, tourist souvenirs, handmade jewellery, homemade furniture, homemade skincare, candles, plants and seedlings, seeds, homegrown vegetables and fruit, eggs, animal breeding, cake decorating, flower arranging…the options are endless.
Think creatively. If you can't sell what you make, you may be able to sell hobby kits, patterns, accessories or you can teach people your hobby.
One of the staff at my local coffee shop runs macrame classes. As a DIYer, I appreciate learning the skill from her rather than just buying what she has made.
My father's hobby was homebrewed beer, and while it is illegal to sell alcohol, he made up the kits of ingredients to make homebrew and sold the kits along with the equipment needed. He also taught people how to make homebrew and he contributed to a homebrew magazine.
If your hobby is something less tangible such as a passion for local history, or native bush plants then instead of selling things, you could offer a guided walking tour of the local area or bush and share your knowledge and passion. AirBnB Experiences lets you list your experience through them, making it easier for people to find you.
If you are a collector turn your collection into a museum.
Maybe your hobby is musical. You could try busking or perform at parties. My brother DJs at weddings and birthdays as a side hustle.
It's not easy hustling income from your hobby, but there are lots of options if you keep an open mind are prepared to have a good go.
5. Make Extra Money From Home by Renting it Out
Renting out a room to a border or exchange student or turning your home into a bed and breakfast has been a popular way to make money for a long time. A friend of mine rented a room to exchange students for many years, and the whole family benefited from the cultural exchange.
But renting out your home has become even easier with services like Airbnb. If you live in a tourist area, renting out your home (or part of it) to holidaymakers is another way to make extra cash.
And if you don't live in a tourist area, you could position your place as a local 'experience'.
Do you live on a property? You might be able to offer a camping space. Do you have lovely gardens? Consider renting them for weddings and other special events.
If the idea of renting a room to a stranger is a little offputting, you can also consider renting storage space or, depending on where you live, garage space and parking (good if you're in the city or a central part of town).
Things to consider if you go down this route include local council rules, subletting rules, insurance and taxation.
6. Make money online
The online world has opened up a multitude of opportunities for making money from home on top of the freelance ones mentioned above.
One option is to try your hand at blogging and earn an income through advertising or affiliate marketing. You can also do affiliate marketing through social media.
Another option is to set up a Shopify, eBay or Amazon store and sell your goods or drop-ship products. Plenty of people make good money flipping second-hand goods.
You can create also e-products like eBooks, eCourses, patterns, workbooks, planners, worksheets, to name a few. You can become an author on Amazon.
Or, you can take online surveys, become a website reviewer or use pay-to websites like Swagbucks or Cashrewards.
These are just a few ideas of what you could do to make extra money when you're not earning a paycheque (or even when you are). There are many more. You are only limited by your imagination, your drive and your work ethic. None of these ideas is exclusive; you could implement more than one idea to increase your earning power.
Note: You may need to check out local government regulations in regards to licensing and insurance. Local government also offer free services for setting up home-based businesses, and courses on running a business.
You might also be interested in:
Melissa Goodwin has been writing about frugal living for 10+ year but has been saving her pennies since she first got pocket money. Prior to writing about frugal living, Melissa worked as an accountant. As well as a diploma of accounting, Melissa has an honours degree in humanities including writing and research and she studied to be a teacher and loves sharing the things that she has learned and helping others to achieve their goals. She has been preparing all her life to write about frugal living skills.
JOIN THE NEWSLETTER