Apps That Pay You – Best Money Making Apps for Australia (2020)
This website may earn commissions from purchases made through links in this post.
Earn some extra cash on the side with these apps that pay you. These apps can be used in Australia.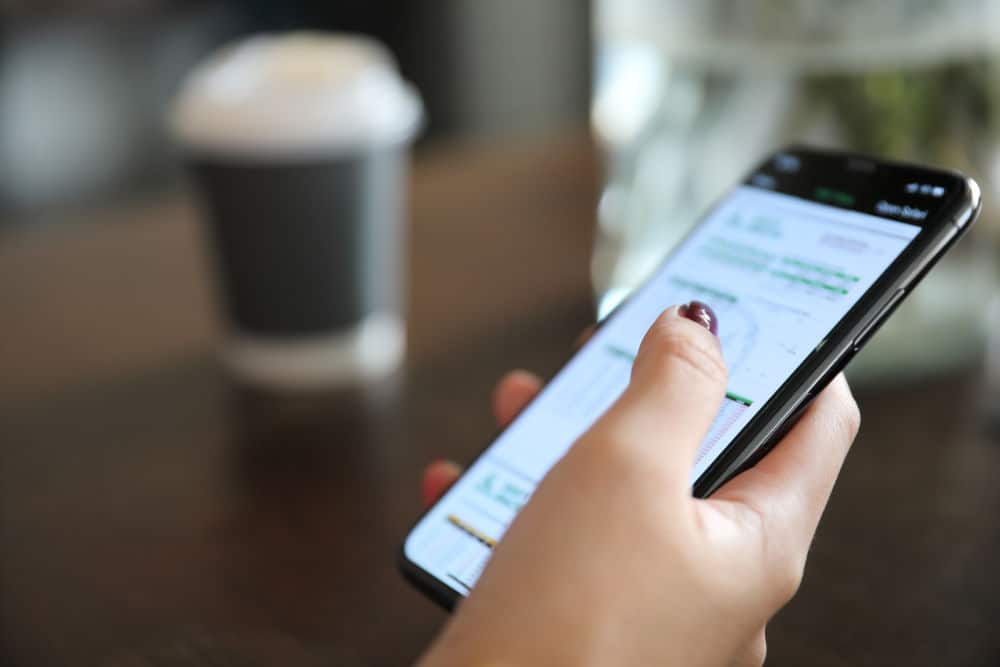 There's an app for everything these days, including apps that make you money!
Whether it's a bit of coffee money or some savings for Christmas, these money-earning apps can add a little extra to your hip pocket.
In this article, I will share with you 18 apps that can help you earn a little extra cash.
While there are hundreds of apps out there, not all of them are available to or relevant for Australians.
So the apps below are ones that Australians can use to make a little extra cash on the side.
Earning extra money is great, but to make the most of it, you need a budget. At the end of this article, I will share some of the best budgeting apps for Australians.
Disclaimer: Please note that Frugal and Thriving is not making any recommendations about these apps. Please do your own research before deciding if any of these apps are right for you.
Surveys
We live in the information age where data is big money. Which is why there are companies that will pay you for your opinions and information.
Businesses, governments, public bodies and other organisations want to know what citizens and consumers think to improve and adapt what they supply.
Here are some apps you can use to earn money for opinions.
Survey Junkie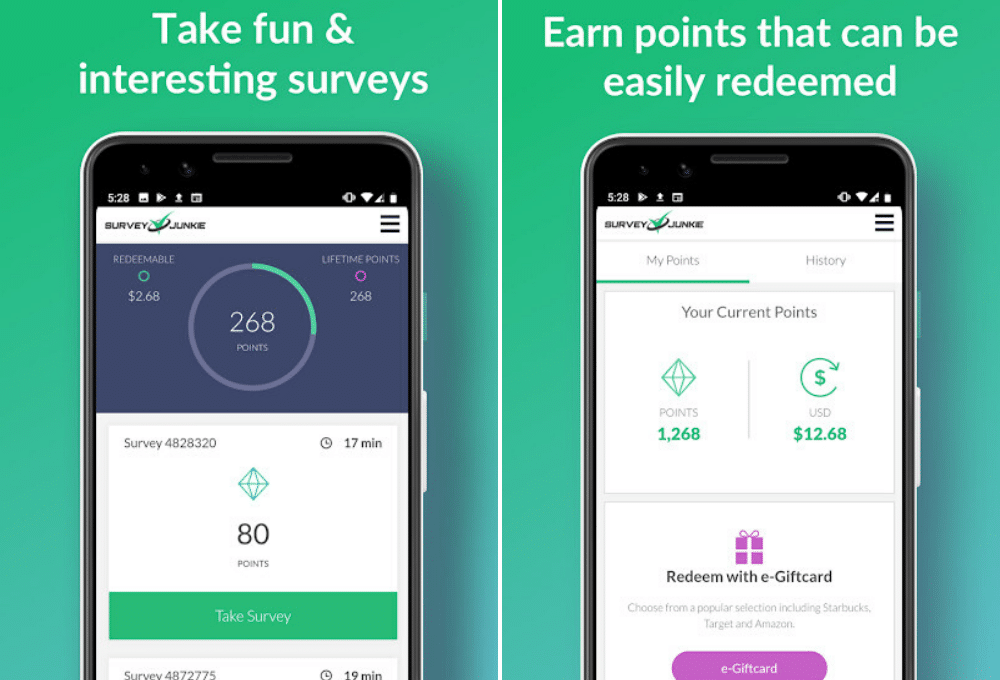 It's important to keep in mind that while surveys can help you earn a bit of cash, they're not big money-spinners:
"You will NOT get rich by taking surveys…you'll have the opportunity to earn extra cash each month."

[source]
Keeping this in mind, you earn points on Survey Junkie by completing surveys, profile questionnaires, and referring friends.
Once you get to 1,000 points, you can redeem those points via Paypal. 1,000 points are the equivalent of $10 cash.
For more information:
Pureprofile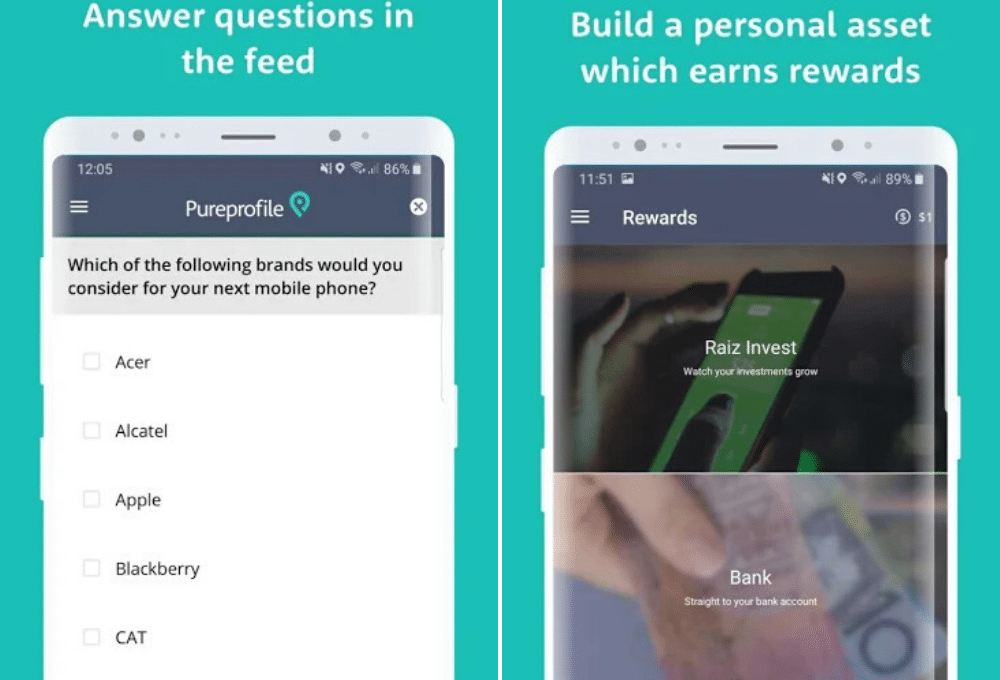 Paid activities on Pureprofile include surveys, invitations to websites, videos to watch and personalised offers.
Other non-paid activities include updating your profile. According to their website, the more you update your profile, the more opportunities you receive.
You can redeem rewards for cash paid into a bank account or Paypal, gift cards or movie tickets once they reach $20 (but you can't redeem more than $70 in a 60 day period).
Octopus Group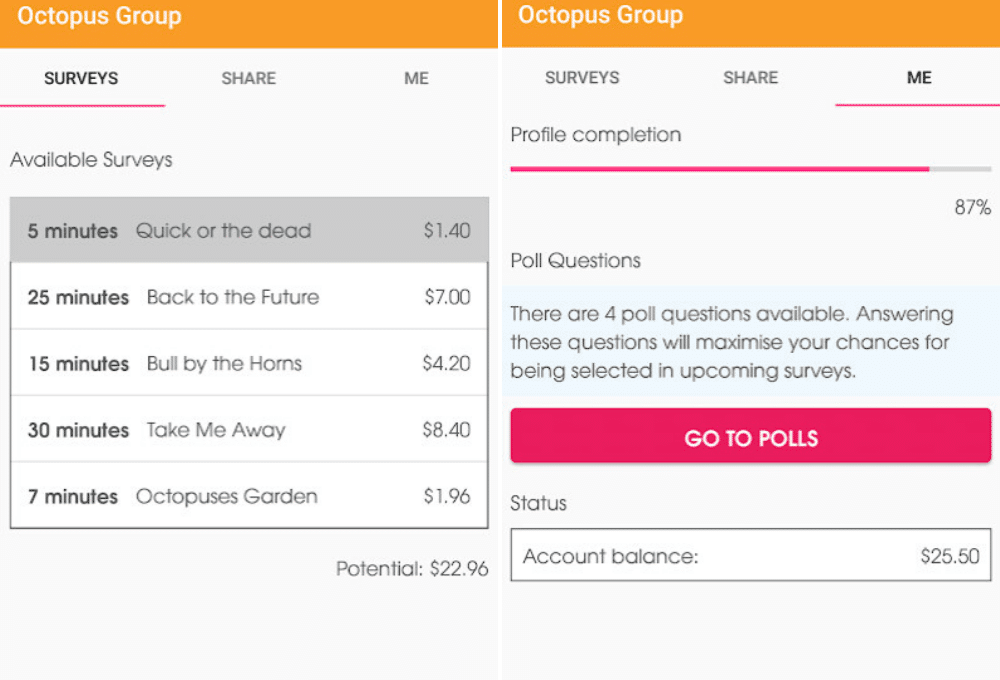 Octopus Group is a survey company that is entirely Australian owned and operated. No frills, just take a survey and earn cash.
You can have earnings directly deposited into your bank account once you reach $20 or you can purchase gift cards at a discount.
Neilsen Mobile Data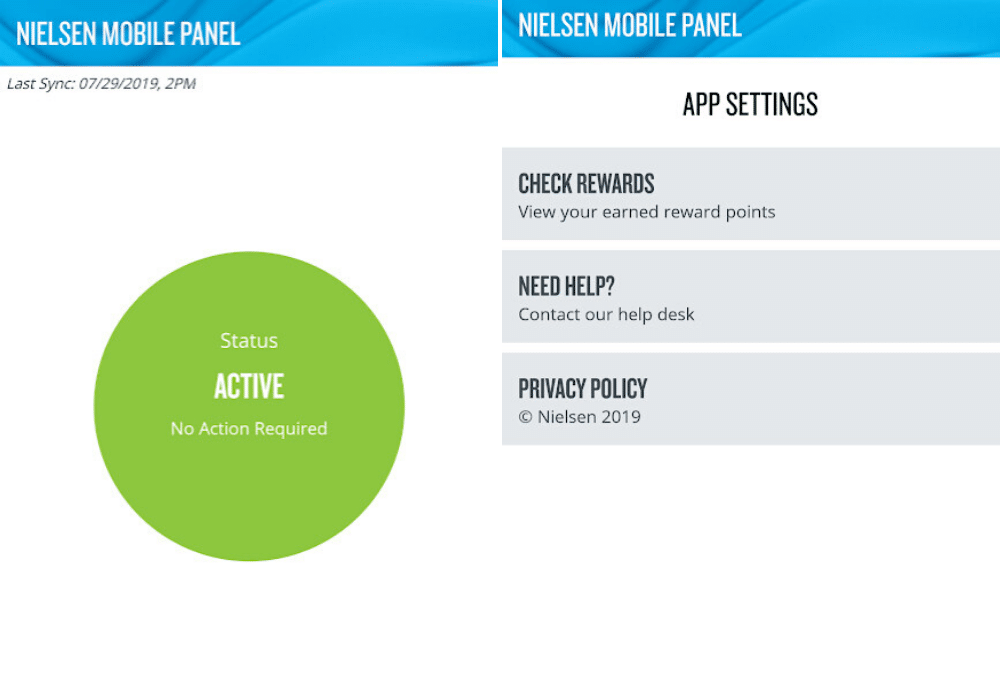 This app runs in the background and measures the activity on your mobile device. You earn points by just using your mobile device as normal. According to their website, they don't collect user IDs or passwords.
From their website:
"Our app lets us know what websites and apps you visit, how long you spend there and information on your general mobile device activity."

[source]
You can earn up to $50 of points per year which can then be redeemed in their online store for goods or vouchers.
Swagbucks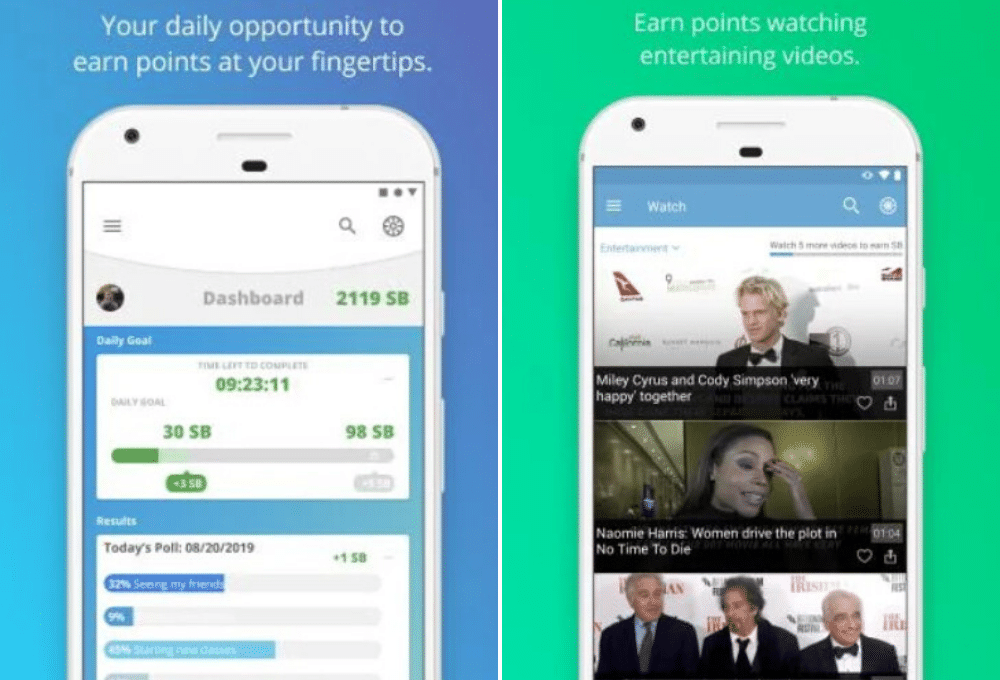 Earn points on Swagbucks by shopping online, watching videos, searching the web, answering surveys and finding deals.
Then you can redeem the points you earn as gift cards or as cash through Paypal. 2,500 points = $25 paid through Paypal.
You might also like: Best Money Management Apps for Australians (these apps help you budget)
Mystery Shopping
Mystery shoppers give businesses valuable information about customer service, customer experience as well as the competition.
Get paid to window shop with the following apps.
IRi Shopper Panel/Scan n Go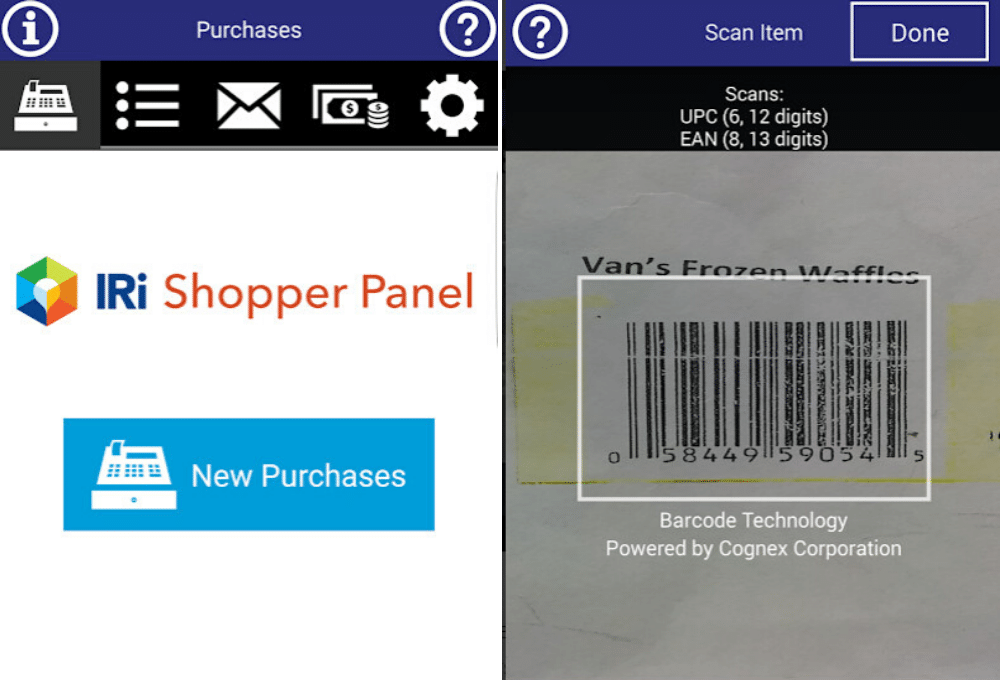 Earn rewards as you shop by scanning every product that you buy.
Use the app to scan your purchases each week and to record information about your shopping trips.
Rewards points are earned each week you shop and scan and then these points can be redeemed for merchandise (including gift cards) from their gift catalogue.
Snooper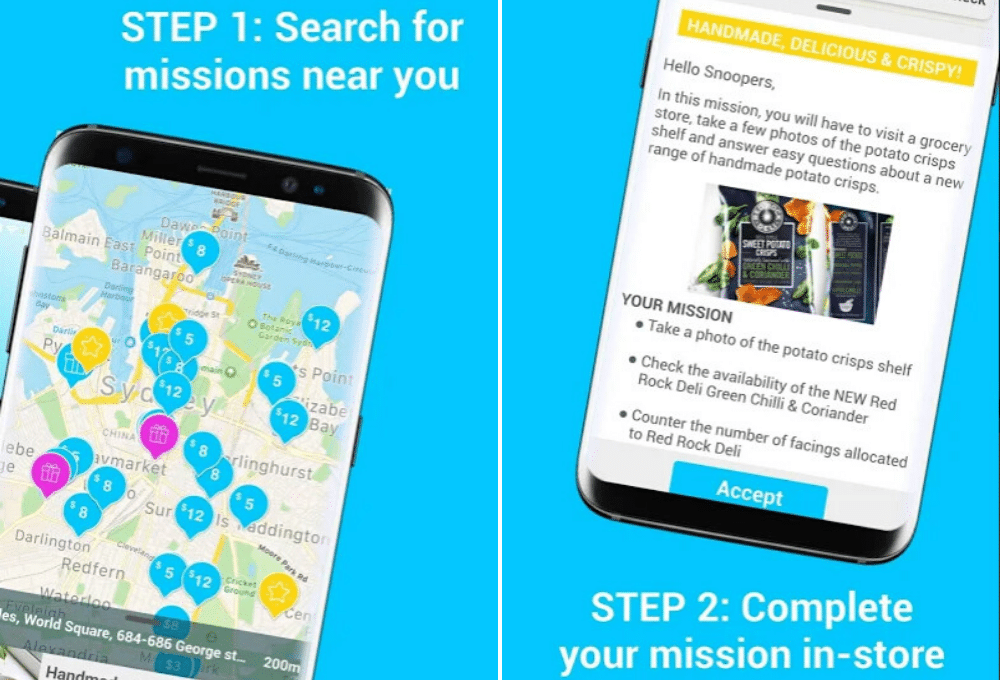 Earn money by completing mystery shopping tasks in Australia and New Zealand.
Tasks include taking photos of promotional displays.
Earnings can be downloaded directly into your bank account.
Field Agent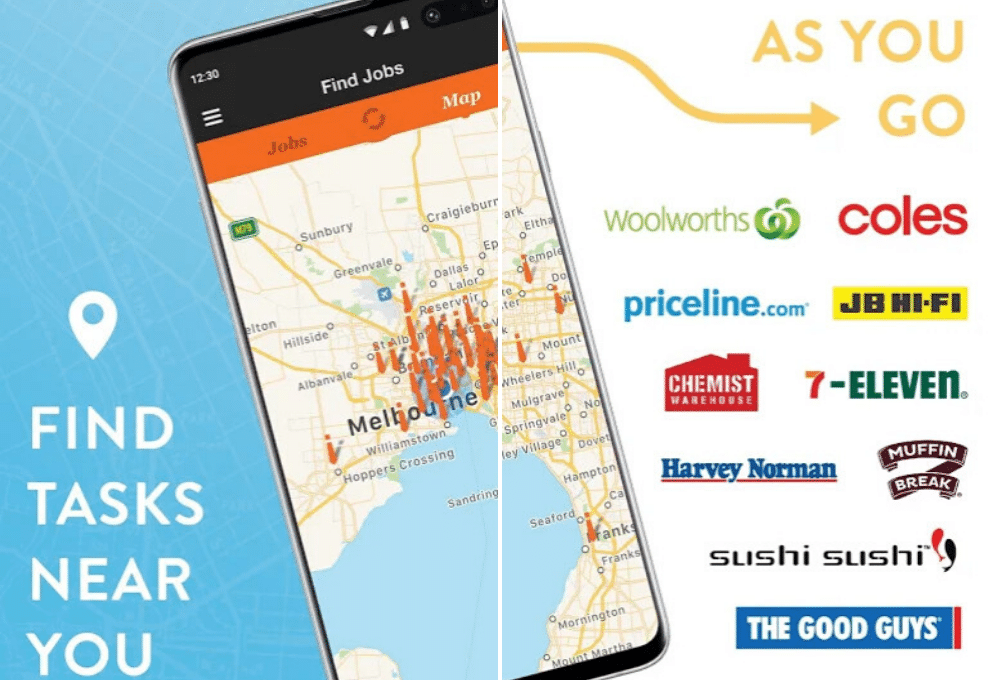 Earn money by reporting information near you using their app on your smartphone.
Some of the information you're asked to report on includes price checking, supermarket audits, advertising panel audits, photographing store displays as well as completing surveys.
Jobs earn between $2 and $15. Once you reach $25, you can withdraw your earnings using Paypal.
Smart Spotter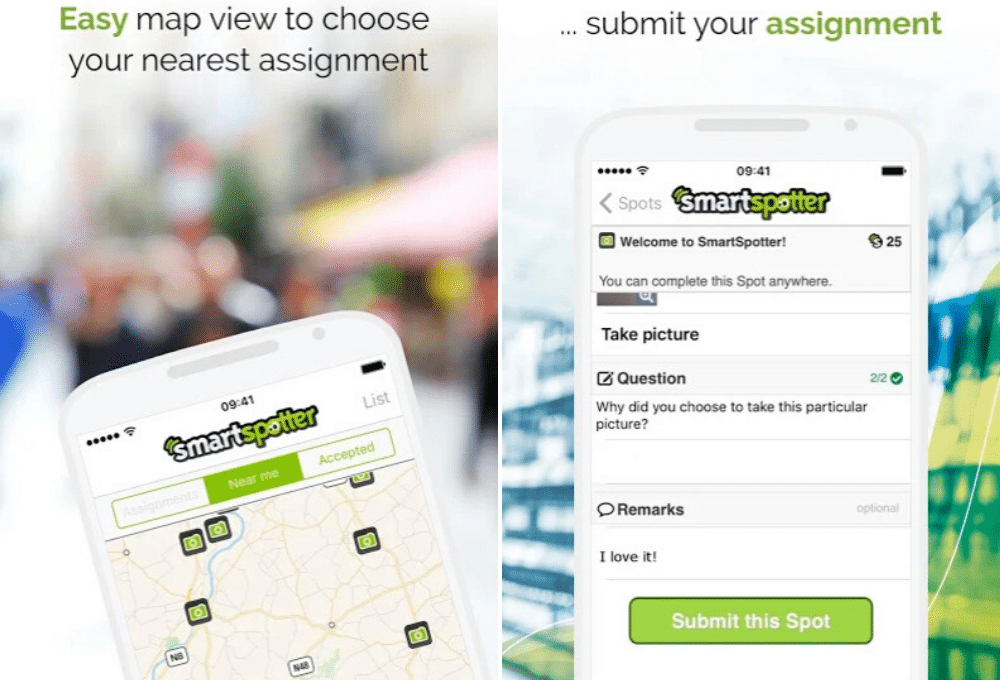 Use the app to get mystery shopper assignments near you.
Earn money by completing designated shopping assignments.
Assignments include taking photos of window displays, entering prices of products in-store or evaluating promotions on the shop floor.
You can choose to get paid automatically every time your account reaches $20.
It's important to note that there is a waiting list in Australia. If you're interested, register so when spots open near you, you can get notified.
Cashback Apps
Get a bonus discount when shopping online by getting cash back through one of the cash reward apps or websites.
The best way to use these cash reward services is to shop around first and make sure you're getting the best deal and/or you're shopping during a sale and getting a discount.
Then get your cashback on top of the sale price.
Cash Rewards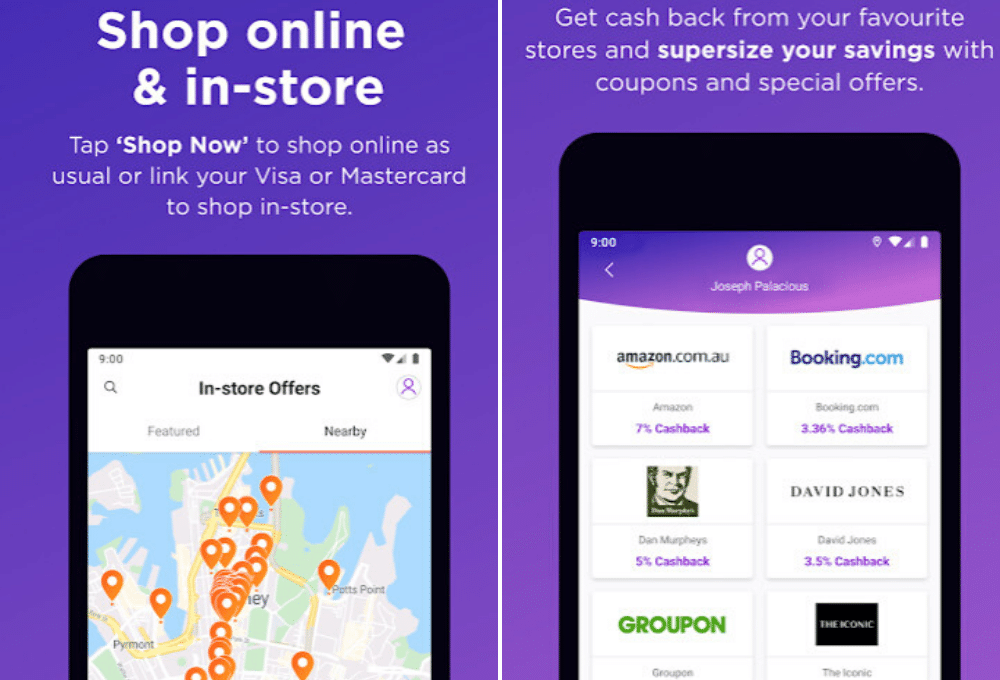 Cashrewards is a cashback website/app. When you shop at participating retailers, you get a percentage cashback on your purchases.
They work with thousands of retailers, so if you shop online, it's easy to save plenty of money, especially if you use it on top of shopping around for the best price and shopping during sales.
Once cash rebates are approved and you've reached the $10.01 payout threshold, you can get the money deposited into your bank account or paid via Paypal.

ShopBack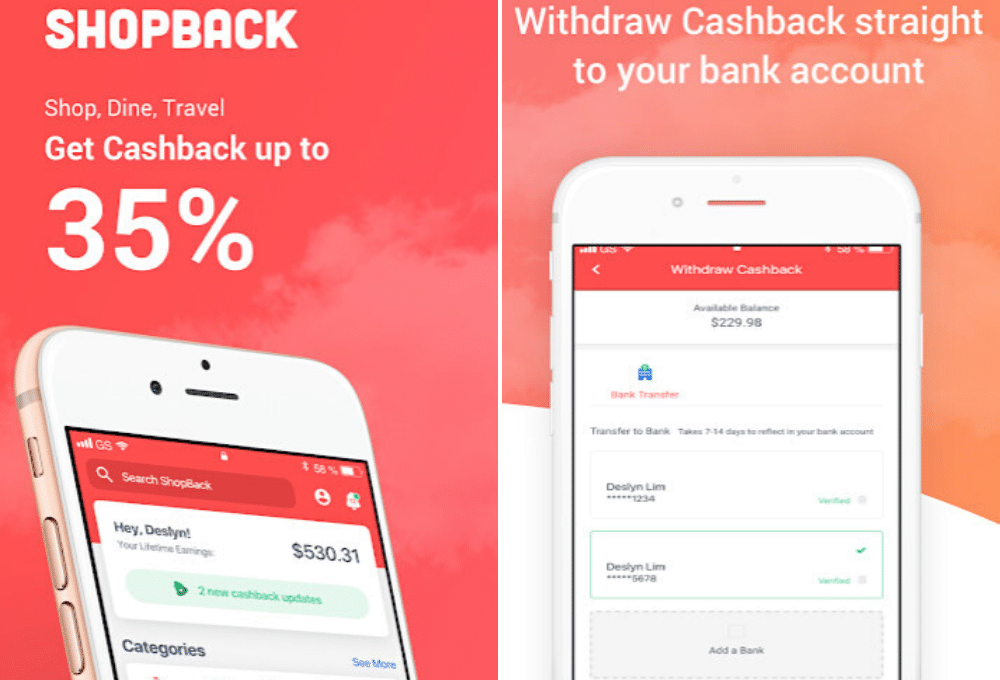 Similar to Cashrewards, Shopback gives you cashback rebates when you purchase online with participating retailers using their app or website.
Once you reach $10 in approved cashback amounts, you can withdraw the cash either into your bank account or via Paypal.
Looking for more ways to save money with your phone? Check out the article: Best Money Saving Apps for Australians.
Selling Your Stuff Online
Selling your clutter is a great way to make extra money fast. And it's never been easier now that you can easily take photos using your phone and upload them into an app in a matter of minutes.
Gumtree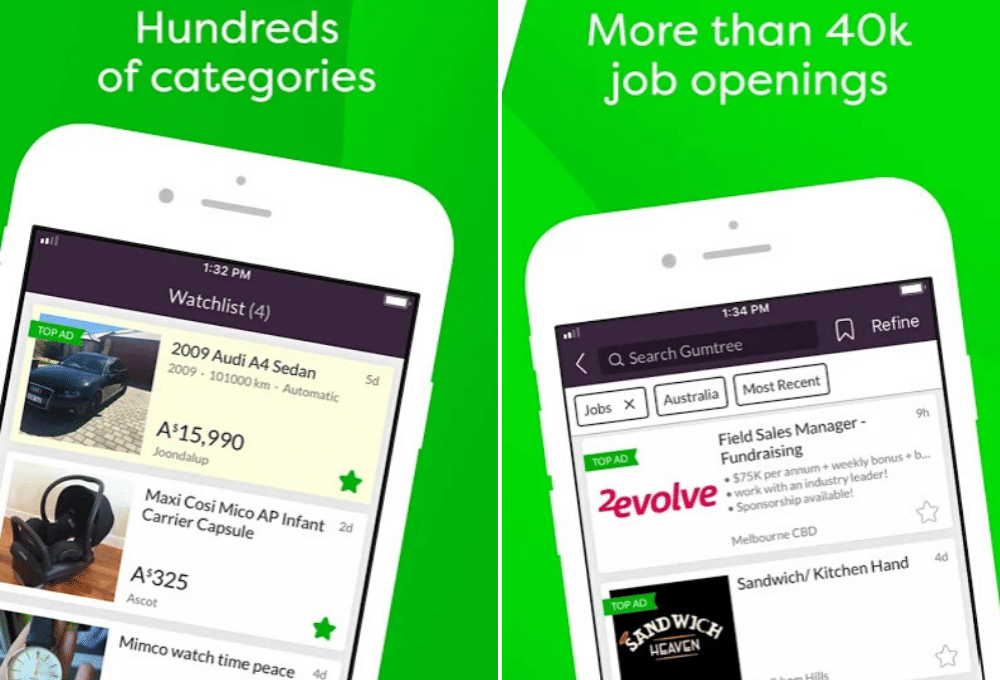 Sell your stuff online using one of Australians biggest second-hand market places. The Gumtree app can make selling your stuff easier.
eBay App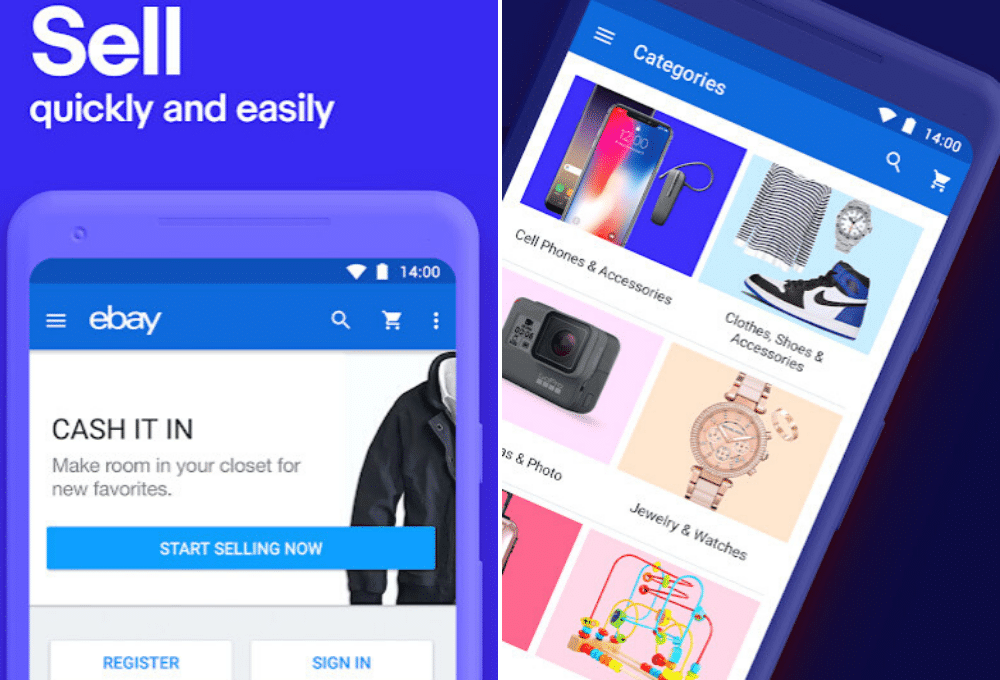 eBay has been helping people sell their unwanted stuff for decades. There are lots of tips on their website to help you get the most out of your selling experience.
Micro-Investing Apps for Australians
Micro-investing allows you to invest very small amounts of money to build up a portfolio.
The upside of micro-investing is that it's easy and convenient and you don't need large amounts of savings to get started.
On the other hand, it's a long game, and depending on how much you invest, fees may eat into the savings you're building.
As always, these aren't recommendations and it's important to seek professional financial advice before making investment decisions.
Raiz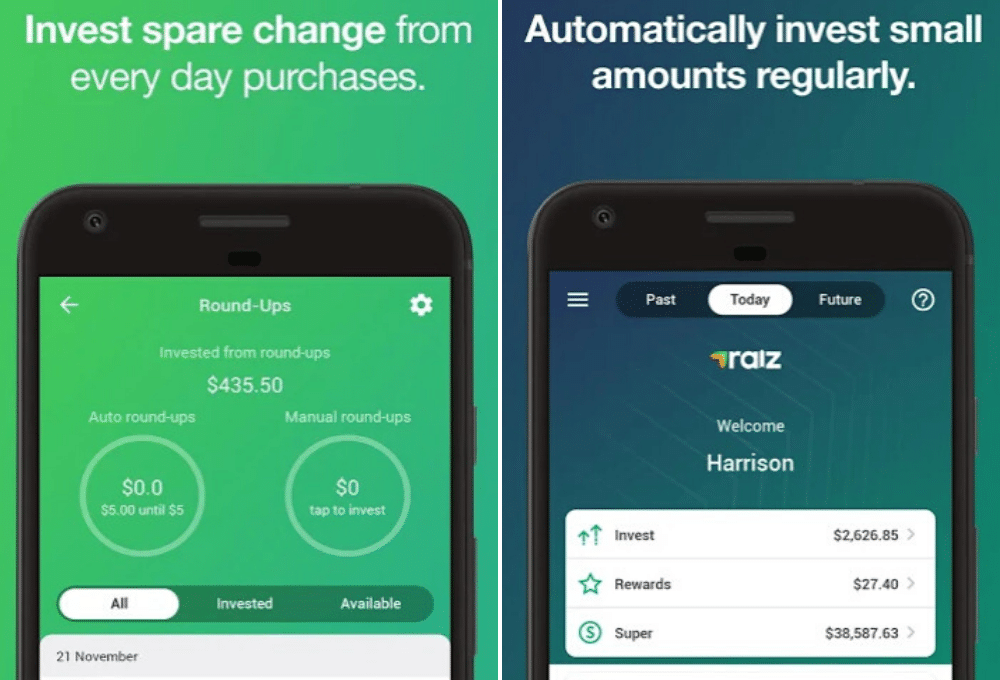 Raiz Australia (formally Acorns) is an app that allows you to invest your spare change automatically from everyday purchases.
You can either round up purchases and invest the difference, make lump sum investments or set weekly investment amounts.
As per their website, your money is then invested into a portfolio using EFTs quoted on the Australian Securities Exchange. They have no minimum investment amount and no commissions although there are monthly fees.
You can learn more on the website below.
Spaceship Voyager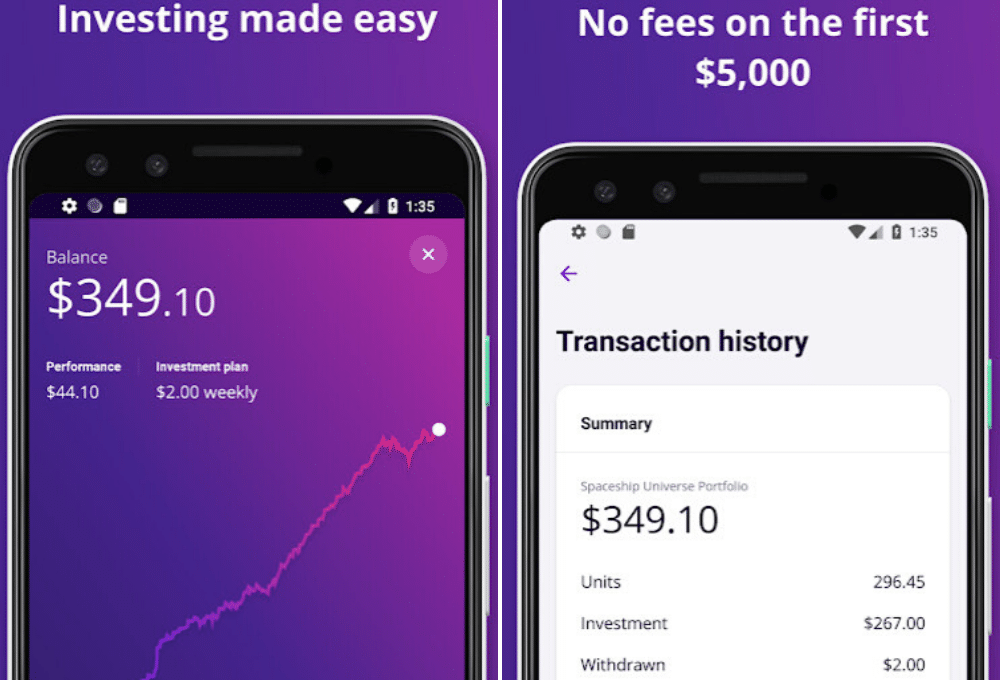 Spaceship Voyager allows you to invest in an index fund of Australian shares or a portfolio selected by the company.
Then set your regular investment amount.
There are fees but it is currently free for amounts below $5,000.
Check out their website for more information.
Commsec Pocket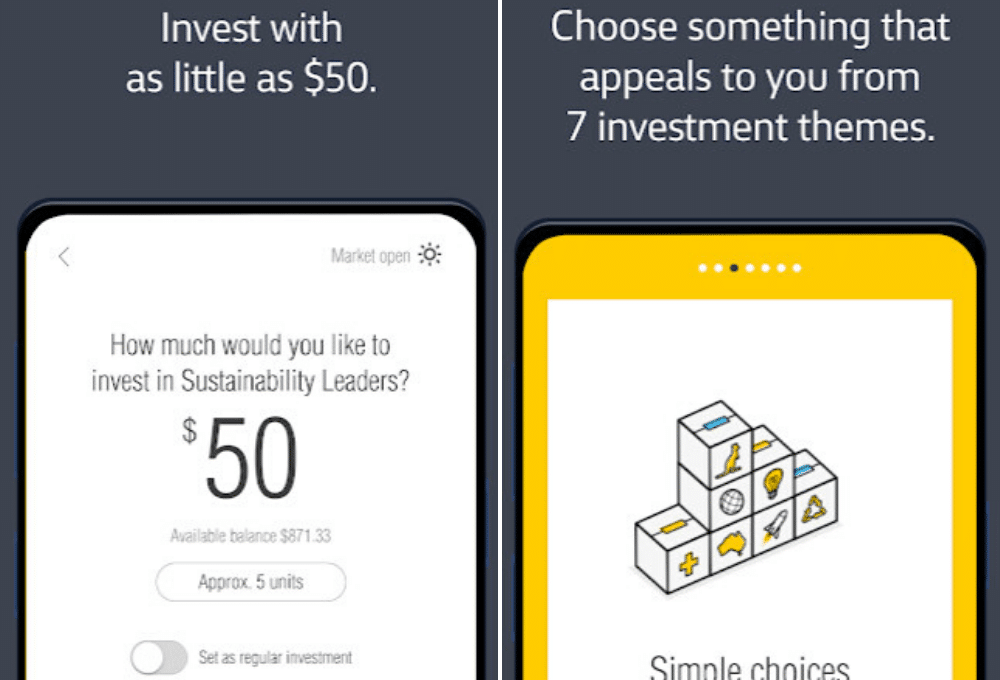 Commsec allows you to build an investment portfolio with EFTs (Exchange Traded Funds).
Incidentally, they explain EFTs as an investment in a selection of companies and assets that can be traded on the stock market like shares.
You can choose which portfolio you want to invest in. One of the portfolios is "Sustainability Leaders- 100 leading sustainable and ethical companies."
To get started investing with Commsec Pocket, you need a minimum of $50. There are brokerage fees for trading and EFT management fees.
Other terms and conditions apply so check out their website for more information.
Extra Cash in the Gig Economy
There are many, many options for earning extra money in the gig economy. Here are two money earning apps that can help you earn a little extra.
Airtasker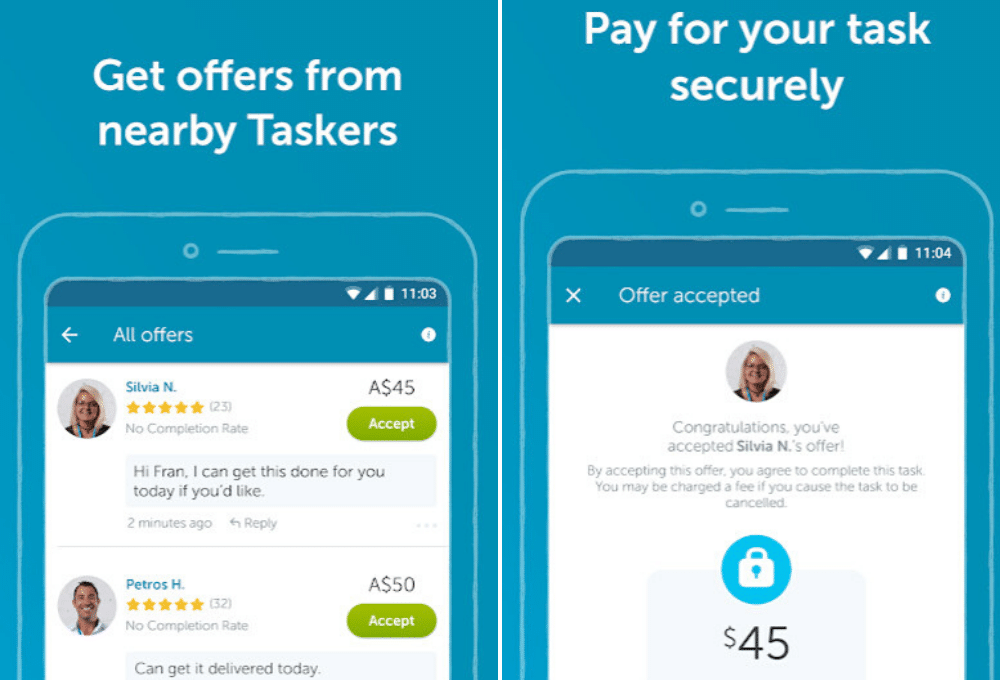 Want to earn some extra cash? Do you have skills that can be marketed? Get jobs done and get paid using the Airtasker App.
Oneflare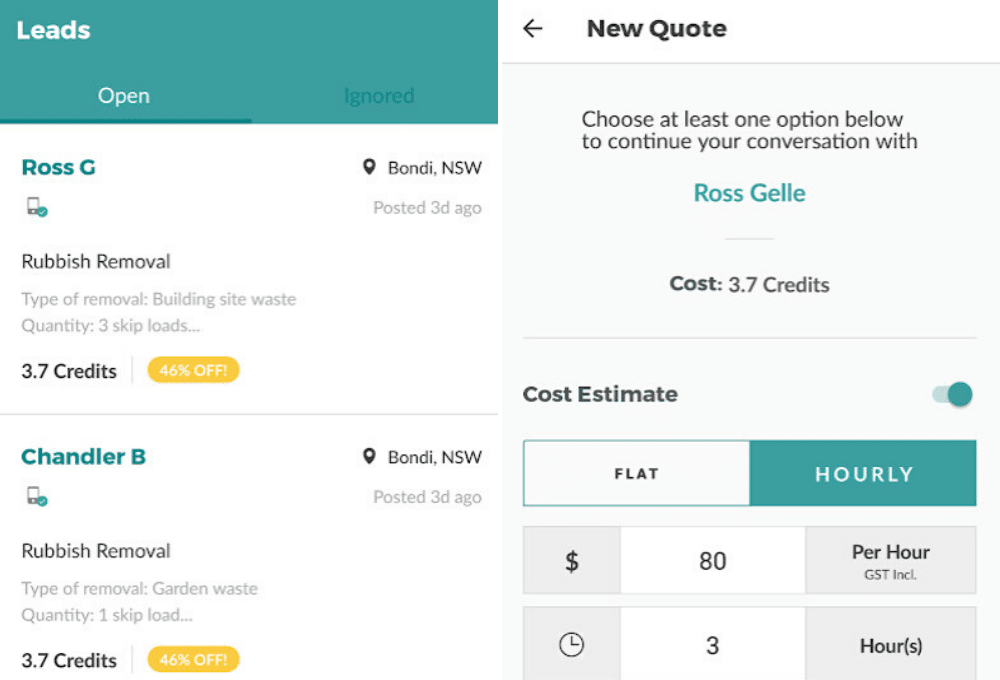 Oneflare is an Australian alternative to Airtasker that helps connect people who need jobs done with people who can do the work.
If you've used any of these apps, let us know your experience in the comments below.
Budgeting With Apps
Now that you know the best apps for earning a little extra cash in Australia, here are 12 of the best apps for budgeting your money.
#1 Pocket Book
Connecting to 19 Australian banks, this budgeting app can help you keep on top of your finances.
#2 Goodbudget
This is a great basic app if you don't want to connect your bank accounts to your budgeting app.
Check out the entire list of best budgeting apps here: 12 Best Money Management Apps for Australians.