15 Essential Strategies You Need To Hold a Successful Garage Sale
This website may earn commissions from purchases made through links in this post.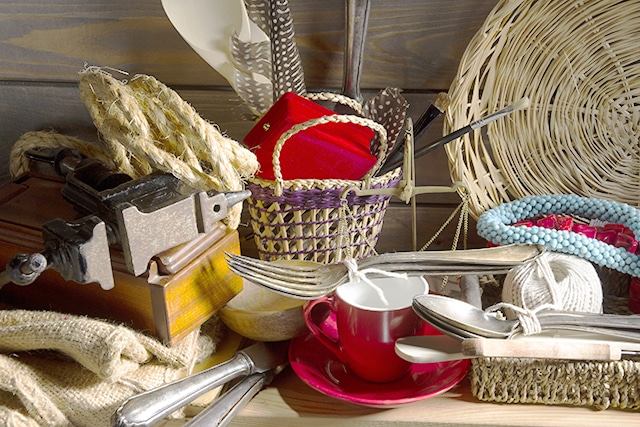 The sun is warm, the air is fresh and you're armed with coffee.
Now all you need is the hoards to arrive eager, with their wads of cash at the ready because you're ready…ready to make some extra money at your garage sale.
I love garage sales on either side of the money tin.
It's a special sort of Saturday morning spend rummaging through other people's stuff (aren't you just a little bit curious?) – finding treasure among other people's trash.
And it's just as good being able to make some extra money from things you no longer need and use.
I've been to some great garage sales, and I've been to some doozies. The better garage sales employ the following strategies.
As a side note, we made over $400 at our own garage sale. These tips are from a buyer's and seller's perspective.
GARAGE SALE TIPS THAT MAXIMISE YOUR PROFIT
BEFORE THE DAY
Preparation is key for success. Don't leave your garage sale prep to the last minute, plan ahead a few weeks and do a little bit each day.
1. DECLUTTER
Before you can sell your stuff, you need to uncover it, which of course means decluttering. We went through all of our personal possessions over a period of two months, setting aside boxes for the garage sale.
2. CLEAN
The next thing you need to do is clean anything that needs cleaning. There's nothing more off-putting than layers of someone else's grime. Clean clothes and give them a quick iron, clean crockery and glassware, wipe over appliances.
3. PRICE
As you clean things give them a price. Masking tape and a sharpie are perfect for this job. A swing tag made from cardboard and a pin is perfect for clothing. Make sure you PRICE EVERYTHING. I have walked out of garage sales without buying because the things I was interested in didn't have a price and it was too busy to ask!
Having said that, you don't need to price individual items if you have a whole heap of them. For example, you can put a sign on a box off DVDs and write "all DVDs $3 each". Or "all magazines 50c each or 3 for $1".
4. NOT SURE IT WILL SELL? TRY ANYWAY
If you're not sure it will sell, put it out anyway, you don't have anything to lose.
(Please don't try to sell broken or faulty appliances or children's items though!!)
We sold a set of old steak knives with missing knives. The person who bought them had the same set and also had missing knives, so ours helped them make up the set again! Win all round.
Think about packaging things up and selling them as a set. I packed old and unused stationery sets up so that they could make a nice gift. We sold a PlayStation 2 with 15 games included and added a cookbook to the fondue set.
SETTING UP
I've been to garage sales where people have put down a tarp and dumped a whole pile of clothes on it, expecting buyers to rummage through the crumpled pile. Or everything is in boxes on the ground.
That's pretty unappealing.
Only the most enthusiastic buyers are going to spend Saturday morning on their haunches trying to find a bargain.
If you want to MAXIMISE YOUR SALES, make buying AS EASY AS POSSIBLE.
An item displayed prominently on a table with a price is more likely to sell than it would hidden under rubble in a box.
5. PREPARE THE NIGHT BEFORE
It will be so much easier if you have everything set out the night before.
Spend the afternoon before doing last minute cleaning, pricing and decluttering before setting everything out that night If you've done most of the leg work over the course of a few weeks, it will only take you an hour or so to set up the garage.
6. CLEAN OUT YOUR GARAGE
Before setting up your garage sale, clear anything out of your garage that you don't want to sell.
If it's in the garage, someone will want to buy it!
In fact, we even got offers for the clothes airers we hung the clothes on and the tables we displayed our goods on! It can be that easy to make a quick dollar!
Avoid confusion by clearing out as many non-sale items as is practical or cordon them off to make it clear they are not for sale.
7. EYE LEVEL IS BUY LEVEL
Try to use as many tables as you can to display your goods. We borrowed tables from friends and family to do this.
Display the larger items at the back and the smaller ones at the front. Lay your 'good' books flat to let their covers grab attention.
We did use boxes to container certain items. For instance, we stood all our magazines up in a single box and put the price on the box. But we placed the box on a table where it was easy to see.
To display small items like earrings, I put them in an ice cube tray with the price of 50c each on the tray.
The clothes we hung up so that they could be easily inspected. Details like size were written on the price tag, again to make it easier to buy them.
8. PLAN FOR WET WEATHER
While it's great to display your goods out on the driveway or front yard, have a back up plan in case it rains.
We kept all of our goods inside our garage, so it didn't matter that the heavens opened up in a monsoonal downpour.
As a side note, because it rained all of our cardboard signs directing people to our sale ripped and blew away. Just something to keep in mind when hanging signs for your sale.
ENTICING BUYERS
When it comes to buyers, be aware that there will be 'traders', people who buy stuff cheap and sell it on eBay. These traders are great customers (after all it's the sales that we want) but will often be the ones who haggle, and they will also be the ones who turn up an hour early to make sure they get pick of the goods. We had people driving in at 6am, while I was still running around in my underwear and trying to get breakfast for the little fella. If you don't want people turning up early, put your street name only in your advert, not your street number, and put out your signs when you're ready for buyers. They will know which street to go to and will then be able to follow your signs. We live in a townhouse, so we included our street number but not our unit number, to deter early-birds.
9. ADVERTISE
One of the best ways to get buyers (especially seasoned garage sale attendees) is to advertise in your local paper. List as many items as you can in the ad so that people who are looking for something specific will know to come to your garage sale.
You usually have to pay for advertising, but it's well worth the price as most pro garage sale shoppers scan the local classifieds every weekend to map out their garage sale shopping route (which is the topic of another post…)
Another place to advertise is on local Community Facebook pages / groups if they allow it.
10. SIGNAGE
Signage is not only important to direct people to your sale, but to entice passers-by. For this reason, place your signs in strategic places to grab attention.
If you live in a back street, you might consider placing signs on a main road and then at strategic intersections to direct people to your sale. Make you signs eye-catching and easy to read from a distance with big, bold black writing and large arrows as necessary.
Don't forget to include the time and date on your sign as well as your address (your street name is usually sufficient if you don't want to put your exact address.
Ensure you make note of where you put your signs so that you can take them down after the sale.
11. GOING THE EXTRA MILE
Some sellers hold sausage sizzles and sell drinks, which can be a nice way to make a few extra dollars and get to know your neighbours and have a chat.
CUSTOMER SERVICE
Here are a few customer service things you need to consider to run a successful garage sale.
12. A FLOAT
Be prepared for large notes by having lots of change. There will always be people who bargain you down to $1 and then pay with a $50 note.
So make sure you've got plenty of $5 notes, $1 coins, $2 coins and silver.
Use an old tin to keep your change, although pockets or a 'bum bag' also work well.
13. BAGS AND BOXES FOR PEOPLE TO CARRY THEIR BARGAINS IN
Unless you have a pile, collect old grocery bags from family and friends to use so that you can offer buyers a bag to carry their purchases. Old boxes are another handy alternative.
If you are selling breakable items like glassware, consider having some newspaper on hand to wrap them in.
14. AN EXTENSION CORD
And a power point, for people to test electrical appliances.
15. YOUR LOWEST PRICE
Have an idea of what you will take for items when people haggle so that you can make a sale with confidence. It's ok to say no if the price offered is too low.
THE AFTERMATH
What will you do with the things that don't sell?
Will you keep them and try again? Will you send it all off to the charity store?
Have a plan for the things you don't sell so that it's not hanging around your house afterwards.
Holding a garage sale can be a profitable way to get rid of your unwanted clutter, but to maximise your profits, you want to be organised and make the most of the event.